One year from now – on Nov. 2, 2004 — American voters will cast their ballots for president, for 34 senators and for all 435 members of the House. The election is shaping up as a hard fought battle for the White House, with the Republicans appearing to hold an edge in keeping control of the Senate and House. But President Bush must contend with what Defense Secretary Donald Rumsfeld called "a long, hard slog" to establish stability in Iraq and Afghanistan.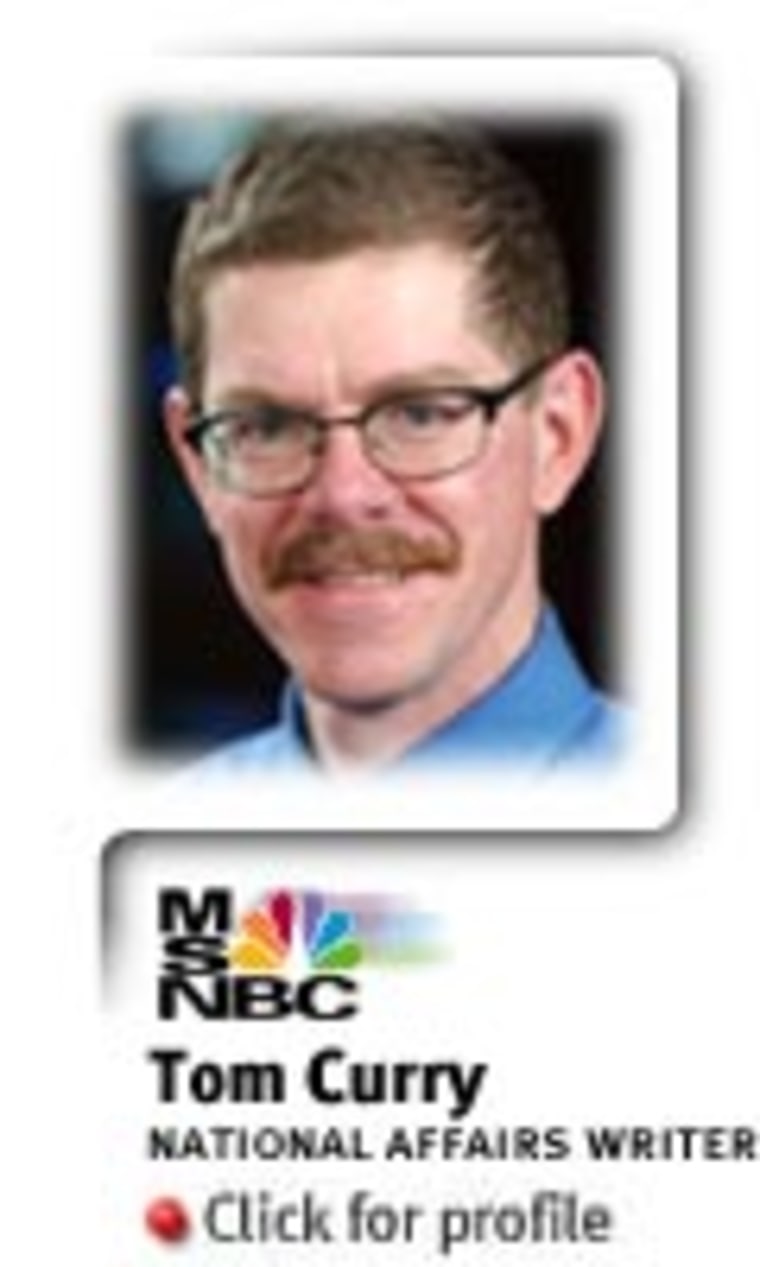 DEMOCRATS SAY they are encouraged by polls showing disaffection with Bush in at least a half-dozen battleground states, including Iowa, New Mexico, Oregon, Nevada and Arizona.
In 2000, Democratic candidate Al Gore carried New Mexico, Iowa and Oregon by razor-thin margins, while losing Nevada by 3 percentage points and Arizona by 6 points.
For his part, Bush has made frequent visits to some states he lost in 2000, such as Pennsylvania, aiming to make them competitive next year.
Most of the energy on the Democratic side right now is invested in deciding which of nine contenders has what it takes to defeat Bush.
DEAN DOMINATES Measured by his extraordinary fund-raising and his lead in the polls in the first primary state, New Hampshire, former Vermont governor Howard Dean is the current front-runner for the Democratic nomination. By Sept. 30, Dean had $12.4 million in cash reserves, far more than any other Democrat.
InsertArt(2056614)While he is well-positioned to win the nomination, some Southern Democrats say they worry that Dean — a budget balancer in his state, but a social liberal on issues such as gay rights — would not win any states in the South, just as Gore failed to carry any.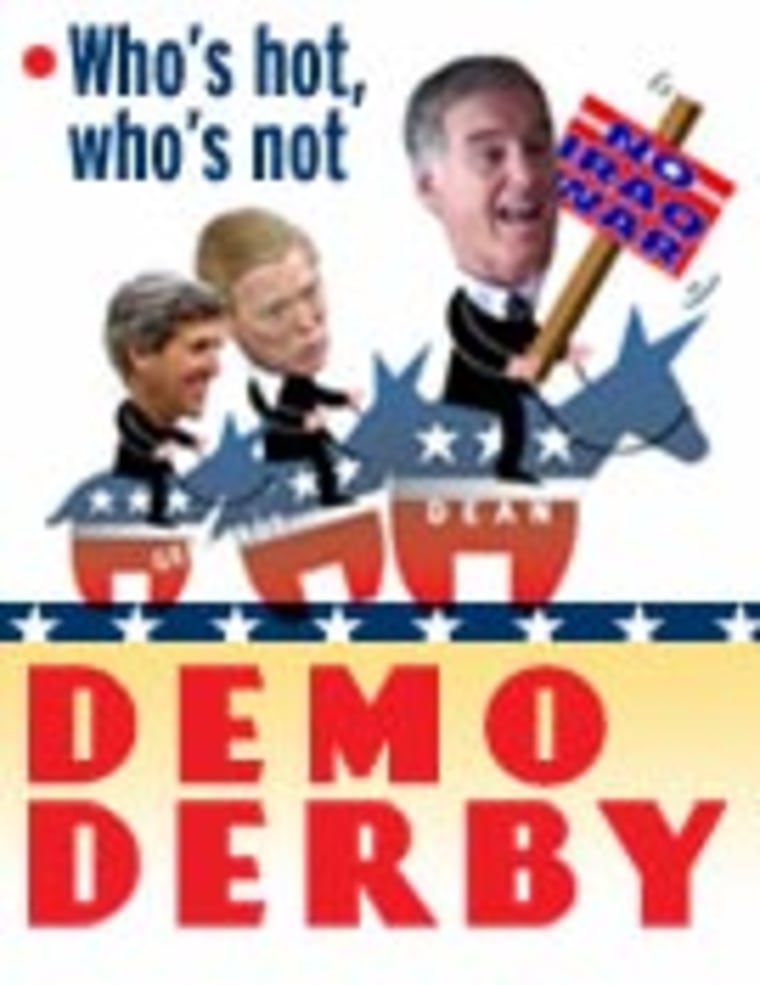 Alluding to the tone of anti-Bush anger that has pervaded the Democratic race, Republican National Committee Chairman Ed Gillespie told reporters this week, "as the Democratic Party gets smaller, it gets more liberal, more elite and more angry. And as it gets more liberal, more elite and more angry, it gets smaller. The candidates are appealing to that smaller, more intensely liberal element in the early primary states."
The Democratic contenders have spent the past few months accusing Bush of presiding over the worst job loss record since Herbert Hoover, but that issue now might be losing some of its potency.
The Commerce Department announced Thursday that the economy grew at a 7.2 percent annual rate in the third quarter, the fastest pace in nearly two decades. Also Thursday, the Labor Department said that the four-week moving average of the number of Americans filing initial jobless claims fell to its lowest level in eight months.
While the number of unemployed has increased from less than six million when Bush was sworn in as president in January of 2001 to nine million last month, there are undeniable signs of an economic resurgence.
So instead of an economic referendum, the election might turn out to be a referendum on the occupation of Iraq and the new doctrine of pre-emptive strikes against foreign threats.
As the Democrats see it, national security, once deemed a strength for Bush, is now his liability.
Reacting to the latest round of attacks in Iraq this week, Bush said terrorists there "are willing to kill anybody in order to stop our progress."
Democratic contender Sen. John Kerry of Massachusetts asked, "Does the president really believe that suicide bombers are willing to strap explosives to their bodies because we're restoring electricity and creating jobs for Iraqis?"
Bush's assessment "sounds frighteningly like the 'light at the end of the tunnel' rhetoric of Vietnam," Kerry said.
MISGIVINGS OVER $87 BILLION The president's request for $87 billion in funds to sustain U.S. troops in Iraq and to help rebuild that country's infrastructure has become a flashpoint.
"If we're going to build hospitals and highways and homes in Iraq, we ought to think about hospitals and highways and homes in the United States," Senate Democratic Leader Tom Daschle told a cheering crowd at the recent Democratic National Committee meeting in Washington.
Democratic pollster Anna Greenberg said, based on polling and focus groups, "the number of people who know the number $87 billion is remarkable. ... That number has stuck in people's minds and it is symbolic of an administration that has the wrong priorities."
But she cautioned that while many people "are unbelievably upset" about spending the money in Iraq, Democrats "need to be careful" because a lot of the emotion behind people's opposition to the $87 billion is "isolationist and, frankly, borderline racist."
A recent poll of 1,007 likely voters by the Democratic polling firm Greenberg Quinlan Rosner Research found that 59 percent agreed with the statement that Bush has been "spending too much abroad and neglecting problems at home."
An incumbent president loses the White House when a majority of voters reach the conclusion that he is weak, feckless, or out of touch.
So it was in 1992, when the elder Bush seemed clueless about the effect of the recession on middle-class Americans.
Likewise in 1980, when the spectacle of Americans held as hostage by Iranian captors and a failed rescue mission reduced Jimmy Carter to a bewildered bystander.
Iraq could become Bush's Iran hostage crisis. Kerry and other Democrats contend that Iraq has already become Bush's Vietnam.
The tipping point would seem to be: Does a majority of the electorate believe prospects in Iraq are so bad that they'd vote for a Democrat who promised to repair U.S. relations with European and other foreign governments in the hope that they'd chip in troops to police Iraq?
The premise of Dean's and Kerry's arguments and those of the other Democratic contenders is that they could solve the Iraq problem by persuading other governments to make their soldiers the targets.
Some observers have compared Bush to his father, who lost in 1992 partly due to a lackluster economy. But an all-important difference between 1992 and today is the elder Bush had to battle a pugnacious primary challenger, Patrick Buchanan.
The current president has the Republican Party unified behind him and will face no primary challenger. Despite that, by the end of last month, Bush had amassed more than $70 million and campaign finance experts expect him to raise as much as $200 million by early next year.
He'll use the money once the Democratic nominee is decided to pound that candidate with TV ads.
Raw material for the Bush ads is now being supplied the Democrats' attacks on each other, both in their own ad war and in their sparring during debates.
Connecticut Sen. Joe Lieberman, for instance, has questioned whether Dean has "the experience, the strength of leadership and the ability to calmly make decisions under pressure and take our country forward."
And, battling for a win in Iowa's first-in-the-nation caucuses on Jan. 19, Dean is attacking his rivals who, he says, "continue to mislead Iowa's seniors about my position" on cutting Medicare. (Dean opposes cuts, but once favored curtailing Medicare's annual growth rate, currently 8 percent).
"They would rather attack me than talk about why, with a combined three-quarters of a century in Washington, D.C., they have almost nothing to show for improving access to or quality of health care," he says in the ad.
WILD-CARD FACTORS Potential wild-card factors make next year's election prognosis even more uncertain:
What will the Supreme Court do in its decision, expected before year end, on the 2002 campaign finance law? The justices could strike down most of the statute, throwing fund-raising rules into uncertainty.
Will Ralph Nader run on the Green Party ticket and draw votes away from the Democratic candidate?
Will terrorists succeed in again attacking the United States?
Will North Korean dictator Kim Jong Il bring the nuclear weapons crisis to a boil?
With the Republicans now controlling the Senate with 51 seats to the Democrats' 48, the Democrats need a gain of two seats to retake control. (Independent Jim Jeffords of Vermont often votes with the Democrats).
In the 34 Senate contests that take place next year, these races are potential opportunities for the Democrats:
Alaska: When Sen. Frank Murkowski ran for governor and won, he appointed his daughter Lisa, a state legislator, to finish his term. Nepotism will be an issue in the race as Lisa Murkowski faces Democrat Tony Knowles, the state's former governor.
Missouri: Always a fascinating microcosm of the national electorate, Missouri had nail-bitingly close Senate races in 2000 and 2002. Next year, three-term GOP incumbent Kit Bond will face Democratic State Treasurer Nancy Farmer.
Illinois: Republican Sen. Peter Fitzgerald, who defeated Democratic Sen. Carol Moseley Braun in 1998, is retiring after one term. A crowded field of Democrats and Republicans will do battle in party primaries. The state leans decidedly Democratic: Gore carried it by 500,000 votes.
The Republicans see fertile ground in the South: Democratic incumbents are retiring in three states, Georgia, North Carolina and South Carolina and perhaps in a fourth, Louisiana.
Given that Bush carried each of those states by wide margins in 2000, the GOP appears well positioned to pick up those seats.
In the House, the GOP now enjoys a 23-seat advantage and decisive battles will likely boil down to two-dozen or fewer intense struggles.