A little over a year ago, on Oct. 6, 2002, I met Howard Dean for the first time at a coffee shop in Denver. Dean, in between visits to Iowa, was stopping in Colorado to campaign for Democratic Senate candidate Tom Strickland. What stood out in our hourlong talk that day was his absolute self-assurance and bristling combativeness toward George W. Bush. "I'm tired of my party being bullied by the right wing," he said that day.
WHAT STRIKES me today, a year later, having seen Dean's phenomenal success as a presidential contender, is the circular quality of this Democratic contest.
Dean is reverting to the very same theme that he started with: Why don't Democrats stand up and fight President Bush?
"The deal I'm going to make with you is: If you make me the Democratic nominee, I'll make you proud to be Democrats again," he has told crowds on the campaign trail day after day for the last several months.
In Sunday night's debate with his eight adversaries, Dean again scolded Massachusetts Sen. John Kerry as he has so many times before.
"If you're going to defend the president's tax cuts and you're going to defend the president's war, I frankly don't think we can beat George Bush by being Bush Lite. I think we've got to stand up for Democratic principles," he said.
It is the remarkable consistency of the Dean message that has brought him success. Not only is he relentlessly "on message," as the consultants say, but his message is what rank-and-file Democrats hunger for.
For a man who had never performed on the national stage before, Dean understood with canny accuracy the mood of his party's activists
YEARNING FOR A VOICE
After losing control of Congress in the 1994 elections, after weathering the Clinton impeachment, and after suffering the devastating 2000 election loss, suddenly in June 2001 the party switch of ex-Republican Sen. Jim Jeffords of Vermont briefly sparked hope in Democratic ranks by bringing them back Senate control.
But then came the 2002 elections in which the party saw its candidates for the most part outmaneuvered on tax cuts and Iraq. Even those Democrats who voted with Bush, such as Missouri Sen. Jean Carnahan, were defeated.
In the wake of that defeat, Dean, it seemed, visualized the Democratic voter as self-doubting, hesitant and in despair.
Perhaps the Republicans were smarter strategists or played dirtier, this voter might have thought, but perhaps, also, the majority of voters didn't agree with the Democratic orthodoxy on Social Security, taxes and abortion.
By talking of the need to be proud of being Democrats again, Dean ministered to this voter's bottled-up rage.
While not mentioning Dean or any other Democratic contender by name, centrist Sen. Evan Bayh, D-Ind., warned in July, "We have an important choice to make: Do we want to vent, or do we want to govern?"
Dean's answer: Vent first, then govern. You'll never get to the White House unless you uncork some of that bottled-up rage, seemed to be Dean's riposte.
EMOTIONAL PEAK
The emotional peak of the Dean campaign, at least so far, came on March 15 in Sacramento, Calif., at the California Democratic Party's state convention. It was only four days before Bush ordered the attack on Iraq. A gathering sense of uneasiness and anger pervaded the convention.
Rather than the customary, "Thank you, Art Torres, it's great to be here with California Democrats," Dean opened his speech with a high-decibel, veins-bursting-from-his-neck cry: "What I want to know is what in the world so many Democrats are doing supporting the president's unilateral intervention in Iraq!"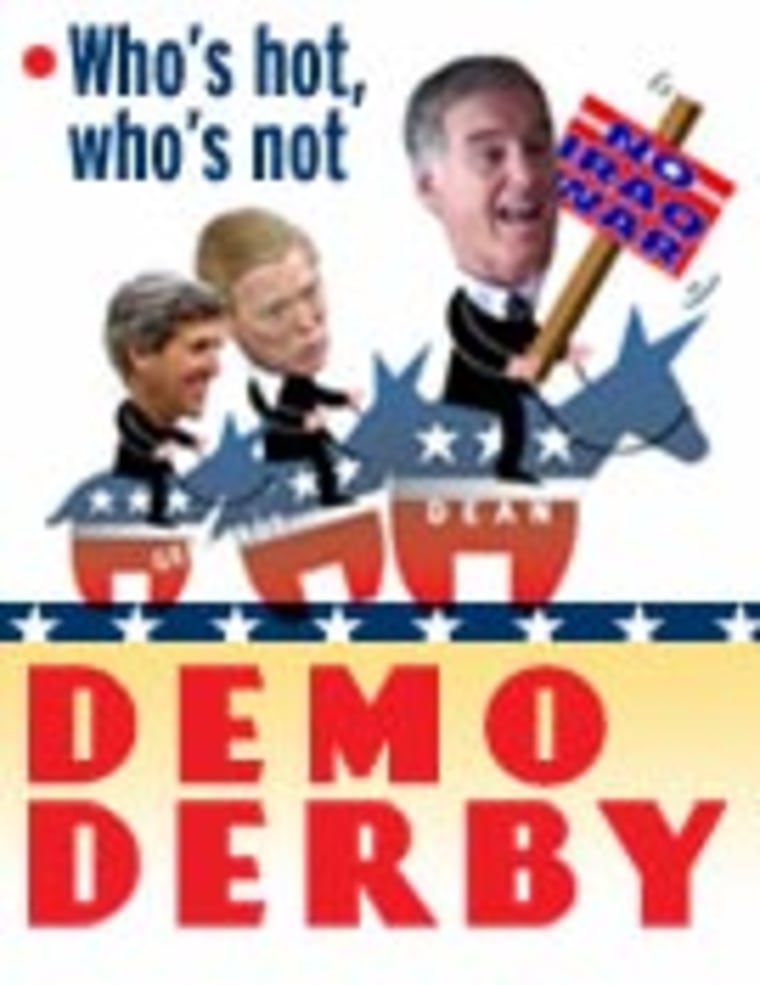 The sound I then heard in that arena in Sacramento was the pandemonium of exultant people, people who were relieved that someone was giving them a voice.
There were then and there still are many Democrats who are resistant to Dean's magnetism, just not convinced he is the right man to beat Bush.
Even in the New Hampshire poll where he runs strongest, a full 60 percent of Democratic primary voters either want someone other than Dean or have not made up their minds.
And Dean is vulnerable on some issues: Just as his Democratic rival Wesley Clark has done, Dean has made contradictory statements about the war in Iraq.
In late July, Wisconsin state legislator Jeff Plale, who is supporting Sen. Joe Lieberman of Connecticut for the nomination, told me, "Dean is a novelty. Once folks start to really understand Howard Dean, his attraction as a candidate will start to fade."
It hasn't.
LIEBERMAN'S ATTACK
So Dean's rivals, once not sure how seriously to take him, have slowly begun to attack him. In a debate last month, for example, Lieberman asked voters to examine whether Dean had "the ability to calmly make decisions under pressure."
Lieberman seemed to be, ever so carefully, getting at the question of Dean's brusque, brook-no-nonsense persona.
That persona is not only one of the keys to his success, it has become an issue itself. "He's true blue, this man," said an admiring New Hampshire Democrat, Joan Horton, when she heard Dean speak in Berlin, N.H., last month.
Dean's persona is making his rivals try to match him in intensity. In a briefing for reporters this week, Republican National Committee chairman Ed Gillespie said, "People say, 'Well don't you want Howard Dean? (as Bush's opponent).' Well, they're all Howard Dean now."
It was an overstatement, yet it had a grain of truth in it.
But just as Republican strategists decided to "let Reagan be Reagan," Dean is letting Dean be Dean.
"I say what I think, and I don't care if 70 percent of the people in this country disagree with me, as long as I believe it's the right thing to do," he said in Sunday night's debate.
What he started with last year — certitude, combativeness, impatience — has brought Dean his success. There seems no reason for him to not run the same way from here on.