Trying to position himself as the one viable alternative to Democratic front-runner Howard Dean, Connecticut Sen. Joe Lieberman went on the offensive in a televised debate Sunday night against three other Dean rivals: North Carolina Sen. John Edwards, Massachusetts Sen. John Kerry and retired Army Gen. Wesley Clark. At times using sarcasm, Lieberman accused Edwards, Kerry and Clark of inconsistency on the issues and a lack of credibility.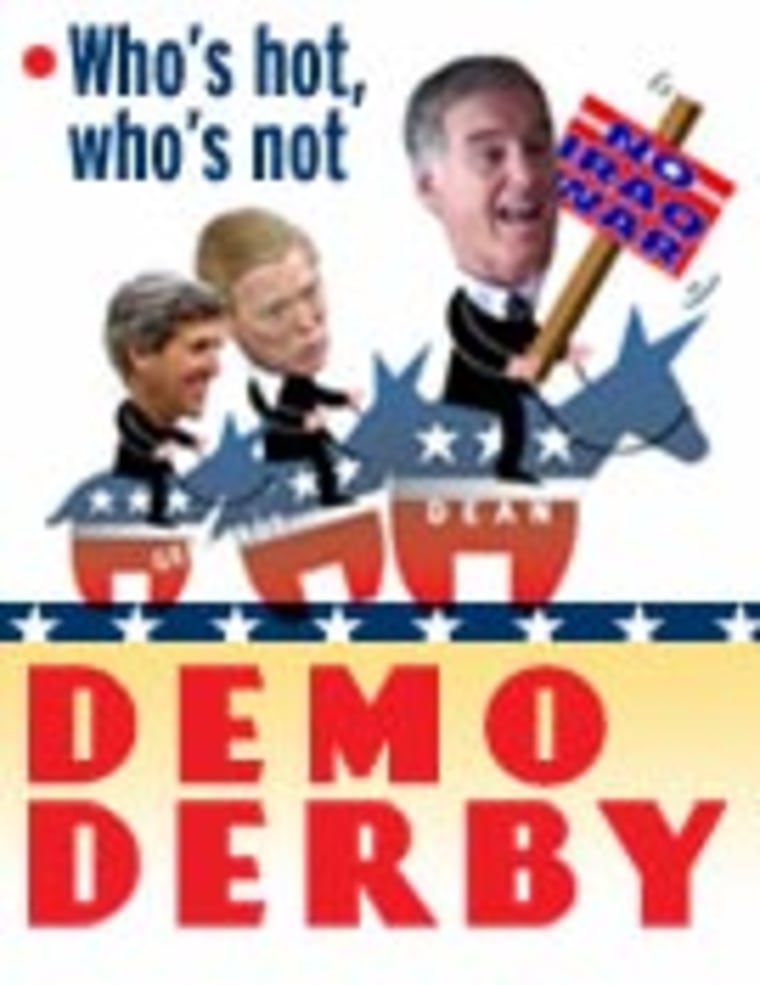 IN THE DEBATE, held in Detroit, co-sponsored by the Congressional Black Caucus Institute and broadcast on the Fox News Channel, the nine Democratic presidential contenders all were in harmony in accusing Bush and his aides of mishandling the situation in Iraq but only the Rev. Al Sharpton and Ohio Rep. Dennis Kucinich explicitly called for immediate withdrawal of American troops.
"You can not get right out of wrong," Sharpton said, explaining why he would vote against the president's request for $87 billion to fund operations in Iraq and Afghanistan. "Bush was wrong to go in in the first place. To delay coming out is not going to make it right."
He accused the president of playing "Bush roulette with the lives of American troops. … We need to not get into another Vietnam."
LIEBERMAN'S STRATEGY But the harsh discord in the debate came not in the familiar attacks on Bush, which the nine contenders have been making for months, but in Lieberman's aggressive strategy of taking on Kerry, Edwards, and Clark.
Of Dean, Sharpton, Kucinich and former Sen. Carol Moseley Braun, who have been outspoken opponents of the Iraq war, Lieberman said "we have a different point of view. ... They have been clear and consistent and I respect them for that."
But then he added, "I don't know how John Kerry and John Edwards can they say supported the war, but then oppose the funding of the troops who went to fight the war" that last year's congressional resolution authorized.
Four of the nine Democratic contenders — Kerry, Lieberman, Edwards, and Rep. Dick Gephardt of Missouri — voted for last October's resolution authorizing Bush to go to war against Iraq.
Lieberman also accused Clark of adopting "six different positions" on war with Iraq.
Lieberman complained about Clark that "it took him four days to decide whether voting on the $87 billion was a good idea."
Later in the debate when Gwen Ifill asked Lieberman if he were "Bush lite," the Connecticut senator replied, "Nobody has accused me of being 'Bush lite' since Wes Clark became a Democrat."
Clark, who has admitted to voting for Richard Nixon in 1972 and Ronald Reagan in 1984, addressed an Arkansas Republican dinner in 2001 and praised Bush, Vice President Dick Cheney and Defense Secretary Donald Rumsfeld as a "great team."
CLARK'S UNEASY SMILE After Lieberman's crack, the Fox television cameras caught a reaction shot of Clark glaring over at him, with a somewhat surprised and uneasy smile on his face.
Kerry — who served in the Navy during the Vietnam War — shot back at Lieberman saying, "Joe, I have seared in me an experience which you don't have, and that's the experience of being one of those troops on the front lines when the policy has gone wrong. The way you best protect the troops is to ... put the troops in the safest, strongest position as fast as possible."
As the other contenders did, Kerry urged Bush to persuade foreign governments to send in more troops to take the burden off U.S. forces.
For his part, Edwards explained that he had voted for the war resolution, but that "this president had no plan of any kind that I can see" to end the U.S. occupation of Iraq.
Edwards said he voted against the $87 billion because "for me, to vote yes on that would be to give to this president a black check… and I will never give George Bush a blank check."
Despite on-the-record statements in which he supported the Iraq war resolution and later opposed it, Clark instead there was no contradiction in his stance.
"I've been very consistent from the beginning," he said. He also accused Bush of using "bait and switch" tactics on the American public and he mocked Bush for not capturing either Osama Bin Laden or Saddam Hussein.
Of the Iraq operation, Clark said Bush "doesn't know how he wanted it to end" and he "doesn't know what he's doing today"
Front-runner Dean had a lower profile role in the debate than in previous jousts with his adversaries.
Asked about his relative lack of foreign policy experience, Dean, the former governor of Vermont, replied, "I have as much foreign policy experience as George W. Bush did when he got into office and Ronald Reagan and Bill Clinton and Jimmy Carter."
He said he had surrounded himself with foreign policy and defense advisers who were "very good people."
And he noted that even without foreign policy credentials, "I was for some reason, listening to my folks, able to tell the president was not being candid with the American people" when he ordered the invasion of Iraq.
Kerry came back at Dean on that remark, telling him "I'm not sure if I were he that I'd want to use George Bush as a reference for a governor becoming a president without foreign policy experience."
He added, "We're electing a president of the United States, not a staff."
DEAN SCRAPS WITH KERRY But Dean would not let Kerry's attack go unanswered, telling him tartly, "If you're going to defend the president's tax cuts and you're going to defend the president's war, I frankly don't think we can beat George Bush by being Bush lite. I think we've got to stand up for Democratic principles."
Kerry supports repealing the portion of the tax cuts that benefit upper-income people but leaving middle-class tax cuts in place.
Dean concluded, "I say what I think and I don't care if 70 percent disagree with me, as long as I think it's the right thing to do."
Dean is now running TV ads in Iowa, in which he criticizes his adversaries — although none by name — for not opposing Bush's plan to occupy Iraq.
"One hundred and thirty-thousand troops in Iraq, with no end in sight and a price tag that goes up daily," Dean tells viewers. "The best my opponents can do is ask questions today that they should have asked before they supported the war."
He holds a 13-point lead over Kerry in New Hampshire, according to a poll released Sunday, the latest to show the former Vermont governor ahead in a state that has a presidential primary Jan. 27.
Dean drew support from 37 percent of those surveyed for the Boston Globe/WBZ, while Kerry, a Massachusetts senator, had the backing of 24 percent.
The poll, by KRC/Communications Research, was conducted Oct. 20 to Oct. 22 of 400 Democratic and independent voters who could cast ballots in the New Hampshire primary. It had a sampling margin of error of plus or minus 5 percentage points.
Another recent New Hampshire poll by a Franklin Pierce College poll of 600 likely primary voters found Dean with a 14-point lead over Kerry
The Associated Press contributed to this report.