Next time you're spending $1.70 a gallon at the gas pump, think about this: There's a car out there that gets at least two to three times the miles per gallon that you're now getting. It's also fun to drive, it's responsive, it's not expensive and it doesn't need to be plugged in. Join MSNBC.com for a virtual test drive, as well as a look at some other green technologies.
THE CAR is a hybrid, so called because it uses two types of engine technology: gasoline and electric. The first to make it to the U.S. market is the Honda Insight, a stick shift two-seater that's selling for around $20,000. Toyota begins selling its hybrid — the four-door Prius — in June.
An electric motor takes some of the load off the gas engine, and the beauty of that relationship is that the car's battery never needs to be plugged in. It recharges through what's called "regenerative braking" — every time you brake the energy from the process is transferred to charging the battery.
So instead of having to recharge every 100 miles or so, as is the case with electric cars, a hybrid can travel 500 to 700 miles on a 10-gallon tank of gas. In Insight's case, the mileage is estimated at 60 mpg in the city, 70 on the highway.
The Insights have been hard to find, with demand outstripping the initial supply of 4,000 cars. But the National Environmental Trust has been showing one off at cities across the United States as part of its Pollution Solutions tour.
MSNBC.com took the Trust's Insight for a test drive, and took a look at some other green technologies on tap.
INSIDE THE INSIGHT
Although it's nine inches shorter than the Honda Civic hatchback, the Insight doesn't feel small by two-seater standards. Storage space behind the seats totals 16 cubic feet, and there's even a cubby hole to hide valuables.
And while it's not marketed as a sports car, it has a top speed of 110 mph and comes with plenty of zip — 0 to 60 in 10 seconds or so.
That kind of acceleration undermines the purpose of the Insight — after all, even a hybrid's mileage suffers when you floor it. So Honda's engineers decided to remind drivers of that by placing a bar on the dashboard that continuously shows what kind of mileage you're getting, and vary it does.
Other neat features: a gauge that tells you your mpg per trip, and lights that show when you're charging the electric battery and when the electric motor is kicking in to help.
The feature hardest to get used to is what happens when you get to a stoplight, shift into neutral and take your foot off the clutch. That combination shuts off the engine — a fuel-saving technology that fortunately gets easier with each stop since the engine starts up instantly the moment you put it in first gear. No hop or jerk, just the reassuring sound of the engine.
Another fuel saver is the Insight's light weight. At around 1,900 pounds, it's almost half as light as similar sized cars because of its aluminum body. So is it less safe? The U.S. Department of Transportation gave it four out of five stars on its front-impact ratings. That's as good as or better than every small car with the exception of the Saturn SL 4-door, which scored five stars. The Insight has yet to be tested for side impacts.
The attention to fuel savings did create some drawbacks, however. The doors use less plastic, and are thus lighter, than other cars in part because map pockets were sacrificed — instead mesh pockets are behind the seats. And the aerodynamic body design makes it hard to see out the rear window.
WEIGHING COSTS
The Insight's price, about $20,000 with air conditioning, is steeper than that of some of the other cars its size. But it does cut your gas bill significantly. Let's say you drive 10,000 miles a year at $1.50 a gallon. At a conservative 50 mpg, the Insight would cost you $300 to fuel. A 25-mpg car would cost you $600.
On top of that, the high mileage and a special catalytic converter combine to create a big cut in pollutants — 84 percent fewer hydrocarbons and 50 percent less nitrogen oxide than a typical car.
As for options, don't expect many. The only extra is air conditioning and the only colors are lime, silver and red.
One other cost factor is the battery. It's warranted for eight years, or 80,000 miles, and replacing that today would not be cheap: $3,000 or so.
But Honda figures costs will fall as battery production increases, perhaps to a price along the lines of replacing a transmission.
The Insight does require regular oil changes, but Honda says it won't need an engine tune-up until after 105,000 miles.
HONDA'S STRATEGY
The first-year sales target for the Insight isn't much when compared to 400,000 Honda Accords sold every year. But the company's manager for alternative fuel vehicle sales defends the Insight strategy on several fronts. First, says Robert Bienenfeld, "People are not knocking down dealer doors for high economy cars." Instead they're going for sport utility vehicles, trucks and sports cars. "This is flying in the face of current trends ... so we went conservative."
Bienenfeld also notes that 4,000 isn't so small when you consider the entire market for two-passenger cars that aren't considered sports vehicles is just 100,000 a year.
As for sales, Bienenfeld says Honda is "very pleased" with demand so far and is increasing availability to 6,500 cars this calendar year.
Some dealers report waiting lists of two to three months, but Bienenfeld is waiting to see if demand will remain strong in months to come. "We need to get through first group of enthusiasts to see where the real market is," he says.
If the demand is there, he says, Honda could develop a four-seat hybrid in a couple of years.
There's also the possibility that hybrids might quickly be overtaken by fuel cells, which use hydrogen to create even cleaner and higher-mileage engines. Some automakers hope to have fuel-cell cars on the market by 2003.
But even if that happens, Bienenfeld says, the lessons learned with hybrids — how to make lighter and more aerodynamic cars — can still be applied to fuel-cell cars.
OTHER POLLUTION SOLUTIONS
The National Environmental Trust's roadshow also includes a pickup truck that runs on gasoline and natural gas, and a solar-powered trailer retrofitted with energy-efficient products.
Designed to show consumers what they can do to reduce pollutants — particularly those many scientists fear are contributing to global warming — the tour touts simple steps like using compact fluorescent light bulbs.
But it also shows off some lesser-known green tools that would make for cool toys, among them: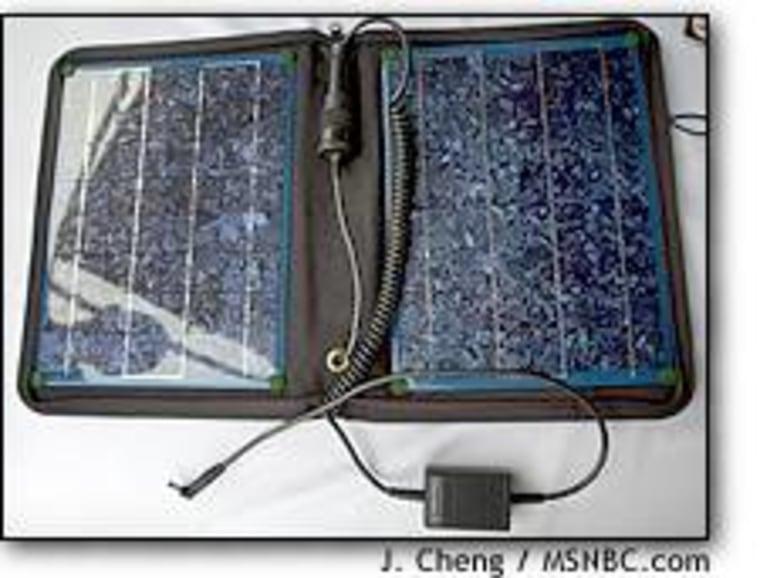 Portable solar power. Heavy users of laptops and other mobile technology, take heart! As long as you've got sunlight you can stay charged with a portable solar panel. The 3-pound Sun Catcher, by Advanced Power Technologies, plugs into most laptops and other devices. Suggested retail price: $395. powerexperts.com/solar/index.html.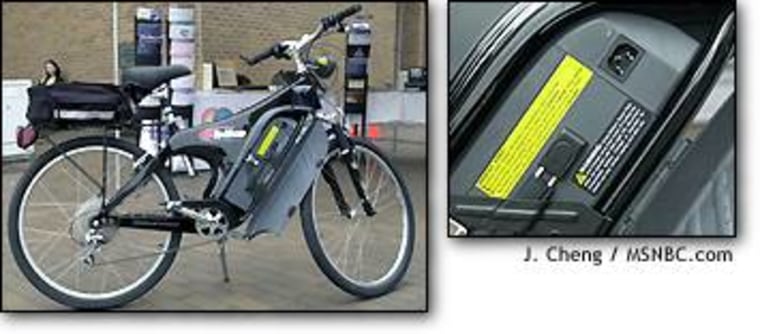 Electric bikes. Anyone who has had to get off a bike because of a steep hill will appreciate this technology. E-bikes are being made by several companies, among them EV Global Motors, which has a model with a top speed of 15 mph. The battery pops out for easier recharging, which takes about 4 1/2 hours. Who's behind this venture? Lee Iacocca, the man who brought Chrysler back to profitability. Prices start at $995.www.evglobal.com.
For more background on the energy-efficient technologies showcased on the Pollution Solutions tour, check out the Trust's Web site at www.hotearth.net.