British authorities plan to question a security expert who runs a firearms training camp in Alabama about claims that radical Muslims from Britain were honing their marksmanship on American soil before going off to fight for Islamic causes around the globe.
In response to a query from MSNBC.com, a spokesman for Britain's Crown Prosecution Service in London confirmed that Mark Yates, a British bodyguard and firearms trainer who has operations in both the United Kingdom and the United States, will be questioned about a suspected terrorist's offering of "live fire" weapons training in America for aspiring holy warriors.
"(Yates) has not been questioned as yet … but there are plans to do so soon," said the spokesman, Doug Crighton.
The claim Yates was somehow involved in the "Ultimate Jihad Challenge" training offered by the Sakina Security Services company was made by Sulayman Bilal Zain-ul-abidin, the company's founder, who has been in custody since Oct. 1 on terrorism charges, Crighton said.
It was the first time British authorities have acknowledged the investigation had extended to the United States. Previously, a British prosecutor had said only that Zain-ul-abidin claimed to have a business "associate" in Alabama.
'No agreements, no arrangements'
Yates, who is the operations and training director at the Ground Zero firearms training camp outside Marion, Ala., denied in a phone interview that he or Berkeley & Associates, the company that operates the camp, had any business dealings with Sakina.
"I first heard of Sakina last month when the Sunday Telegraph ran an article and mentioned it," the 44-year-old Yates said by phone from the London offices of Trans Global Security International, one of several inter-linked security companies he operates or is associated with. "No, we had no agreements, no arrangements."
He added that he is cooperating with British investigators.
FBI spokesman Steven Berry said investigators are aware of Yates and the Alabama camp, and indicated that after checking Zain-ul-abidin's claim of having an associate in the state, the bureau is skeptical of its veracity.
In fact, though the claims that Sakina Security was providing weapons training in the United States first surfaced in British media accounts 18 months ago, federal and state law enforcement agencies told MSNBC.com that they have never found any evidence that such instruction actually took place.
Attempts to reach the president of Berkeley & Associates, Jason Fish, were unsuccessful.
'Prevention of terrorism'
Zain-ul-abidin, 43, was arrested on Oct. 1 and charged under Britain's Prevention of Terrorism Act with one count of "providing instructional training in the making or use of firearms, explosives or chemical, biological or nuclear weapons" and a second count of "inviting" others to undergo such training. He remains in jail after being denied bail and is scheduled for arraignment on Jan. 4.
Zain-ul-abidin's attorney, Muddassal Arani, has said her client is innocent. She did not return calls from MSNBC.com seeking comment.
The charges arise from Zain-ul-abidin's operation of Sakina Security Services, which provided bodyguard service and claimed to specialize in "high-risk jobs in the former Soviet Union and in the civil war arenas of the world."
Sakina's Web site also offered courses in self-defense and hand-to-hand combat for Muslims, including the "Ultimate Jihad Challenge." After mastering the "art of bone breaking" and learning to "improvise explosive devices," it said, British Muslims would be given the opportunity to squeeze off up to 3,000 rounds at a shooting range in the United States before heading off to fight for Islamic causes around the world. "All serious firearms training must be done overseas" because of British gun laws, the Web site said.
At a bail hearing in London on Oct. 5, prosecutor Patrick Stevens said Zain-ul-abidin had told investigators that Sakina was essentially a one-man operation in which he acted as chief instructor. But he also claimed to have "an associate" in Alabama, Stevens said.
The prosecutor also said investigators had searched Zain-ul-abidin's apartment and seized documents believed to be related to suspected terrorist mastermind Osama bin Laden and his al-Qaida network, anti-Semitic material and what appeared to be disabled firearms, including a rifle and two handguns.
While Yates is adamant that he was not involved in a business relationship with Zain-ul-abidin or Sakina Security, he told MSNBC.com that he could not discuss whether he knew the suspect because the matter is the subject of an ongoing investigation.
The Sunday Telegraph has reported that Zain-ul-abidin, who also used the name Frank Etim, attended a military training course taught by Yates several years ago at a secret camp near the village of Yetgoch in southern Wales. Young Muslims and others learned how to use Uzi machine guns at the camp, which was run by Trans Global Security International, the newspaper said, quoting two individuals who placed Etim at the scene.
Witness interviewed by police
A third man, who spoke on condition of anonymity, told MSNBC.com that he met Etim at the camp and had recently been interviewed by police about the training.
"My memory is that he came alone and didn't stick out as an exceptional or forceful character," said the man, who works in the security field in Britain. "He was very approachable and in fact quite a nice guy."
He added that he saw no evidence that Yates and Etim had anything beyond the usual instructor-student relationship.
The Telegraph reported in November that Yates acknowledged that he "had contact with (Etim) on a number of occasions over the past few years," but said he declined to elaborate on the nature of the relationship.
The reports of the Welsh training camp have rekindled a debate in Britain over whether the country has in recent years become a hotbed for military recruitment by radical Islamic elements.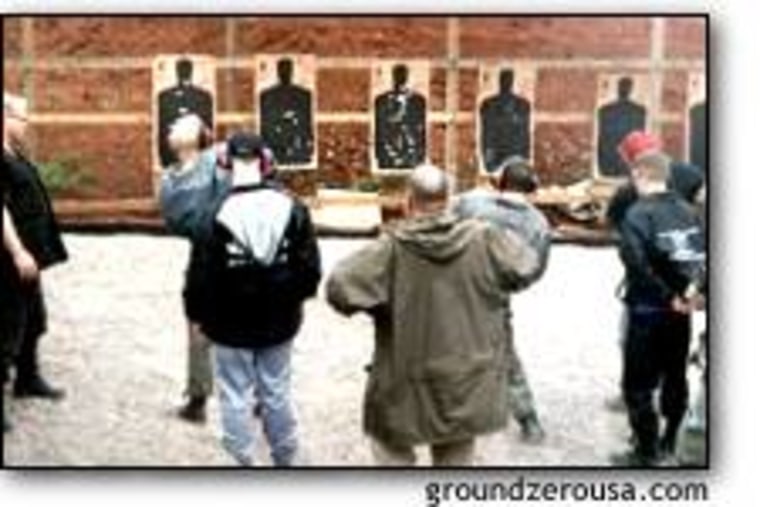 Sheik Omar Bakri Mohammed, a firebrand Islamic leader in London and a founder of the fundamentalist al-Muhajiroun organization, told the Telegraph last year that between 1,800 and 2,000 British Muslims were going abroad each year for military training.
"We find young men in university classes or mosques, invite them for a meal and discuss … ongoing attacks being suffered by Muslims in Chechnya, Palestine or Kashmir," the the newspaper quoted Bakri Mohammed as saying. "We … make them understand their duty to support the jihad (holy war) struggle verbally, financially and, if they can, physically in order to liberate their homeland."
Others in the Muslim community have challenged Bakri Mohammed's estimates, saying they are only designed to further the aims of al-Muhajiroun, which advocates uniting the world's 50-plus Muslim states under a single "khilafah," or Islamic state.
Anectdotal recruiting reports
While reliable numbers are impossible to come by, anecdotal accounts of such recruitment — including the apparent involvement of Sakina Security — were reported at least as early as May 2000.
The British Broadcasting Corp. interviewed a British Muslim it identified as Abu Yahya who claimed to have attended a military training camp in the Kashmir after being recruited by Sakina Security.
"I learned everything with respect to fighting — making bombs, using artillery, using a Kalashnikov (assault rifle), how to ambush," he told the network.
The following month, the Hindu newspaper of India quoted a Sakina Security representative who identified himself as Sulayman Balal (Zain-ul-abidin's first and middle names) as saying that "a few people" had signed up for the first "Ultimate Jihad Challenge" in April. He described the two-week course as taking place on a "1,000-acre, state-of-the-art shooting range in the United States."
The description closely matches published information about Ground Zero, the Alabama training camp that Yates runs.
The Ground Zero Web site, which was quickly retooled after Sept. 11 to highlight a new "five-day anti-terrorist training" course, says the Alabama compound features "state-of -the-art, world-class … training facilities."
A British security company, WK Security, which offers training in SWAT team tactics at Ground Zero under an arrangement Berkeley & Associates, advertises the five-day course as being held at a "1000 acre training facility."
Bakri Mohammed, the founder of al-Muhajiroun movement, told the Telegraph last year that the United States was becoming a favored destination for military training.
Tourists or terrorists?
"We use U.S.A. because whenever we go to Afghanistan, U.S.A. labels us terrorist," the Syrian-born Bakri Mohammed was quoted as saying, "OK, so let us go to America. You call us tourists."
But in the wake of Sept. 11 and the heightened scrutiny from British authorities that the attacks brought, al-Muhajiroun is now distancing itself from Sakina.
Mohamed Sharif, an al-Muhajiroun spokesman, told MSNBC.com that Bakri Mohammed's comments about military training in the United States referred only to "three or four men" who signed up for a Sakina course and practiced their marksmanship at an unidentified shooting club in Missouri.
"They discover when they went to America that it was too expensive, about $3,000 to $4,000," he said.
Sharif, who described Sakina as a "youth club" that was not affiliated with al-Muhajiroun, added that that reports suggesting that al-Muhajiroun and Sakina were engaged in military recruitment amounted to "a storm in a teacup."