Adding new peril to an already dangerous practice, China's human smugglers have dispatched at least one group of illegal immigrants to the United States inside a hard-top shipping container - a 40-foot-long steel box that gives its occupants no chance of escape if something goes wrong.
After nearly a month with no people-filled containers arriving at West Coast ports, security officers of the American President Lines discovered 14 Chinese men and one 16-year-old male on Saturday at the terminal yard in Los Angeles, said Sharon Gavin, a spokeswoman for the Immigration and Naturalization Service.
A check of the yard found the group had escaped from a cargo container - specially customized with concealed trap doors - that had been unloaded earlier in the day from the President Polk, a U.S.-flagged container ship recently arrived from Hong Kong, she said.
After undergoing medical exams, the men were taken to an INS detention center, where they are likely to seek asylum.
Since Dec. 28, more than 130 illegal immigrants have been apprehended after arriving at U.S. and Canadian ports inside shipping containers. U.S. officials say the Chinese paid between $50,000 to $60,000 apiece for the privilege of spending up to two weeks in horrible conditions inside the steel crates.
Previously the smugglers favored soft-top shipping containers, which have a canvas roof that lets fresh air seep in and provides a potential escape route. Even so, three men died in such a box before it was unloaded in Seattle on Jan. 10. Fifteen other immigrants survived the voyage, but several were near death when they arrived.
Little margin for error
And immigration officials say the hard-top containers leave even less margin for error.
"This is the first incident we've seen where smugglers have used hard-top containers," said Rosemary Melville, the deputy director for the INS in the Los Angeles district. "It's an alarming development considering the fact that we've already seen three men die when they were smuggled in a soft-top container."
The immigrants who arrived in Los Angeles on Saturday were in a container that was listed as carrying 850 cartons of toys and was loaded aboard the President Polk in Hong Kong on Jan. 23.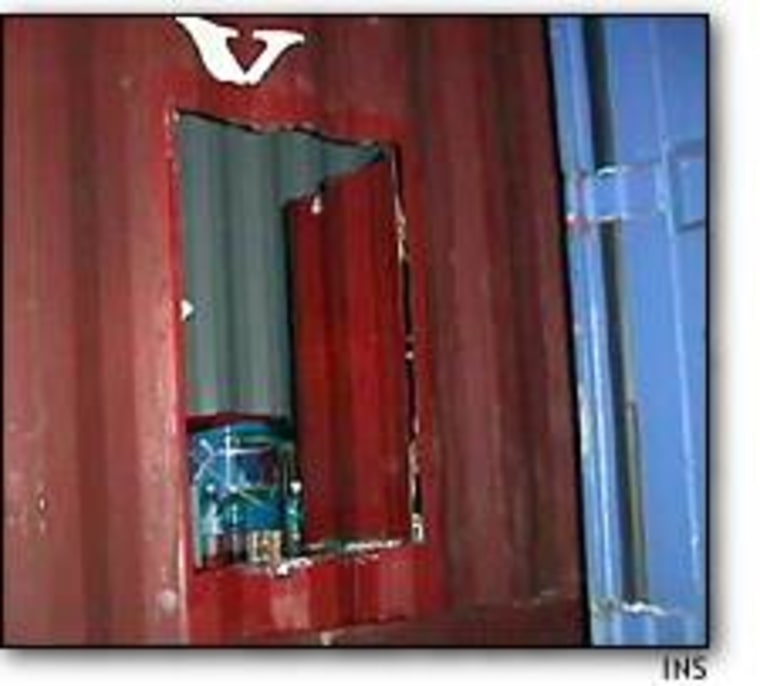 The container was better equipped than many of the earlier soft-top containers, with electric lights and fans hooked to car batteries as well as produce, bottled water, canned juice and four 30-gallon waste receptacles.
The 36-by-24-inch doors that allowed the immigrants to escape when they were deposited on terra firma were cut into the sides of the container and then hinged on the inside. The cracks were concealed with an epoxy-type substance and the doors were painted to match the container's exterior.
The use of hard-top containers fulfilled a prediction last month by U.S. Customs officials in Seattle, who told MSNBC that the break in the flow of people-filled soft-top containers apparently signaled that the "snakeheads" - the sinister appellation of the Chinese human smugglers - were plotting a new strategy.
"Without a doubt, right now they are looking at what tactics they're going to be using in the future," Larry Adkins, chief of anti-smuggling efforts in Seattle. "… It's the same with any smuggling venture, once we catch onto their current MO (modus operandi), they change it to try and stay one step ahead of us."
Rodney Tureaud, special agent in charge of the investigations unit in Seattle, was even more specific in his prediction: "I think the soft tops are pretty much going to be targeted and I think they will go to other means," he said. "You can smuggle in those all-metal containers as well, if you can figure out a way for individuals to breathe."
In fact, since the metal boxes aren't air-tight, enough air seeps in through the doors to allow people inside to breathe, though the stench from human waste, spoiling food and bodies in almost-unbearably tight quarters is by all accounts overwhelming.
But U.S. officials say the use of hard-top containers makes it virtually impossible for those inside to alert the ship's crew if provisions run out and predict that more deaths will occur if their use becomes widespread.
Creating a bigger problem
They also note ruefully that the smugglers' new tactic will make it far more difficult for customs inspectors to find their quarry, since the ships typically carry far more all-steel containers than soft-top boxes.
Meanwhile, the INS and other agencies are continuing to wrestle with the fallout from the previous cases of container smuggling:
Many of the Chinese who arrived in December and January have filed asylum claims and are undergoing interviews in which they must demonstrate "credible fear" of persecution if they return to their homeland, said Gavin, the INS spokeswoman. If they cannot, they face deportation.
Larry Webster, a spokesman for the King County Medical Examiner's Office in Seattle, said investigators had only recently identified the three Chinese men who died in a container unloaded from the vessel Cape May on Jan. 10 as Hui Zhang; Dian Biaojiang, 37; and Ben Qingzhu.
Webster said no cause of death had yet been established for the men, who were identified through interviews with the survivors, though a preliminary examination found no evidence of disease or serious injury.
The U.S. Attorney's Office is prosecuting two men arrested Jan. 2 as they allegedly were waiting for one of the people-filled containers to be unloaded in Seattle.
Sheng Deng, 28, and Yu Zheng, 35, speaking though an interpreter, pleaded not guilty on Jan. 19 to four counts, including conspiracy to smuggle a dozen men into the United States for private financial gain, and aiding and abetting the smuggling attempt. Each count carries a minimum sentence of at least three years in prison, and a maximum of up to 10 years each, with fines of up to $250,000.
Dead ends in Hong Kong
Investigators on both sides of the Pacific - including the U.S. Customs Service, the Immigration and Naturalization Service, Hong Kong Customs and the Royal Canadian Mounted Police - have cooperated closely in an attempt to track down the leaders of the smuggling ring or rings, who are believed to have close ties with Asian organized crime groups.
But previous investigations have quickly run into dead ends because the companies listed as owning the containers' cargo are simply shell corporations created to traffic in human beings.
Hong Kong is the common thread behind all the containers.
Every vessel that delivered the human-filled containers since Dec. 28 had passed through Hong Kong in the weeks before their arrival in North America.
Investigators have said they do not believe the shipping companies are involved in the smuggling operation, saying the criminals apparently load the Chinese into the container before delivering it to the pier, already sealed.
The Hong Kong Ship Owners Association last month issued an advisory to its 80-members urging added vigilance in light of the new smuggling technique. And one shipping company, the Orient Overseas Container Line, said it was acquiring sophisticated scanning gear that could detect humans inside the steel boxes.