With doubts about whether the Bush administration skewed intelligence data to justify its invasion of Iraq, this moment looks like a breakthrough opportunity for Democratic presidential contender Sen. Bob Graham of Florida. As a former chairman of the Senate Intelligence Committee, Graham seems better equipped than any of the other Democratic contenders to assess whether President Bush skewed intelligence data to suit his political agenda.
But in a weekend of campaigning in Iowa, Graham approached the intelligence allegations not like a candidate eager to pounce on his opponent, but with much the same caution as he handles other issues.
In an age of provocative sound bites, Graham is a throwback to senators of old: thoughtful, unhurried and prolix, often taking the long way around to arrive at his rhetorical destination.
This may be an occupational hazard of having served for 17 years in the Senate, where the clocks tick more slowly than on the campaign trail.
In response to a prompt from Iowa Sen. Tom Harkin, who hosted a "Hear It From the Heartland" forum in Council Bluffs, Iowa, Saturday, Graham said, "If we get to the point that intelligence information is, in fact, being used not to make better decisions, but to justify decisions that have already been made, then our investment in intelligence is a waste of money and a perversion of the responsibility of those decision-makers to the rest of us."
He also warned, "If we don't find those weapons of mass destruction pretty soon, our American credibility will be even further diminished." He received polite applause, not rousing cheers, from his audience of Democratic activists.
JAN. 19 CAUCUSES
Iowa holds its first-in-the-nation caucuses on Jan. 19, so the opinions of Iowa Democrats matter more than those of Democrats in New York, Illinois or California. A lackluster fourth- or fifth-place showing in Iowa could gravely wound any contender, including Graham.
In an appearance at Gov. Tom Vilsack's annual picnic and fund-raiser in Mount Pleasant on Sunday, Graham amused and surprised some in his audience by breaking into song.
Graham treated the crowd to his new campaign theme, which he half-sang and half-recited:
"You've got a friend in Bob Graham;
That's what everybody's sayin';
All across the good old USA.
From the Atlantic to the Pacific,
We all say 'He's terrific!'
That's why America needs Bob Graham — today."
In a field of nine Democratic presidential contenders, Graham stands out by being the oldest: At age 66, he is 17 years senior to North Carolina Sen. John Edwards, his fellow Southern contender. Graham began his political career as a Florida state legislator in 1966, when Edwards was entering puberty.
Graham likes to compare himself not to Edwards or any of his other rivals but to the past two Democratic presidents, Bill Clinton and Jimmy Carter, both of whom were Southern governors, as Graham was in Florida from 1979 to 1987.
Graham is a full 10 years older than Bill Clinton and has none of Clinton's feel-your-pain therapeutic approach to politics.
At this point, seven months before the caucuses, most Iowa party activists are still biding their time, waiting for a contender to convince them.
VETERAN ON THE JOB
The Florida senator has recently recruited a major asset to his campaign in Iowa: Sarah Benzing, a young virtuoso veteran of grass-roots organizing who headed the absentee ballot effort for Iowa Democrats in 2002 and helped propel Harkin to victory.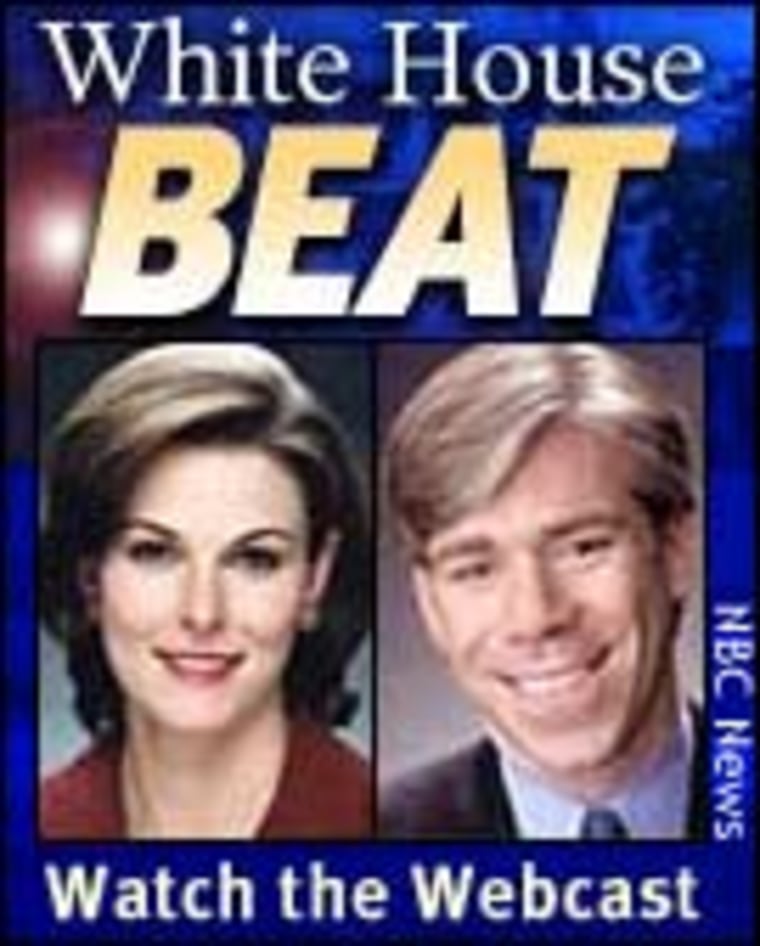 The senator has not yet ignited a prairie fire. He has none of the populist fervor of Dick Gephardt when he ran here in 1988 using the anti-free trade slogan "It's your fight, too" or ex-Vermont Gov. Howard Dean this year who claims to represent "the Democratic wing of the Democratic Party."
The only time Graham got truly enthusiastic cheers at last weekend's Council Bluffs forum was when he pledged that he would not appoint John Ashcroft "or anyone like him" to his cabinet.
On the Iraq issue, Graham's stance poses a paradox. He often gets big cheers from Democratic audiences when he reminds them that he voted against last October's congressional resolution that gave Bush the authority to wage war against Iraq.
And he told MSNBC.com over the weekend that "I don't think that we ought to abandon our tradition, which was that the United States did not go to war unless we were attacked. ... It's a very dangerous proposition to say that whenever we speculate that there may be a threat… that we will use a military option."
But last October, when Congress approved the resolution, he criticized it for being "timid."
Instead, Graham argued, Congress should authorize Bush to launch attacks on five Middle East terrorist groups including Hezbollah, which he identified as the most dangerous threat to America.
Graham's strategy might entail attacks on Lebanon, Syria, and Iran.
'TAKE THE TERRORISTS WHERE THEY LIVE'
"The way to win the war against terrorists," Graham told his Council Bluffs audience Saturday, "is to take it to the terrorists where they live. That is the only fundamental means by which we can reduce the threat against our people."
Asked whether his Hezbollah strategy would lead to a series of military operations, Graham said, "We are already committed to that. The president said after Sept. 11 that our war on terrorism does not end with al-Qaida."
Graham promised Iowa audiences that if he wins the nomination he will be able to "draw sharp differences" between himself and Bush, but on the issue of a wider war against terrorists, he seemed to agree with Bush.
If Graham trumpets his call for a more vigorous war on terrorism, he will alienate the highly vocal peace activist faction of the Iowa Democratic Party.
Robert Williams, a farmer and former minister from Clarinda, Iowa, said "if he (Graham) thinks going to war is our way to solving Hezbollah, he has got problems as far as I'm concerned. We're not going to get rid of terrorism by killing terrorists. We've got to deal with the causes of terrorism."