A week after the Sept. 11 attacks, British Prime Minister Tony Blair flew to Washington to stand shoulder to shoulder with President Bush as he outlined the coming war on terror. Bush is again looking to the British leader for support — this time as the one ally who can possibly persuade wary Europeans to back a military campaign to oust Saddam Hussein.
EUROPEANS HAVE QUESTIONED the point of another war with Iraq since January, when Bush labeled Iraq, Iran and North Korea an "axis of evil" and said they threatened U.S. national security. As in the rest of Europe, here in Britain Blair's seemingly unwavering support for U.S. foreign policy is dividing public opinion.
In Aldershot, a military town 30 miles southwest of London, British paratroopers who would be among the first to deploy to Iraq say the rumble of war is already being felt. But soldiers and best friends Tony Marsden and Neil Fairclough can't agree if British troops should be deployed.
"You read the papers and you watch the news … the British public are not behind Tony Blair on this," Fairclough said.
In a recent poll, nearly two-thirds of Britons said they were against joining a U.S.-led invasion of Iraq without approval from the U.N. Security Council.
But Marsden said he is ready to fight. "I would definitely go, especially for my country. And also for what I believe is right. The al-Qaida network and Saddam Hussein … I mean, that's wrong."
InsertArt(1675571)EUROPEAN DEBATEThat same debate is raging in Europe — whether to back Bush and Blair by taking pre-emptive action against Saddam, thereby unleashing the fury of the Arab world, or to push on the diplomatic front for the return of U.N. weapons inspectors who were kicked out of Baghdad in 1998. So far, the argument for diplomacy is winning.
European leaders have said publicly that they have yet to see concrete evidence that Saddam has pursued weapons of mass destruction since the U.N. inspections collapsed.
"The feeling is that the Americans haven't made the case," said Michael Binyon, diplomatic editor at The Times newspaper. "We've lived with Saddam for 10 years — why suddenly now?"
Resistance to a strike on Iraq is growing: In France, Italy, The Netherlands and Germany, surveys show that 60 percent of residents oppose unilateral U.S. action against Baghdad.
In Germany, Chancellor Gerhard Schroeder, facing a tough re-election battle, is leading the charge against German participation of any kind.
In France, a popular television program portrays Bush as a trigger-happy puppet ignoring Europe and gunning for Saddam. "He has the character of someone who is unconscious of his actions, who doesn't understand what he is doing," said Bruno Gassio, creator of the puppet show on France's Canal Plus.
"The general sentiment in Germany is pro-American, anti-Bush and anti-war," said Felix Lutz, a professor of international relations at Schiller International University in Heidelberg.
BLAIR AT HIS BEST Observers say Bush is increasingly convinced that he must win over his European allies and improve his image overseas, so it's no surprise that he is turning to Blair. The subject of political satire across Europe for his image as the commander in chief of an arrogant foreign policy, Bush needs the help of a natural orator.
"I don't want to be rude, but one reason Blair was very effective after 9/11 was because he knows how to articulate words, he knows how to put a message across," said Anthony Howard, a columnist for The Times of London. "I have to say that in Europe we don't think that is the greatest strength of your president."
Howard calls the Bush-Blair talks on Saturday a "salesmanship meeting," at which Blair will tell Bush how to best market his attack plans to Europe. Key to winning over allies would be a fresh U.N. resolution on Iraq. Then, observers say, if weapons inspectors were not allowed to return or if their work were again thwarted, Washington would have a better case in Europe for toppling Saddam.
During the debate over invading Iraq, Blair has thrown his support behind Bush. In an interview earlier this week, he called European criticism of the U.S. position on Iraq "just straightforward anti-Americanism" and attacks on the American president "a parody of the George Bush that I know and work with."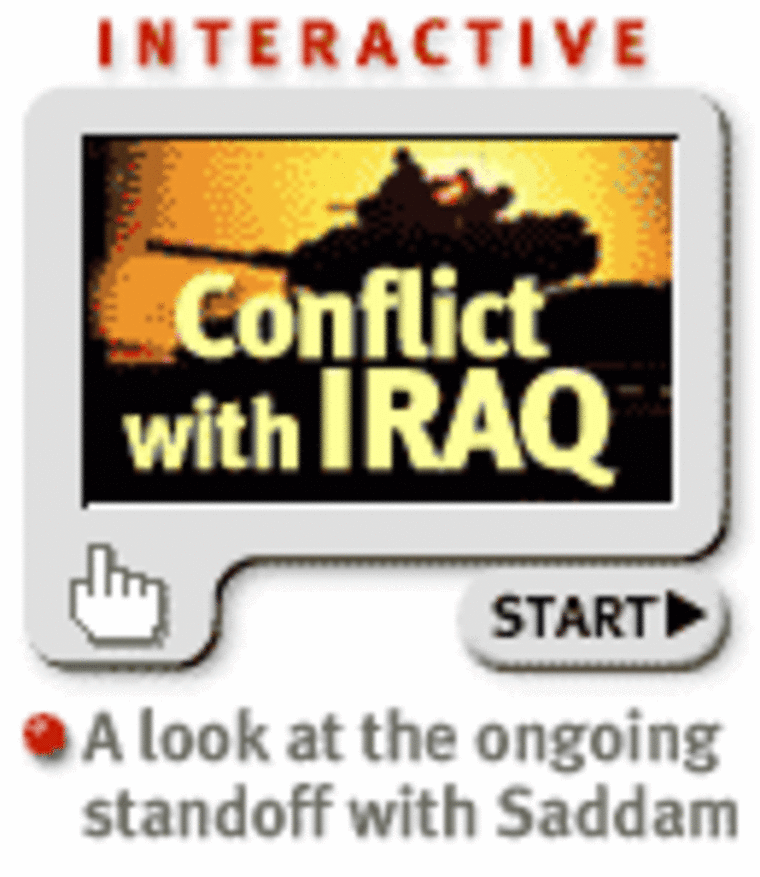 Blair has shown only a hint of reluctance over Bush's call to oust Saddam. In a BBC interview for a documentary to be broadcast Sunday, the prime minister said military action should be avoided — "but there are some times in which it is inevitable," according to a transcript.
BLINDLY BACKING AMERICA At the Para pub in Aldershot, the photos of Britain's finest paratroopers hang with pride on well-worn walls. Over beers, regulars say that Britons will rally behind their troops if they are sent into battle, but for now the country should avoid blindly backing America.
"Sometimes your national interests are different from ours, so I don't think necessarily we should go just because you're going," said paratrooper Jason Brammer.
Observers say swaying sentiments like Brammer's will be central to the Bush-Blair meeting at Camp David — noting that Blair is a master at winning over opponents.
"He's probably one of the few foreign statesmen who can quietly and privately say to the president, 'This is the view in Britain. This is the view in Europe. We are your truest allies. We are probably the only ones who are going to come along with you into battle, therefore we do actually need to have a common policy on this," said diplomatic editor Binyon.
Preston Mendenhall is MSNBC.com's International Editor. NBC's Dana Lewis is on assignment in London.