The Pakistani government is making emergency preparations to accept 2 million Afghan refugees in the event of a U.S. attack on Afghanistan. A formal announcement of the plan, scheduled for Wednesday, will mark a major policy shift by Pakistan, which is already struggling to provide for millions of refugees who have fled more than two decades of war in Afghanistan.
"[IN THE EVENT OF HOSTILITIES], in our discussions with the United Nations, we are looking at conservative figures of between one to two million refugees," Pakistani cabinet minister Abbas Khan told MSNBC.com in an exclusive interview.
Khan, the minister in charge of refugees, said that Islamabad would be seeking an immediate $122 million in refugee aid from international donor nations. A joint appeal with the United Nations will be launched on Wednesday, Khan said.
Before terrorists crashed airplanes into New York's World Trade Center and the Pentagon in Washington on Sept. 11, Pakistan was already near the bursting point with Afghan refugees. Millions of Afghans, tortured by two decades of invasions and civil wars, fled across the border to their eastern neighbor.
For Pakistan's government, Afghan refugees have become a political hot potato — some three million displaced Afghans live in Pakistan, burdening the country's social services and wearing thin a welcome mat first rolled out when the Soviets invaded Afghanistan in 1979.
A 'WELCOME SIGNAL'
The United Nations on Tuesday applauded the announcement by Pakistan. "It's a welcome signal," said Stephanie Bunker, spokeswoman for U.N. programs in Afghanistan. The government's refugee plan, which will be coordinated by U.N. aid agencies, comes in the middle of an existing Afghan crisis — a 3-year-old drought — that has sent tens of thousands of refugees toward Pakistan's 1,500-mile border with Afghanistan. Aid officials previously have criticized Pakistan for closing its borders to Afghans displaced by drought.
Pakistan's minister in charge of refugees said Tuesday that the government's decision to prepare for millions more Afghan refugees came soon after the terror attacks on the United States.
"We wanted to be in a position whereby if a humanitarian disaster arose we would have a concrete plan in place," Khan said. "That exercise has pretty much been completed."
Khan met Tuesday in Islamabad with World Food Program officials, who presented the minister with contingency plans for a first wave of up to 1 million refugees. Emergency preparations will include the mobilization of a fleet of water tankers and in-field food and health services. The government also plans to re-open old refugee camps that were abandoned as other generations of Afghan refugees integrated into Pakistani society. The United Nations is airlifting into Pakistan some 20,000 tents to add to a stockpile of 9,000.
"The plan addresses a whole variety of infrastructure and support," Khan said.
HITTING PAKISTANI POCKETBOOKS
But while the government decision has drawn accolades from the United Nations, selling the plan to Pakistan's population of 140 million will be far trickier. The flight of Afghans has hit many Pakistanis' pocketbooks - as the refugee population gradually migrates toward urban areas, providing a cheap source of labor and an extra burden on the country's social services.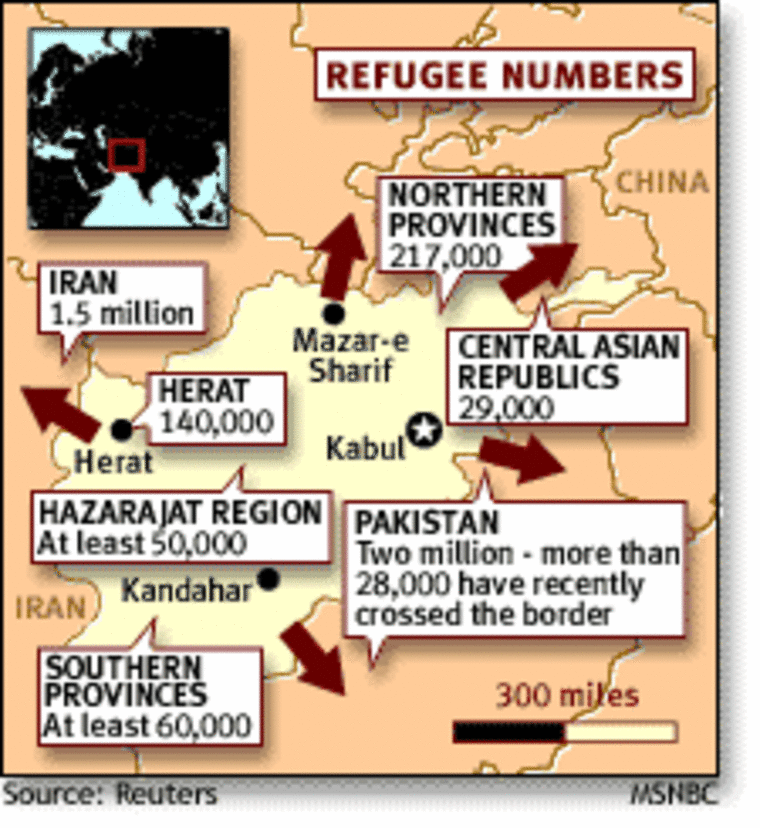 Khan said that attempts to smooth over tensions have been met with mixed success. Officials have met with tribal heads in regions near the border with Afghanistan, where most refugee camps are concentrated. The chiefs said they support accepting refugees fleeing conflict, Khan said, but they don't want more refugees in their own backyards.
"After 23 years, there is a great degree of host country fatigue taking place," he said "For the (Pakistani) population, which after all has played host to these people, there's a great degree of frustration that has developed amongst them."
The government will rely on foreign aid donors to help ease the burden, Khan said. "Pakistan's own infrastructure has reached breaking point," he said.
For the time being, however, Pakistan's border with Afghanistan remains closed — a continuing source of frustration for aid officials. Khan said that policy would remain in effect until there are significant hostilities inside Afghanistan — like U.S. military action — that force hundreds of thousands of refugees toward Pakistan's borders.
The border controls would come down "around the time when things start (heating) up in Afghanistan, not before," Khan said.
Peter Kessler, chief spokesman for the United Nations High Commissioner for Refugees, said that the United Nations hoped the Pakistani government would show "humanitarian flexibility" before a U.S. retaliation against the Taliban, and let in Afghan refugees already massing at the borders.
MSNBC.com's Preston Mendenhall is on assignment in Pakistan.