A judicial inquiry expected to present a defining moment for the government of Prime Minister Tony Blair opened here Friday with the aim of investigating the death of David Kelly, a respected weapons expert who committed suicide after being named as a source of criticism of British intelligence used to support the war against Iraq. The judge conducting the inquiry said he will call Blair to give evidence.
THE INQUIRY, led by Lord Hutton, an appeals court judge, held a preliminary session Friday to explain how the inquiry will work. Hutton will formally begin his probe after the funeral next Wednesday of Kelly, whose work for the Ministry of Defense and U.N. weapons inspection teams in Iraq earned him a reputation as one of the foremost experts on Saddam Hussein's chemical and biological weapons arsenals.
The investigation, which could last several months, is expected to further entangle the British and U.S. governments in allegations that Saddam's weapons programs were less advanced than touted by Blair and President Bush in the run-up to the war.
On Friday, Hutton pledged a wide-ranging inquiry and indicated that his work would also delve into the compilation of a British government intelligence dossier on Iraq, some of which has since been discredited.
Kelly's suicide on July 18, two days after a Parliamentary committee questioned him over a British Broadcasting Corp. report that Downing Street edited the dossier to exaggerate the threat posed by Saddam, has served to underscore post-war skepticism on both sides of the Atlantic. The BBC said Kelly was the main source of its report.
OFFICIAL PRESSURE? Hutton said he would explore whether any official pressure was exerted on Kelly to come forward as the source of the BBC report that said British intelligence on Iraq was "sexed up" to win public backing for the war against Saddam, an allegation the government has fervently denied.
Kelly, a civil servant advisor working at the Ministry of Defense, was reportedly deeply anguished by the Parliamentary committee grilling, and some have suggested that being thrust into the spotlight may have led to his suicide.
Although conducted by a judge, the inquiry is private. It was ordered by the government. Lord Hutton does not have the power to force anyone to appear before him. Blair and senior members of government have said they will appear if called.
"At some stage in the course of the inquiry, I propose to ask the prime minister and the Secretary of State for Defense Mr. Geoff Hoon to give evidence of their knowledge of the discussions that took place and the decisions which were taken in relation to Dr. Kelly," Hutton said.
In the weeks since the death of Kelly, some politicians and public opinion polls have called for the resignation of Hoon, Britain's defense minister who has flatly denied authorizing his office to leak Kelly's name to the press.
Blair and his top advisor, Alastair Campbell, have not been spared from calls to step down. Blair, suffering in opinion polls, has flatly rejected suggestions that he shared any complicity in Kelly's death.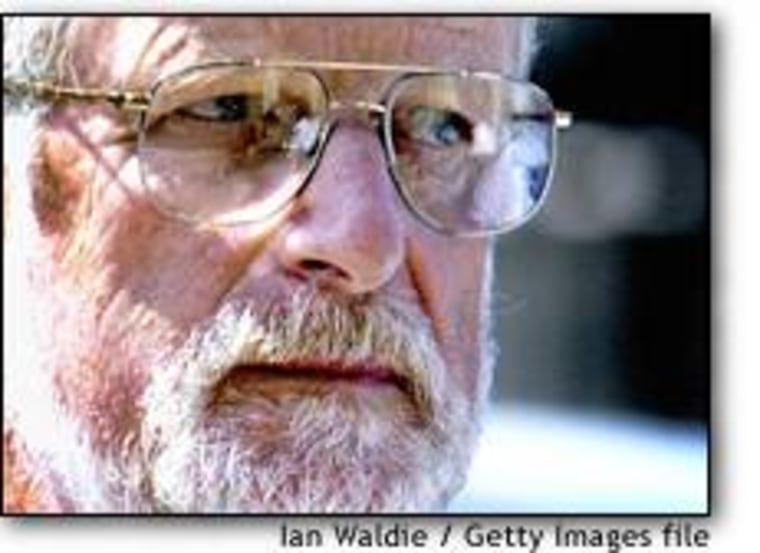 Hutton said Friday that a focus of his inquiry will be to determine how Kelly's name became public. The weapons expert admitted speaking on condition of anonymity to BBC journalist Andrew Gilligan, but Kelly said he did not think he was the main source of the broadcaster's report that Iraq intelligence was exaggerated. Kelly's wife and daughters are expected to give evidence of Kelly's state of mind in the days before he took his life in a field near his rural home.
SADDAM'S THREAT In recent months, as expert teams in Iraq have failed to uncover evidence of Saddam's weapons of mass destruction, the White House and Downing Street have struggled to recast the threat posed by Saddam.
On Wednesday, Bush defended U.S. intelligence used to support ousting Saddam. "That intelligence was good sound intelligence, on which I made a decision," he said. Bush, like Blair, now says that evidence that Iraq had "weapons programs," rather than the the weapons themselves, justifies the war.
Also speaking Wednesday, Blair told a regular news conference in London that he would not comment on the Kelly affair during the investigation. Blair acknowledged wide-spread post-war skepticism.
"People need to know that what we did in Iraq was right and justified and that's a case that we have to not just assert but prove over time, both in relation to weapons of mass destruction and in relation to the improvement of Iraq," he said.
MSNBC.com's Preston Mendenhall is based in London.