In this frost-coated Danish village, Nizar Khazraji, one of the most important players in the Bush administration's plan to topple Saddam Hussein, is stuck. "I should be closer to Iraq," the exiled former head of the Iraqi army says. "Or on Iraqi soil."
THE 64-YEAR-OLD Khazraji, living in public housing an hour west of the Danish capital, hardly cuts the figure that many would envision for a man tapped by Washington to seize control of Iraq's armed forces and unite hundreds of thousands of soldiers against Saddam.
The general, dressed in a suit and colorful tie but apparently without many visitors, occupies a small two-bedroom apartment in Soroe, provided by the Danish government.
Yet Khazraji, chief of staff of Iraq's army from 1987-'90, has emerged as Washington's top pick to help engineer the end of Saddam's brutal regime, paving the way for a new government in Baghdad.
If only he could leave Denmark.
Earlier this year, a Danish prosecutor launched an investigation into war crimes allegedly perpetrated by Khazraji during Saddam's crackdown on Iraq's Kurdish minority in the late 1980s. The "Anfal" campaign, one of Saddam's deadliest, killed an estimated 100,000 and included the use of chemical weapons against civilians. Khazraji vehemently denies the charges.
SUPPORT SEEN AS CRUCIAL While U.S. officials say the Bush administration's plans for Iraq will go ahead with or without Khazraji, the White House is clearly interested in the former Iraqi general. Khazraji was forced out of the army after Saddam invaded Kuwait in 1990, an event that sparked the Gulf War. Khazraji says he had no advance knowledge of Saddam's plans.
The general says his popularity among the armed forces, whose support would be crucial both to a U.S.-led attack on Saddam and to a new Iraqi government, saved him from execution by the regime.
Iraqi opposition leaders and U.S. officials concur that Khazraji, the highest-ranking defector from Saddam's ranks, is the man to win over the military. Khazraji maintains communication with high-level Iraqi officers who oppose Saddam, but are awaiting a U.S. attack — or word from the former general — to turn their soldiers against Saddam's regime.
"There are many officers supporting us," Khazraji says. "If the right conditions are created, this can happen."
GOING AFTER SADDAM When Khazraji decided to flee Iraq with his family in 1996, toppling Saddam was his aim. He planned his escape for six months, taking refuge with the Kurdish population in northern Iraq — the same group he is accused of massacring in 1988. Khazraji's family then set up in Jordan, where the CIA (the general will only say he has been visited by "many people") got in touch with him. Together, they hatched a plan for Khazraji to bring loyal troops over to his side and bring down Saddam.
But the CIA, with little warning, pulled out. The Clinton administration had no appetite for regime change in Iraq.
"I was hoping that I would resist the Iraqi regime," Khazraji says bitterly. "But the international policy led by the United States was to contain Iraq, not to depose the regime."
After falling out with the CIA and an assassination attempt in Jordan, Khazraji says he realized the region was too dangerous for a man seen by Saddam as a traitor. Even Europe was risky. In Spain, he was again targeted for elimination.
NO SAFE HAVEN When he landed in Denmark with his two sons and wife and sought political asylum in 1999, Khazraji thought he would find a safe location from which to hatch another plot to topple Saddam. That hope faded when several Kurdish refugees recognized him in the street. They contacted Denmark's newly created office for the prosecution of international crimes, alleging that Khazraji, as head of the Iraqi army, had presided over the 1988 killings of thousands of Kurds in a chemical weapons attack.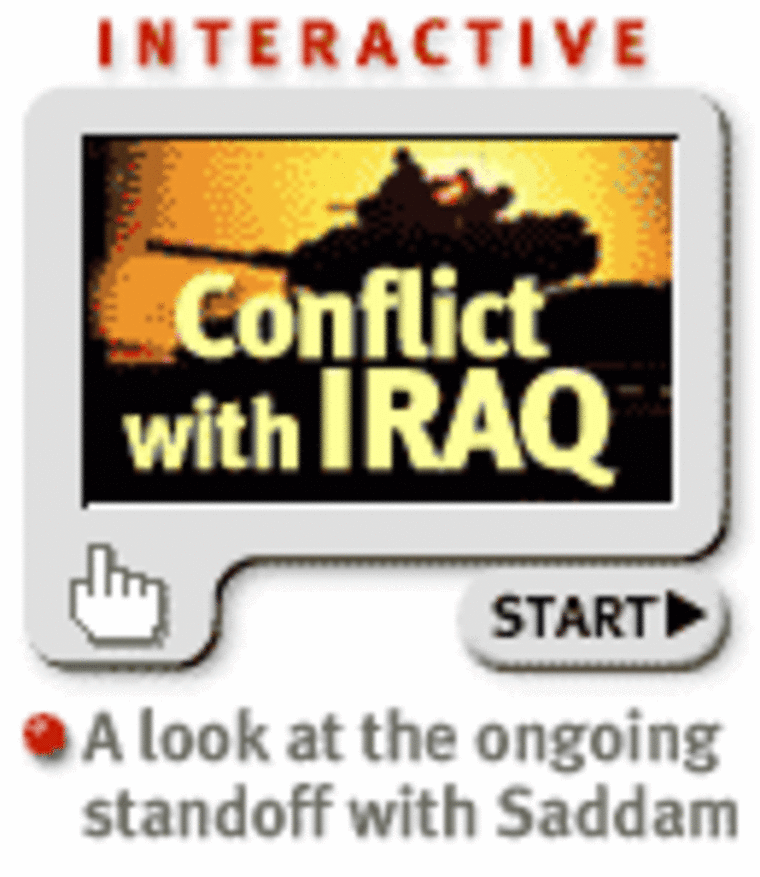 Danish law allows the country's courts jurisdiction over crimes committed beyond its borders. Khazraji was released on his own recognizance, but ordered not to leave the country. His asylum application was rejected pending the investigation into the Kurdish claims, which the general says were orchestrated by Saddam's secret agents.
"There was no letter, no document issued by me to perform these acts," says the general, who blames the massacres on Saddam and his cousin, Ali Hassan Majeed. "I challenge you to present a document," Khazraji says angrily, noting that Kurdish leaders have publicly exonerated him.
THE PROSECUTOR In her Copenhagen office, Danish special prosecutor for international crimes Birgitte Vestberg says she has a paper trail that appears to lead to Khazraji. Some of the documents include orders dated in May and June 1987. One, sent to the First Army Corps commanded by Khazraji, states: "Within their jurisdiction, the armed forces must kill any human being or animal present within these areas." Another order signed by Saddam's crony Majeed commands the First Corps to secure certain villages and execute all persons between the ages 15 and 70. Khazraji says while the order may have come, he did not carry it out.
Vestberg, a steely, 18-year veteran of some of Denmark's toughest criminal prosecutions, stares coldly when asked whether her case against Khazraji could stall the liberation of Iraq from Saddam's rule.
"Honestly, I don't care," she says. "He's being charged with crimes in this country, and if he's needed elsewhere it's kind of his problem. And not mine."
THE GENERAL WAITS For now, as he prepares his defense, Khazraji putters in exile. From Soroe, he sends e-mails and phones supporters in the Middle East. He reads a biography of Secretary of State Colin Powell.
Although Iraqi opposition leaders agreed Tuesday on a power-sharing plan after a heated conference in London, U.S. officials say that Khazraji is a more important piece to the puzzle confronting Washington in a post-Saddam Iraq.
The Bush administration is deeply mistrustful of Iraq's fractured political groups living for years in exile. Khazraji's military credentials could keep the country from breaking up in a post-regime change power vacuum.
With that in mind, U.S. officials say they are gently pressuring the Danish government to resolve Khazraji's fate quickly. The Danish justice minister was in Washington for talks last week.
In her long career, however, prosecutor Vestberg says the justice ministry has never interfered in an individual case, and she doesn't see it happening now.
"Nobody can prevent a helicopter coming down on the central square of Soroe and picking him up," Vestberg says of Khazraji. "We don't expect that to happen."
Preston Mendenhall is MSNBC.com's international editor. NBC's Fred Francis contributed to this report.