Swept up in the tide of change moving through their country, the Arab residents of Saddam Square in this northern Iraqi city say they soon will choose a new name for their neighborhood, a relic of Iraqi leader Saddam Hussein's attempts to boost loyalty to his regime by altering urban demographics. But a week into the liberation of Kirkuk, Saddam's legacy is proving hard to shed.
SADDAM SQUARE, with its dilapidated, four-story apartment blocks, may not be the most desirable place to move a family today, but back in 1989 the government development easily lured Arab families with free housing in Iraq's north.
"The attraction was the free apartment," said Fadil Kadem, a 50-year-old Arab laborer who jumped at the government's offer. "We had nowhere to live in Baghdad."
Kadem and his wife packed their belongings and headed for Kirkuk, a historically Kurdish city. Over the years, their family grew to include 10 children. Neatly constructed around a small bazaar, Saddam Square was designed to be a model solution to Iraq's housing crisis.
Now that Saddam's regime has fallen, there is a growing realization among Saddam Square's residents that, rather than serving as a model community, their neighborhood is a troublesome remnant of Saddam's "Arabization" of areas where opposition to his rule was strong.
A week into its freedom from Saddam's iron-fisted rule, Kirkuk and its population of Kurds, Arabs and Turkomans are finding themselves caught up in a purgatory of property rights that will long outlast the Iraqi ruler's regime.
"The government of Iraq deceived us," said Shamal Muhedeen, a retired clerk and resident of Saddam Square.
KURDS RETURN, ARABS FLEE On almost every street in Kirkuk, Saddam's attempts to shift the city's demographic in the Arab population's favor are being rolled back.
Thousands of Kurdish families, expelled by Iraqi security agents, are returning to their homes. Arab families, to whom the homes were given, are fleeing Kirkuk.
Latif Salih, a 31-year-old Kurdish carpenter, brought his family home two days after Kirkuk fell last week. Kicked out by Iraqi security agents almost six years ago, Salih said he has no sympathy for the Arab families, who human rights groups say are as much victims of Saddam's policies as the Kurds.
"The Arabs came here and received money and my property. I was left with nothing, no property and no money," Salih said.
The Kurds have a name for Arabs resettled in the north by Saddam's regime: the "ten thousands," so named because many of them received 10,000 Iraqi dinars for the move.
The money, at the time worth $30,000 to $40,000, is a fortune for poverty stricken Iraqis.
Latif displayed for a visitor the eviction order delivered to him on June 24, 1997. Signed by the governor of the Kirkuk region, the document lists all the Kurdish families who must leave.
Next to the Kurdish names are the names of the Arab families who will take their houses. No reason other than "decision number 1319" by Iraq's Revolutionary Command Council is given for the eviction.
'PATIENCE' URGED Kurdish leaders are urging those returning to be patient and to allow time for new government structures to form to mediate land disputes.
Kurds long exiled by Saddam appear to be paying no attention to the message, arriving in droves to reclaim their land. There have been some cases of suspected reprisal violence, though local officials believe the strife is largely due to Kirkuk's population protecting property from looting.
InsertArt(2009418)"Eighty percent of the population is armed," said Shalaw Askri, a Kurdish official serving as a mediator among Kirkuk's ethnic communities. "Everyone has a right to defend his family and property."
The problem, Askri said, is that both Arabs and Kurds may have a legal argument to their ownership. Many Arabs resettled to the region sold houses appropriated from Kurds to other Arab families, who believe they purchased the property legally under Saddam's judicial system.
"Both sides have a piece of paper that gives them ownership, but under different governments. We need time and patience to change all the laws in an institutional way. We are advising the Kurds to wait and be patient," Askri said.
In the end, he said, one side is going to lose. Asked what compensation measures were being considered for owners, he threw up his hands. "In the end, the government must take responsibility. But we don't have the infrastructure or money to do that now. And how can you control people from taking justice into their own hands?"
ARABS FLEE Little has been heard from the Arabs fleeing Kirkuk. Residents of the city said hundreds of families left as the war began, possibly to their homes before Saddam resettled them.
Unlike the Kurds and Turkomans, the Arabs have no major political movement representing them in Kirkuk. Saddam's Arab-dominated Baath Party has collapsed.
An 18-member transitional city council — made up of six Arabs, six Kurds and six Turkomans — has met twice under the supervision of the U.S. military. Few of its decisions are expected to be binding until a formal government is formed.
On the streets of Kirkuk, indirect intimidation abounds. "Kurdistan forever" has been spray painted on buildings and walls, highlighting fears among the Arab and Turkoman communities that Kurds are seeking to declare Kirkuk the capital of an independent Kurdish state.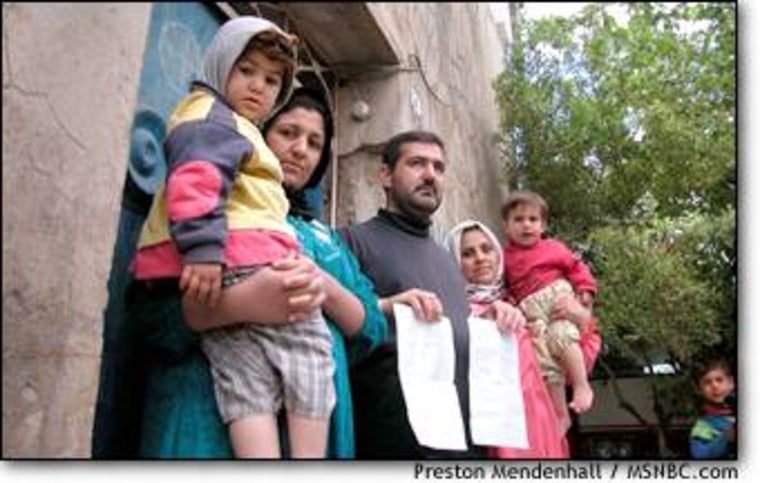 At Saddam Square, so far most of the Arab families are staying. Expressly built for Arabs, no Kurds are claiming property rights to the development's apartment blocks.
Still, there are longstanding tensions between the two communities. Saddam Square was built adjacent to the Kurdish neighborhood of Shorje, whose shanties and poverty contrast sharply even with the rundown buildings of Saddam Square.
"The Kurds have a right to live in their homes," said Arab laborer Kadem. "We would like to go back to Baghdad, if the government gives us a place to live. But for now we have no place to go."
MSNBC.com's Preston Mendenhall is on assignment in Iraq.