In booking Colin Powell's current tour of Asia, the State Department sought to ensure the trip would end on a positive note - in the Philippines. It's not that U.S. operations on this "second front" in the war on terror have been an unqualified success - they haven't been. But in Manila, the secretary of state will be on hand to celebrate the revival of military ties with a key Asia Pacific ally, one that only a decade ago expelled U.S. forces from its territory. In the long run, that accomplishment may be more significant than the battle with bandits raging in the jungle.
Powell meets leaders in Manila on Saturday, just days after the end of Operation Balikatan, translated as "shoulder to shoulder." The six-month-long joint counterterror operation, which includes about 1,000 U.S. personnel on the ground, made Operation Balikatan the biggest U.S. deployment outside of Afghanistan in the U.S.-led war on terrorism. It was by far the biggest joint operation between the two armed forces since the Philippines informed the United States it would have to vacate its two huge bases a decade ago.
Powell is expected to discuss holding more and, according to local press reports, much larger joint military exercises in October, with continued focus on combating terrorism.
Still more significant, the war on terrorism has breathed new life into a long-stalled negotiation over a deal to allow regular U.S. military access and support in the Philippines. The Mutual Logistics Support Agreement (MLSA) is likely to be finalized during or shortly after Powell's visit.
"The Balikatan exercises wouldn't have happened (on such a large scale), the amount of military assistance that came (to the Philippines) would not have come, and the MLSA would not have had such support without Sept. 11," says Paulo Pasicolan, a policy analyst at the Heritage Foundation.
All along there has been vocal opposition to a U.S. military presence in the Philippines by nationalists and politicians who helped force the closure of the U.S. base at Subic Bay and Clark Air Force Base, then the two largest U.S. facilities in the region. That ended a century that included a long period of colonial rule from Washington, and then a less formal domination of the Philippines throughout the Cold War. To many, the closing of the bases represented true independence for the first time since Spain colonized the island chain in the 1600s.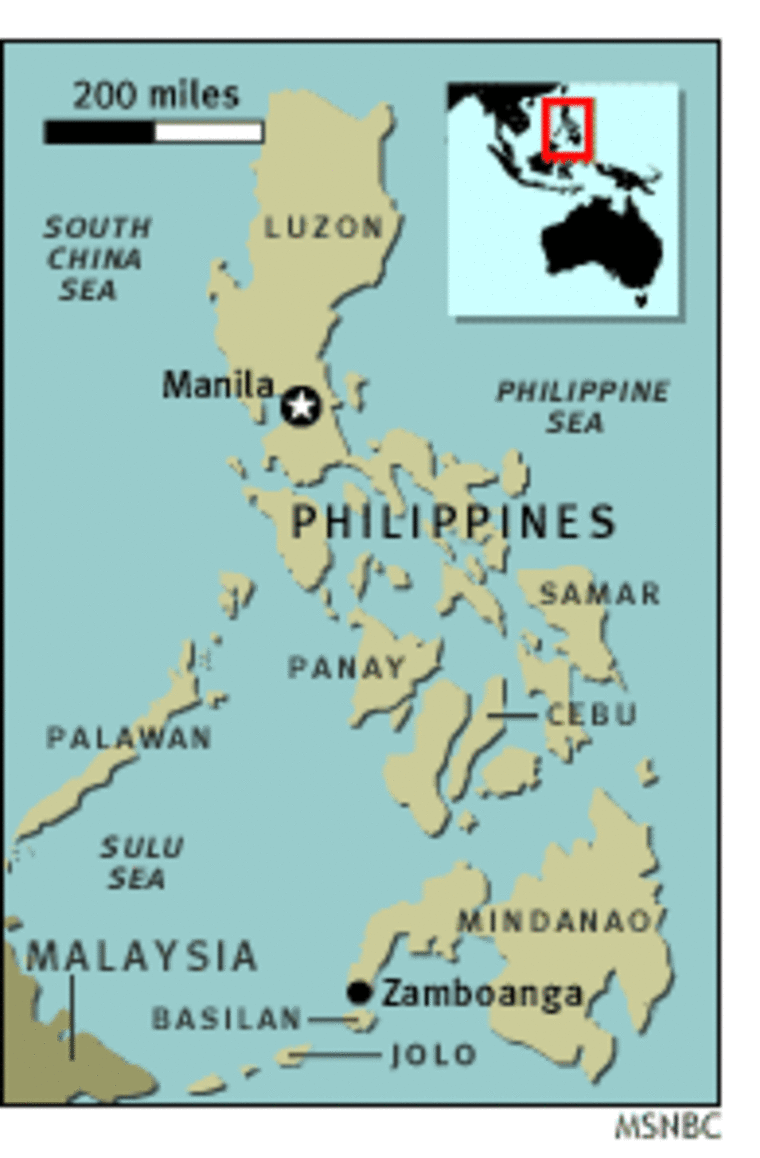 Amid lingering political sensitivity after the bases were closed, the relationship languished. Washington and Manila negotiated for years before finally signing a Visiting Forces Agreement (VFA) in 1998 to allow for joint military exercises under carefully proscribed conditions. The MLSA is even more important to the United States — allowing access to bases for refueling, reprovisioning and repair to U.S. ships on a regular basis, without a case-by-case debate.
Inevitably, as Balikatan ended and Powell prepared to arrive, protesters marched on the U.S. Embassy with signs reading: "Powell, you're not welcome here" and "Go home, G.I. Joe, don't come back." But the influence of these protesters is dwindling.
Unqualified support
After the Sept. 11 attacks on the United States, the first Asian leader to step up was Philippine President Gloria Macapagal Arroyo, who offered "unqualified support" for the United States in its Afghanistan campaign , including use of Philippines military bases for refueling and resupply.
Shortly thereafter, Washington and Manila jointly opened the "second front" in the war on terror. Promising a $55 million transfer of hardware and training, the United States began an effort to help the Philippine military wipe out homegrown terrorists in the country's southern islands.
Operation Balikatan was longer and bigger than previous exercises. And, unlike routine joint U.S.-Philippine exercises, Balikatan was geared to a specific enemy - the Abu Sayyaf, or "Keepers of the Sword" — a militant Muslim group with links to the international terrorist group al-Qaida.
Abu Sayyaf's favorite tactic is kidnapping, of children, Philippine civilians and foreign tourists, some grabbed from neighboring islands belonging to Malaysia. And their goals fluctuated, at times demanding the release of jailed militants or calling for an independent Muslim state in the predominantly Catholic country. Always, however, there was a demand for ransom, and hefty payoffs helped build a well-armed militia. In the absence of payoffs, hostages were brutally murdered — some beheaded.
Mixed results
Balikatan's success against the Abu Sayyaf is, at best, hard to measure. Under the arrangement, U.S. soldiers were to train Philippine soldiers and were not allowed to engage in combat themselves, due to Manila's constitutional ban on foreign soldiers. One of the immediate goals of the operation was to secure rescue of an American couple and a Filipina nurse held hostage by Abu Sayyaf for more than a year.
As it turned out, Philippine forces not associated with the U.S. training program stumbled across the Abu Sayyaf holding the three. In the ensuing gunbattle on June 7, American Gracia Burnham was freed, but her husband, John Burnham, and the Filipina, Ediborah Yap, were killed in the crossfire.
Another unconfirmed victory associated with the U.S. presence is the Philippine military killing of an Abu Sayyaf leader, Abu Subaya. The U.S. says intelligence it provided allowed Philippine troops to get Sabaya. Sabaya's body was never located.
"What (Balikatan) did accomplish was to force the Abu Sayyaf to scatter," says Dana Dillon, senior policy analyst at the Heritage Foundation. "They killed a few, and they are without a home, kind of like al-Qaida right now."
"If the goal was to defeat Abu Sayyaf, the goal was only partially met," says John Gershman, Asia Pacific analyst for the think tank Foreign Policy in Focus. "They're disorganized but not defeated."
He notes that the forces under U.S. training focused on Abu Sayyaf on Basilan island but did not go after a second Abu Sayyaf faction based on the island of Jolo.
Meanwhile, the operation did transfer training and technology to the local military, helping the authorities catch up or perhaps surpass their well-funded adversaries. Some of the new U.S. funding has also been used to improve roads and a port in the poor southern region, which should play a positive role in the economy in the longer run.
Naturally, both countries declared the operation a success. Balikatan's objectives were "exceeded in all ways that are measurable and in ways that are intangible as well." said Brig. Gen. Donald Wurster, head of U.S. forces in the Philippines.
Philippine Chief of Staff Gen. Roy Cimatu added: "The Abu Sayyaf group's backbone has been broken."
Second front?
But in the larger war on terrorism, it's not entirely clear that clobbering the Abu Sayyaf really makes a difference.
The Philippine group's links to al-Qaida go back to Abu Sayyaf's founder, Abdurajak Janjalani, who trained in Afghanistan around 1990 and was killed by Philippine troops in 1998. Funding for his guerrilla group is traced to the brother-in-law of Osama bin Laden, chief suspect in the Sept. 11 attacks.
Evidence suggests that the Abu Sayyaf may have given logistical support to Ramzi Youssef when he was in the Philippines in 1995. Youssef is serving a life sentence for masterminding the 1993 attack on the World Trade Center. He was arrested after Philippine police uncovered a plot he was hatching to hijack U.S. airliners in the Pacific. After that, the links grow tenuous.
"They were a conduit for al-Qaida, not theconduit," says Dillon, citing Philippine police reports. "Now this hole has been closed. Its not the only hole, the best or biggest, but a hole nonetheless."
Although Janjalani had an apparent mission, many analysts now view Abu Sayyaf as thugs — more mafia than global terrorists.
"My impression is that whatever they were when they were organized, they degenerated into a bunch of banditos who made money kidnapping people and asking for ransom," says Steven Solarz, a former congressman who is now vice chairman of the International Crisis Group. "Clearly they were a nuisance, but I don't have the impression they were part of a global conspiracy that posed any threat to the U.S."
Greshman goes further, characterizing Balikatan as mainly opportunistic on the part of the United States. "It was a question of how they could they use the Abu Sayyaf as a means of strengthening the U.S.-Philippine military relationship, … which is critical to force projection in the region."
Not surprisingly, Philippine nationalists see a conspiracy hatching. They argue that the logistics agreement, and to some extent the recent enlarged military exercises, are part of a larger scheme by the United States to eventually re-establish its bases and once again dominate the Philippines.
But polls now suggest that most Filipinos are now supportive or at least indifferent to U.S. military operations, so long as the activity doesn't affect their own lives.
In fact, in a scene unthinkable a decade ago, Basilan residents pleased with renewed public order this week came out to rally for Americans to stay. Some were wearing "Welcome, Joe" T-shirts.
Reuters contributed to this story.