/ Source: NBC News producer
Hu Jintao, tipped to become the next supreme leader of China, is traveling to the United States at a critical moment in China's politics — during the final internal deliberations over succession before the Communist Party congress. With a host of difficult U.S.-China issues unresolved, Hu's most likely approach will be a cautious one, with modest goals. Too much is at stake with the U.S. — the country most pivotal for China's geopolitical and strategic destiny — to risk anything but a modest get-to-know you mission.
Ever since 1988, when he was named vice president, Hu has scrambled to make up for his most obvious deficiency in foreign diplomacy. He has traveled to Southeast Asia, Japan, Central America, the Middle East, Latin America and, late last year, to Russia and Europe.
His current tour of the United States, stretched over seven days, represents the final diplomatic test of his preparedness and stature before his ascension to leadership of the world's most populous nation. A "positive" result from his meetings with President Bush and other leaders of the United States will in some measure help the man who will complete what may be the first orderly transition of power in the history of Communist China.
Judging from Hu's entourage, the "positive" result has a modest definition. The senior members of his delegation carry a vice-ministerial ranks — suggesting low-profile people with solid expertise on any subject of concern to U.S.-China ties.
Perhaps the most ambitious aspect of the trip was indicated recently by a Foreign Ministry spokesman in Beijing. He said the contentious issue of Taiwan will be discussed "in depth" during his trip.
But most analysts interviewed by NBC News believe that China is not expecting any major breakthrough on substantive disputes during Hu's visit. "I don't think this trip will solve any of the current problems between the U.S. and China," says Prof. Yan Xuetong, a senior international affairs expert at Tsinghua University. "Generally China doesn't expect much from this trip and just hopes that this trip will help him get acquainted with the American leaders of the executive and legislative branches, and if he gets acquainted with American politicians, that's good enough."
"The main purpose is mutual understanding. Basically, China wants to show the new leader to the United States and wants the Americans to know who he is. In the meantime, it is an opportunity for Hu Jintao, he being new to foreign affairs, to learn something from China's main foreign policy partner, or competitor as the case may be," adds Prof. Tang Wenfang, a visiting fellow from the University of Pittsburgh.
The modest goal for the U.S. trip, according to Zhang Yuebai, expert on United States at the Chinese Academy of Social Sciences, is a result of the complexities of China-US relations and the current preoccupation of the Bush administration," with the war on terrorism.
Since the Sept. 11th terror attacks, the White House has shifted its attention away from East Asia, focusing instead on Central Asia, West Asia, South Asia and currently the Middle East. "As for the problems between the two countries, mainly the issue of Taiwan, I am not optimistic that there will be any movement. Given the leadership transition in China, this visit is mainly to keep the momentum of high-level contacts for the future," Zhang says.
"Fundamentally, the two countries still lack mutual trust, and the difficult relationship, the disputes over Taiwan, human rights and others, will continue. At the same time, both countries have common interests, the U.S. needs China's cooperation, while China cannot do without the United States. In this context, Hu Jintao's trip is to help stabilize the relation, or at least the atmosphere of relations," adds Zhang.
With a modestly defined success from his U.S. mission, analysts say, Hu will have completed the international groundwork that may not be decisive, but still helpful, for his final move to the top of China's leadership ladder. China's Communist Party holds its twice-a-decade congress in October during which Hu, 59, is set to take over from 73-year-old President Jiang Zemin as party chief.
In March 2003, when China's parliament convenes, Hu should inherit the state presidency as well, completing the succession process first put into motion in 1992 by then paramount leader Deng Xiaoping. Under China's constitutional provisions, Hu could well be the top leader of China for the next ten years — a decade years that will decide whether China can maintain its rapid growth and realize its ambitious to become one of the world's strongest economic and military powers.
Hu remains an enigmatic figure, at home and abroad. So little is known about the man that there is not even an agreement about his place of birth. Many recent reports say he was born in Shanghai. But his official biography states that he was born in 1942 in the silk-producing town of Jixi, in a mountainous southeastern part of Anhui province.
His entry to the elite Tsinghua University, China's equivalent to MIT, in 1959 suggests he excelled in academics. After earning his degree in hydraulic engineering, Hu joined the Communist party in 1964. Like most of his generation, he "went to the grassroots" to do manual labor during Mao's Cultural Revolution. This political rite of passage, required of the China's educated class to demonstrate revolutionary fervor, landed him in the poor far western province of Gansu for much of his early career. Part of that time he spent building housing for workers.
A study of his domestic record — which in Chinese politics is always decisive — suggests that Hu's rise is due to his ability to get the job done at every level and in a manner that earns him notice from political patrons.
He climbed steadily through Communist party ranks, getting his first major break in 1982, when he was appointed to the Communist Youth League leadership — his first national posting — with the aid of Gansu's conservative party chief Song Ping.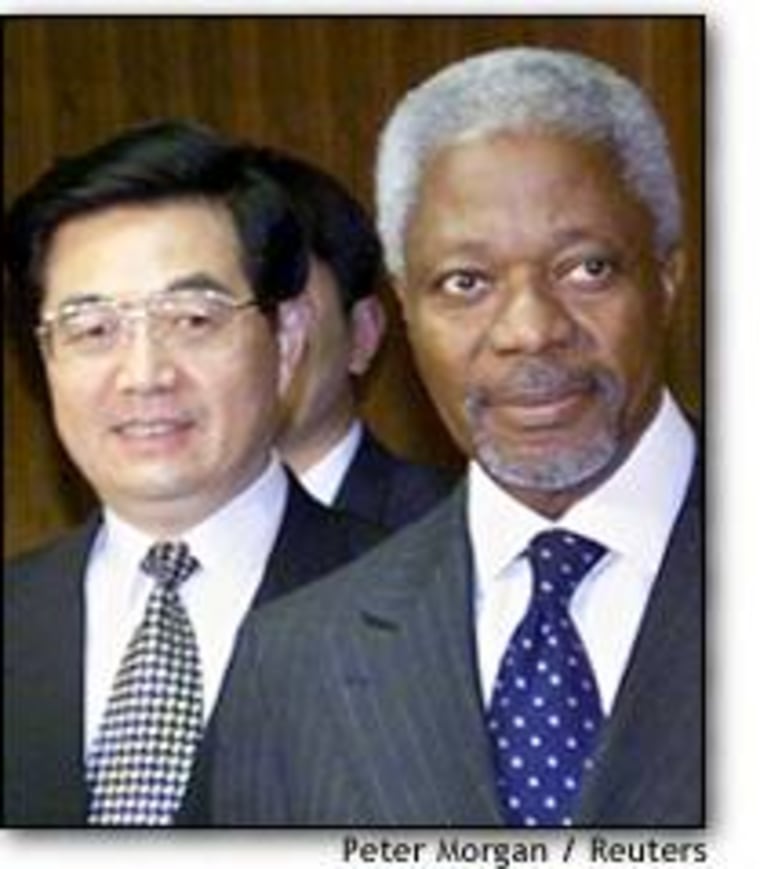 The league chairmanship brought Hu closer to Hu Yaobang, a former League leader who was being groomed originally to succeed Deng Xiaoping. (Hu later fell from favor and became an icon for the democracy protestors who were crushed in 1989.)
In the early 1990s, Song Ping would bestow a second key favor to Hu — ceding to him the powerful "organization" portfolio of the Communist party, which controls personnel appointments and dossiers.
The posting allowed Hu Jintao to get challenging postings that enlarged both his network and experience. He led Guizhou province, an impoverished land-locked area where per capita income was less than one-tenth of Shanghai's. He would later preside over Tibet, where he used martial-law troops to crush a Tibetan uprising for independence in 1989.
His next big break was in 1992, when Deng placed him in the inner sanctum of the party leadership in Beijing, with the clear purpose of preparing him for the ultimate job. His trajectory was confirmed five years later when he was promoted to No. 5 in the party hierarchy.
Hu's next big step is almost certain to take place this year. Barring major blunders or unforeseen events in coming months, Hu is set to take over as China's highest-ranking leader. Will he prove capable in tackling China's mounting domestic and international challenges?
"The most important concern is whether he will continue the current market-oriented reform and policies and I think he will," says political analyst Prof. Tang. "I also think he is capable, educated, and when he speaks, he is very engaging, cool-minded, so that some people say he is China's Putin, a technocrat."
Will his inadequacy in foreign affairs be a serious handicap? "Generally speaking, diplomacy is an art, not a science. What you need more is sense, a deep sense of leadership, more than skills. President Bush himself learned quite rapidly on the job," says Prof. Yan.
Is he a liberal or a conservative? "If conservative is 1 and liberal is 10, I will put him at 3 or 4, more conservative than liberal. I feel that he has an iron-fist when needed. But on the economic reform side, he is a liberal," say Prof. Tang.
Most analysts agree that the biggest question mark is Hu's command of military affairs, and there are unconfirmed reports that President Jiang himself would want to retain his military responsibilities during a transition period. Jiang, though he was appointed party chief in 1989, did not immediately assert his absolute leadership over the military. He only took firm control in 1995, after executing a reshuffle that put out of action two influential senior army veterans who were his opponents. Hu's tenure will be eased by the fact that China's military is now increasingly and decidedly more professional and less political.
What change in style will Hu's leadership bring? "President Jiang, I think, is more theatrical — some say showy. Actually, he likes a lot of Western things, literature and music and all that stuff. I feel Hu Jintao doesn't have that kind of inclination. Hu is more of a domestic person," observes Prof. Tang. Nevertheless, Hu's biography reports he enjoys dancing.
Eric Baculinao is an NBC producer based in Beijing.