Even by the standards of a country that has suffered 13 years of almost continuous fighting, the situation that has unfolded in Monrovia over the last several days takes Liberia's beleaguered civilians to a new level of desperation. Disease and hunger are sweeping through crowds of refugees who fled to the city hoping to escape fighting in the countryside. But the civil war followed and in recent days has brought the city to a halt. Now aid workers too are trapped in their compounds, watching their own supplies of water and food dwindle, unable to deliver badly needed help.
The situation is extremely chaotic. Communication is difficult and movement around the city severely curtailed by the fighting between rebels on the outskirts and President Charles Taylor's forces in the city. No one organization claims to have a complete picture. There is even less information from outside the Liberian capital.
However, the information coming in bits and pieces from aid workers in Monrovia suggests a humanitarian situation that is worsening by the hour and that will not improve until calm is restored.
"Food and water supplies have become scarce, there is widespread malnutrition and tens of thousands of people do not have access to potable water," said Marc Destanne De Bernis, the U.N. humanitarian coordinator, on Wednesday. "If the fighting does not stop immediately, we will witness one of the worst humanitarian tragedies in the region."
Fragments of the story emerging Wednesday and Thursday paint a disturbing picture.
About 1.3 million people, mostly women and children, are at risk of malnutrition, cholera, measles and diarrhea. Aid workers said Wednesday they were logging 350 new cholera cases a week and expected the contagion to surge, due to the lack of clean water and sanitation.
Tens of thousands who fled into the city from fighting in the countryside are now crowded into centers for the internally displaced populations, and those numbers have soared in recent days. At one of the largest, in the Samuel Doe Sports Complex, there were an estimated 30,000 people, particularly children, in desperate need of food and potable water. A number of international organizations were helping provide food and medical help in these centers, but at least some have been forced to suspend food delivery.
People have crowded into the compounds of embassies and non-governmental organizations in Monrovia. About 800 Africans have packed into the United Nations High Commission for Refugees compound in the Mamba Point area desperately seeking shelter and food. UNHCR staff said about 600 of these refugees were Sierra Leonean refugees who earlier fled their camps on the outskirts of the city. At least 160 Liberians and several nationals of other West African nations also huddled in the compound. Some came seeking evacuation, but that process has stopped amid heavy fighting. Food in the compound ran out on Wednesday. At least 600 people have sought refuge in two Lutheran Church compounds in Monrovia.
Aid organizations are largely paralyzed by the fighting. Food stocks in warehouses at the port are now under control of rebel forces and cannot be distributed. Many aid workers are themselves trapped in their offices or compounds by the fighting. UNICEF says about 65 of its staff members and their families are trapped in the organization's compound, and their food and water are running low. An Oxfam water engineer, Paul Jaiblai, who is holed up at the Monrovia office for the British-based organization, reported Wednesday: "We cannot find food to buy. We drank our last drop of water from the tank this morning. How are we going to manage? Only God knows."
Many of those killed in fighting or from disease and hunger were left uncollected in the streets. Agence France Presse reported Thursday that when workers were cut off from the city's cemeteries by the battles, they buried some of the victims on the beaches.
Extensive looting has ravaged the neighborhood where John F. Kennedy Hospital is located. JFK is the only major medical facility still functioning, and warehouses, offices and residences of a number of non-governmental organizations were affected. Near the U.S. Embassy, where at least 10,000 people have crowded hoping for safety, vendors were selling individual cups of flour and corn meal from stolen World Food Program bags.
Liberians have been chased from their homes through more than 13 years of bloody turmoil. The start of the civil war was in 1989, launched by then-rebel leader Charles Taylor, who seized power and finally was elected president in 1996. But rebel groups seeking to oust Taylor began a new civil war in 1999. As they have swept south into Monrovia, up to half the country's 3 million people have squeezed into the seaside capital, trapped between advancing insurgents and the Atlantic Ocean.
"Hundreds of thousands of Liberians continue to be caught in wave after wave of violence," stated Doctors without Borders operational director Christopher Stokes. But Stokes notes that in recent weeks the ability of aid groups to help many Liberians has eroded.
"Six weeks ago, humanitarian organizations had access to only a quarter of the country. That access has now been even further reduced to just a few square kilometers in one neighborhood of Monrovia."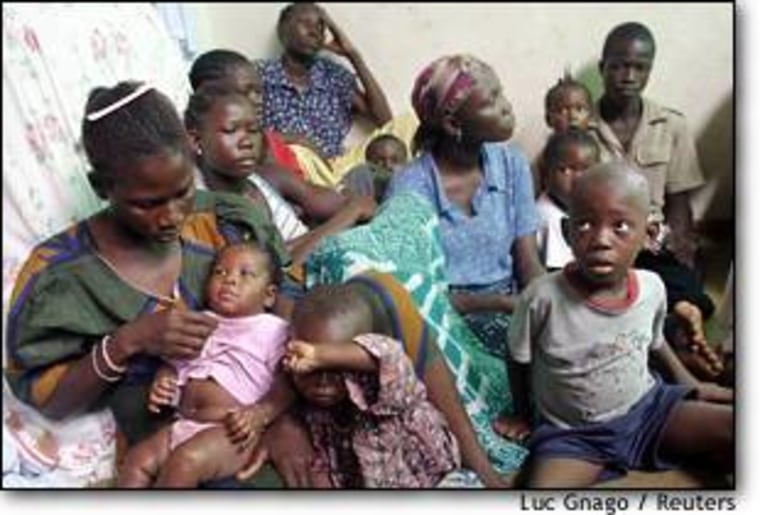 A cease-fire among two rebel groups — Liberians United for Reconciliation and Democracy and Movement for Democracy in Liberia — and Taylor's government on June 17 produced some optimism that international peacekeepers would intervene to restore order and make way for a new political transition. Many Liberians and international organizations have appealed to the United States to lead such an effort, in part because of its historical connection with Liberia. The country was founded for freed African-American slaves in 1847, and Liberia was an important Cold War ally, used as a listening post and launch pad for anti-Libyan operations.
The Bush administration has been assessing the situation for several weeks, and on Friday President Bush ordered an unspecified number of U.S. troops to be positioned off the coast of the nation to assist West African peacekeeping forces. One military official familiar with the planning said the USS Iwo Jima, the lead ship in a three-ship Marine Expeditionary Unit, would be moved from the Mediterranean Sea to waters off Liberia's coast.
"It will monitor the situation and be prepared to provide whatever support is necessary" for the peacekeepers, the official said, speaking on condition of anonymity. He said no more precise definition of the mission was available.
The administration has been concerned that U.S. forces would be stretched too thin by a military commitment in Liberia, given ongoing engagements in Afghanistan and Iraq.
However, West African nations made a move on Wednesday. "In view of the gravity of the situation in Liberia, we have decided to deploy two Nigerian battalions urgently to this country," said Mohamed ibn Chambas, the ECOWAS executive secretary. The deployment date for the first contingent of 1,300 troops will not be set until next week.
Aid organizations hope that the Nigerian troops can secure the port and warehouses of food and create space for humanitarian operations to begin. Top priority for helping civilians is supplying fresh water, followed by food distribution and medical supplies.
Whether the West African forces can pave the way for aid remains uncertain. "It depends on the robustness of those forces," said Gordon Weiss, a press officer at UNICEF.
The fate of thousands of civilians caught in the cross-fire also depends on the political calculations of the warring parties.
"There has to be some sort of conclusion for this. Either the rebels fall back from the city or take in entirety, or a force will come in and create some humanitarian space. So it's a waiting game right now."
But some of the sick and hungry trapped in Monrovia clearly will not be able to wait much longer.
The Associated Press contributed to this report.