/ Source: Special to msnbc.com
In the Kurdish Community Center in north London, Diyari Kurdi sips steaming black tea and calmly recounts the relatives he has lost to Saddam Hussein's regime: Twenty-four were gassed by the Iraqi leader's chemical attack on the country's minority Kurds in 1988. Then, when a CIA-backed Kurdish uprising against Saddam failed after the Gulf War in 1991, Iraqi security forces took revenge by killing Kurdi's grandmother and nephew.
The fear of Saddam's long reach even extended to Kurdi's 4-year-old daughter, who was born in London but has never seen the family's ancestral home in northern Iraq. One morning, 11 years ago, she awoke screaming: "Dad! Saddam killed my uncle!"
Disturbed, because his daughter had never met her uncle, Kurdi contacted relatives still in northern Iraq. They confirmed his daughter's nightmare — Kurdi's 13-year-old-brother had been shot dead by Saddam's forces.
"Every single Kurd has lost relatives," said Kurdi, 41, originally from Sulamainy in northern Iraq. Kurdi spent five years fighting in the mountainous region before arriving in London as a refugee in 1983, five years after Saddam came to power and set out to stifle the minority Kurds.
For most of their years in exile, Britain's Iraqi Kurds have watched bitterly as Saddam has kept an iron grip on power. Meeting in community centers with some of the country's 110,000 Kurds for cultural and social events and, occasionally, political rallies, their hopes of returning home were dashed long ago.
U.S. girds for war with Iraq
But as the United States girds for war with Iraq, and President Bush openly calls for Saddam's ouster, history has taught the Kurds to be wary of American promises. Here in Britain, the Iraqi Kurds are refusing to be swayed by sentiment alone.
Washington sees Kurdish support as key to any military action in the region. Among Kurdish rebels in northern Iraq, the United States could count on a loyal guerrilla force of 75,000. The Iraqi Kurdish diaspora, with education and skills obtained in exile, is also seen as key to a post-Saddam Iraq.
Let down by Washington in 1975 and again after the Gulf War, this time Kurds say their leaders are demanding promises of safety and a role in an Iraq without Saddam.
"Kurds more than anybody else want to get rid of Saddam's regime," Kurdi said. "But America and Britain have their own plan — their own agenda. The United States and Britain let the Kurds down so many times. What are we going to get this time?"InsertArt(2016419)
Nation without a state
The Kurds are considered the world's largest nation without a state of their own. Denied their independence after World War One today 20-25 million Kurds live in Iraq, Iran, Turkey, and Syria, as well as in Western nations where they have fled repressive regimes.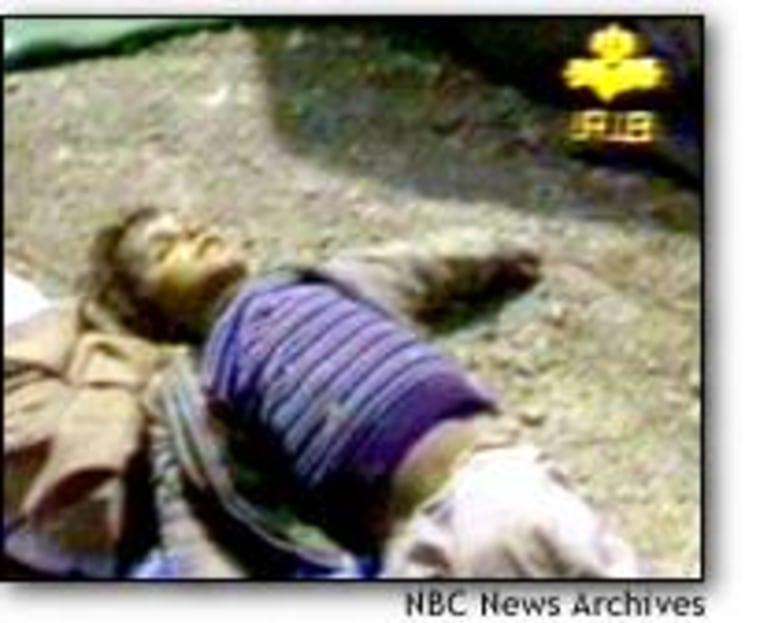 Iraqi Kurds faced persecution under Saddam's rule throughout the 1980s. Human Rights Watch puts the number who died in the dictator's largest campaign of extermination against Kurds at 50,000-100,000.
In just one of dozens of poison gas attacks, 5,000 civilians were killed in the town of Halabja, the first time chemical gasses were used to exterminate women and children since the Holocaust. The local population continues to suffer from high instances of cancer and birth defects.
The Kurds complain they've been used as political pawns for decades.
In the 1970s, amid a territorial dispute between Iraq and neighboring Iran, the Kurds aligned themselves with Shah Mohammed Reza Pahlavi of Iran, who was backed by Washington. But when Baghdad and Tehran made peace over the disagreement, the United States cut off all support to the Kurds. The Iraqi army took revenge by killing thousands.
After the 1991 Gulf War, with Saddam still in power, the CIA orchestrated an uprising using opposition among the northern Kurdish and southern Shia populations to overthrow the Iraqi leader. But when the Kurds rose to the challenge, the first President Bush shied away.
Thousands were slaughtered by Saddam's forces, and thousands more fled over the borders to Turkey and Iran. As news of the televised catastrophe spread, the Bush administration responded by declaring the "safe haven" in northern Iraq so that the surviving refugees could return home and live shielded from Saddam's military.

Wary of American promises
In London, where memories of failed uprisings are still fresh, Iraqi dissident Kurdi said that many Kurdish families in northern Iraq hung posters of President Bush senior in their homes when the CIA sought their help in toppling the Baghdad regime.
Now, although enticed by the hope of overthrowing Saddam, Washington's plans fill them with suspicion and fear. "America's agenda is not clear to us, and we don't believe in promises anymore," Kurdi said. "But if tomorrow Bush's actions win us our freedom his statue will be everywhere."
Other Kurds in exile say they are ready to throw their support behind Washington, as long as the Bush administration lives up to promises to protect the Kurdish population in Iraq.
Taha Kala, 34, also from Sulamainy, was forced to join Iraq's military ranks in 1990. A translator who speaks four languages, he shifted between American and British English when explaining that he spent one day on the Jordanian border working with Iraqi anti-aircraft weaponry just after the invasion of Kuwait. The next day, he deserted.
"I did not want to die for my enemy," he said.
Kala fought in the 1991 uprising and watched his best friend die outside of Kirkuk, also in Iraq's north, then hid in the mountains of Iran with his parents and five sisters. Despite his anger at past betrayals, Kala said, "no one in this area is better for us than America."
Washington, too, has plenty of worries about its once and future Kurdish allies. Kurds have long sought an independent state in the region, a development that could destabilize the oil-rich area — with millions of Kurds living in neighboring Turkey, Syria and Iran.
As Washington has increased its preparations for a war against Iraq, however, fractious Kurdish political parties have given assurances that they would settle for autonomy under a new Baghdad government. But the various factions have still failed to unite. An opposition conference scheduled for Tuesday in Brussels — postponed for a fourth time — was the latest casualty of the bickering between anti-Saddam parties, including the Kurds.
If Saddam is ousted from power and the Kurds attain a protected area for themselves, however, many Kurds who have received asylum in other countries are expected to return to their birth land. But after decades building a life abroad, dissident Kurdi said the move won't be easy.
"I have two daughters born in Britain and a British passport. I have British friends from all classes and foreign friends from many countries," Kurdi said. "But if I could go back tomorrow I would go. I would be proud to be there."
MSNBC.com's Jennifer Carlile is based in London.