Fayetteville, North Carolina is no ordinary town — it is home to some of the toughest, best-trained soldiers in the U.S. military. Based at nearby Fort Bragg, special forces troops have been feeding into the massive deployment bound for the Mideast, where many may face the toughest missions during any conflict. And even in a town accustomed to military commitment of the highest order, those departures are being deeply felt.
AS DAILY NEWS reports emphasize the critical and dangerous roles special forces are already playing in Iraq, the 125,000 residents of Fayetteville — more than perhaps any other city in America — feel the impending conflict in their hearts, heads and pocketbooks.
"People around America, they see this war on television and in the newspaper," said George Breece, president of the Fayetteville Chamber of Commerce. "We see it in the eyes of the children whose parents are at war and in the faces of the spouses that are left behind. It's up close and personal for us."
Those feelings are shared across a flat triangle, from the Navy's sprawling base at Norfolk, Va., down the coast past Fayetteville 400 miles to the Marine Corps basic training center at Parris Island, S.C.
It's an area of rolling hills, piney woods and flag-waving patriotism, where the military has roots that spread deep into the surrounding communities.
But even in a region accustomed to seeing its sons and daughters off to war, Fayetteville is something special. This is the town where some of the most elite troops in the U.S. military are based, home of the 3d Special Forces Group — the Green Berets of Vietnam and now the heroes of Afghanistan; the legendary 82nd Airborne, always on the front line of any U.S. move overseas; and the super-secret Delta Force, trained for shadowy missions that the government may deny ever happened.
The local pride is obvious. "With special forces, you know, the saying we have around here is, 'when the nation gets in trouble, it dials 911 to Fort Bragg,' " said the Rev. Ernest Johnson, minister of Highland Presbyterian Church. "These are young men and young women giving the strong years of their life in defense of freedom."
Proud but wary
But the call to action is also a warning of possible hard times ahead. For behind the braggadocio of a town that idolizes America's elite troops, there is a firsthand awareness of the possible consequences of a war. "We're missing quite a few players already — they're gone," said former police Chief Ron Hansen, who operates a judo school. "You can kind of feel the stress with the families."
"Deployments often don't have a lot of definition on them," said Johnson. "Whenever there's that kind of separation, there's a lot of fear, a lot of anxiety."
Part of the anxiety is over the impact of a deployment on the local economy.
"When the special forces go, folks start to look at the bottom line — how much business am I going to lose and when," said Wilson Lacy, president of the Fayetteville Business and Professional League, and head of a commercial construction company.
"The restaurants and stuff are hurting with all of the soldiers gone," said Chet Oehme, a retired colonel who now manages rental properties. So far, the rental market is stable. "We haven't seen it like it was in Desert Storm," Oehme said.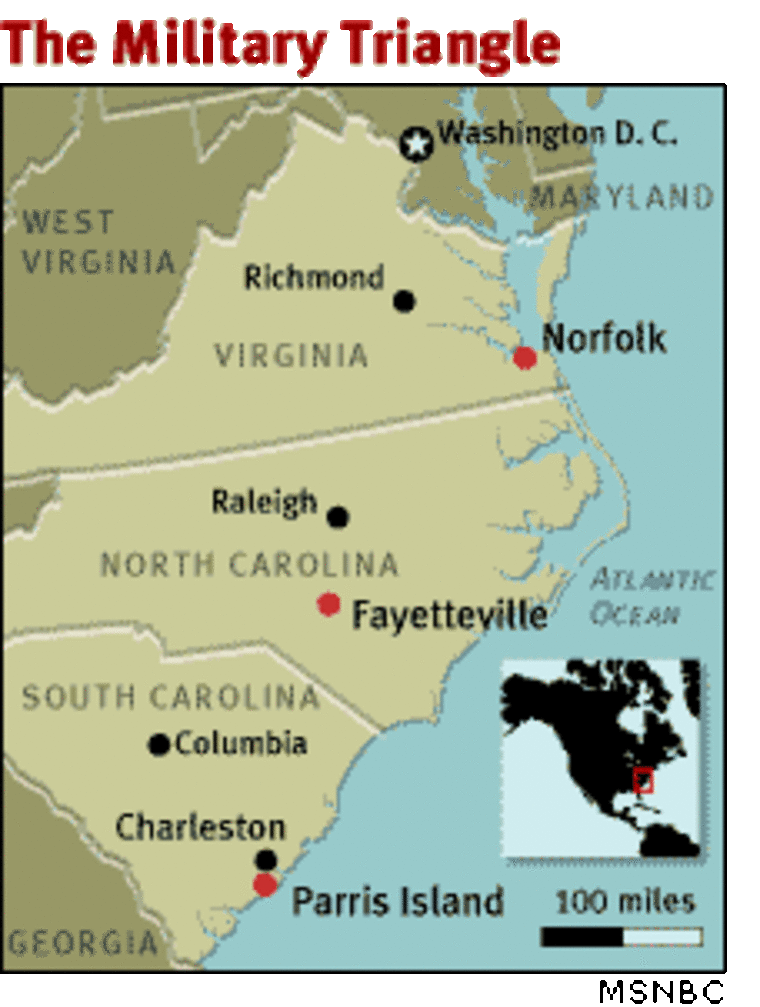 "Everybody's in a wait-and-see situation."
The base commanders have been encouraging spouses to remain in Fayetteville, where they are close to military support services, and so far most of them seem to be staying. And some of the economic losses from soldiers who have already departed are being offset by newly called up reservists who have booked many of the motels and hotels throughout town.
But if a war is not over quickly, developers will worry about apartment vacancies and start delaying commercial projects.
The military's impact on Fayetteville's economy is staggering — $1 billion annually just for the payroll for the 60,000 military and civilian workers at Fort Bragg and Pope Air Force Base. Fayetteville has tried to diversify, bringing in non-military companies such as Black & Decker and a WalMart distribution center.
But when the city decided to revitalize its downtown, it stayed true to its roots, building a new Airborne and Special Operations Museum as an anchor for the project. "Even though we're looking for other types of economic development, we can't ever dismiss the fact that Fort Bragg is there," said Lacy. "That day won't ever come."
NOT JUST DOLLARS
But in a town as tightly intertwined with the military as Fayetteville, the impact is far more than just financial. "The first thing we recognize, it's not the slippage in retail sales," said Chamber President Breece. "It's that Capt. Jones is not coaching the Little League team and Airman Smith is not sitting in church."
"I was taking evening classes with a guy... and literally, 9-11 was on Tuesday and we had class on Wednesday and he was gone," said Corey Pearson, a former paralegal with the judge advocate general's corps at Fort Bragg.
Before deployment, counselors at Fort Bragg sit down with the troops and their families to be sure they've drawn up a will, gotten their finances in order and signed a power of attorney giving their spouse the ability to handle their affairs.
Despite the counseling, tensions remain. "With children in the home, all of that is going on with them as well. It can affect how a child performs at school," said Johnson, whose church offers support groups for military families. "For the spouses, there's the stress of becoming a one-parent family and having all the responsibilities." And behind the flag waving and bravado, there is the reality of war. While Johnson says few of the soldiers reveal doubts before they leave, they may need his help when they return. "We do know a lot of [what they do] is not pleasant," he said. "Internally, they may have struggles and have to deal with issues."
Coping with those realities breeds a hands-on patriotism in Fayetteville. "We will get through this," Breece said. "It's something that comes to us in cycles. When that red phone rings, we realize what's coming."
Steve Johnson is a correspondent with the MSNBC.com specials unit.