/ Source: NBC News producer
A senior U.S. official told NBC News on Thursday that recent intelligence indicates Iran is building two large and potentially significant nuclear facilities south of Tehran. Moreover, there may be other facilities yet undiscovered. The information raises fears that Iran is pursuing a nuclear weapons program more actively than previously thought.
THE NEWLY REVEALED facilities are a combination nuclear research lab and gas centrifuge plant for producing enriched uranium at Natanz and a heavy-water production plant at Arak, both south of Tehran.
The heavy-water production facility is the more significant of the two, said one senior U.S. official, noting that heavy water is used to moderate nuclear reactions in research reactors that are ideal for producing plutonium. Iran is not known to have any such reactors — so the heavy-water facility could be an indication that the Iranians have a reactor that the United States is not aware of.
The combination could indicate Iran is pursuing both routes to a nuclear weapon — highly enriched uranium and plutonium, making its program much more ambitious than previously revealed.
"They certainly are suspicious," said the U.S. official of the facilities at Natanz and Arak, adding that "another facility — the research reactor — is possible."
SIZE MATTERS
"It looks like a large uranium enrichment plant at Natanz... We think centrifuges," said David Albright, president of the Institute for Science and International Security, which has analyzed satellite imagery of the facilities. "The plant is huge, 100,000 square feet, and indicates outside help." Albright said his group, the CIA and IAEA (International Atomic Energy Agency) have all come to the same conclusion. Centrifuges are the most efficient way to separate weapons-grade uranium for use in nuclear weapons.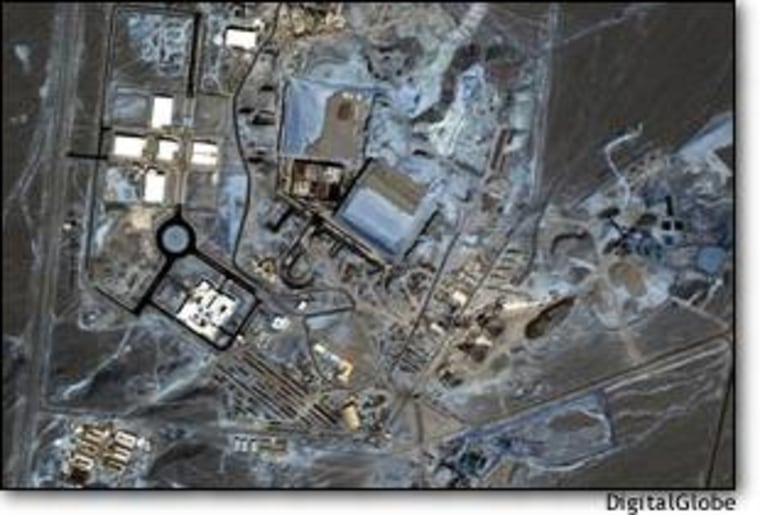 In addition, says Albright, it is difficult to believe that Iran would have built such a large plant without first experimenting with a pilot enrichment facility, though U.S. officials know of no such facility in Iran.
The biggest concern, though, says Albright, is the heavy-water facility at Arak. "Iran doesn't need a heavy-water plant unless it has a heavy-water reactor, and we don't know of any such reactor." Heavy-water reactors have been used by several aspiring nuclear states to produce plutonium.
"There has to be a heavy-water reactor somewhere," he said, echoing the U.S. official.
The existence of the facilities at Natanz and Arak was first revealed in August by an Iranian opposition group, but not confirmed by U.S. officials until Thursday. In August, Ali Reza Jafarzadeh, a Washington representative of the National Council of Resistance of Iran, stated: "These two secret sites are away from the monitoring of the International Atomic Energy Agency and the purpose of these sites is both for the production of nuclear fuel and also the research and expertise to be able to make the bomb."
Neither facility has been "declared" to the IAEA, the UN agency that monitors nuclear developments to ensure they are peaceful.
InsertArt(1741863)Under its Nuclear Non-Proliferation Treaty commitments, Iran must declare any nuclear site to the IAEA in Vienna and permit inspectors to visit the facilities. However, under the treaty, the Iranians do not have to declare a facility to the IAEA until it is complete.
The IAEA reacted to the dissident group's disclosure by asking for an inspection in September and ordering commercial satellite imagery of the areas, ultimately discovering the two facilities. Iran has rebuffed the IAEA twice, most recently canceling a visit scheduled for last week. The IAEA is now scheduled to visit the plants in February.
Iran insisted on Friday it had no hidden nuclear activities and said the International Atomic Energy Agency was welcome to inspect any nuclear facilities in the country it had information about.
"We don't have any hidden atomic activities. All our nuclear activities are for non-military fields," government spokesman Abdollah Ramazanzadeh told reporters.
"The International Atomic Energy Agency is informed about our (nuclear) activities and the use of nuclear material either for research, chemical or medicine.
"And they can visit wherever in Iran that either we have informed them about or they have information about," he added.
Albright dismisses Iran's denial, saying the Iranian plans for nuclear weapons appear "grandiose" based on what is evident from the size of the facilities at Natanz and Arak as well as what is not yet revealed.
PLANS TO EXPAND
Previously, much of the attention on Iran's nuclear weapons program was focused on a huge nuclear reactor being completed by Russian and Iranian engineers at Bushehr on Iran's Persian Gulf coast.
InsertArt(1741862)The Russians managed to allay U.S. concerns about the project, insisting that Iran's nuclear program was entirely peaceful. Intelligence officials agreed at the time that the Russian reactors were for civilian use. "What concerns us are the contacts the Iranians can establish in Russia or former Soviet states for acquiring other equipment and the expertise Iran develops under this program," said one official.
"Iranians are very xenophobic; they want to buy one and figure out how to make their own rather than just buy outright," said another. "They're clearly working at a nuclear weapons program, although not as intently as the Iraqis. It will be years yet before they have nuclear capability. We can't stop it, but we can slow it."
The United States has long believed that the Iranian program has been plagued by incompetence and corruption that has hindered its success. Recent changes in the management of the program have led to some reforms and acceleration of the program.
In related news, Iran's state-run television reported Thursday that the country was considering construction of a second major nuclear power plant and had ordered a feasibility study on the project. The country's first nuclear power station, at Bushehr, has been declared to the International Atomic Energy Agency, and is slated to go on line next year with Russian help.
"The council has authorized Iran's Atomic Energy Organization to study the construction of a new 1,000-megawatt plant with due consideration of environmental standards using the experience achieved from the completion of the first unit of Bushehr nuclear power plant," Tehran television reported.
It said the decision was made during a council meeting Wednesday attended by First Vice President Mohammad Reza Aref.
It was not clear if Russia would be involved in the construction of the new plant. The Kremlin has floated preliminary plans to help Iran build five more nuclear reactors over the next 10 years.
Both Russia and Iran insist that the Bushehr plant will be strictly for civilian purposes and open to international inspection. However, successive U.S. administrations have expressed concern over the plant.
The Bush administration has offered Russia economic incentives to abandon the Bushehr project but the Russians have not accepted the offer. Russia has denied consistently it is helping Iran develop nuclear weapons or with its missiles program.
In September, Russia drew up a plan for the return of spent nuclear fuel from Bushehr, seeking to allay U.S. concerns that the fuel could be used by terrorists and others to build weapons of mass destruction.
Robert Windrem is an investigative producer for NBC News, based in New York. The Associated Press and Reuters contributed to this report.