Amid ominous front-page headlines, India refused to comment Thursday on revelations that the United States now regards Pakistan's nuclear arsenal as significantly more powerful than India's own forces. That conclusion, first reported Tuesday exclusively on MSNBC.com, was picked up in the national media here Thursday, leading to new pressure on India's government to end its moratorium on nuclear testing and questions about the reliability of the country's nascent strategic arsenal.
NO DIRECT comment could be obtained from India's government, which owes at least some of its popularity to its decision in May 1998 to test nuclear warheads, reversing a decades-old policy and, in effect, declaring that nuclear weapons were now a part of the country's military arsenal. Pakistan's own tests followed within a week.
"We do not comment on speculative reports on such matters," said Raminder Singh Jassal, spokesman for the Indian Ministry of External Affairs in response to a reporter's question at Thursday afternoon's daily briefing on foreign affairs. "The government of India is alert to developments relating to the country's security. Our credible minimum deterrent nuclear policy is based on an assessment of our security requirements and is not country specific."
The report by Robert Windrem and Tammy Kupperman, producers for MSNBC.com's broadcast partner, NBC News, was picked up by the Washington correspondents of The Times of India and Indian Express, two of India's most influential newspapers. Both papers carried the report on their front pages. The report suggested a stunning reversal in previous assumptions about the balance of power in South Asia. The report quoted senior U.S. military and intelligence officials saying that the U.S. had reassessed earlier estimates of the nuclear capabilities and come to the conclusion that Islamabad was well ahead of India in both warheads and the ability to use them.
While not denying the report, Jassal told MSNBC.com that India has conducted the required number of explosive nuclear tests and thereafter declared a moratorium on them, and that was not going to change irrespective of any report.
"There are so many conflicting assessments by so many different think tanks. We cannot respond to each one." he said.
MIXED MESSAGE
At India's defense ministry, however, the MSNBC.com report was greeted in a somewhat different light. Pramod Bhatnagar, a ministry spokesman, would not comment on the details of the report. But he said it had vindicated India's stand that "Pakistan was a hindrance to world peace. We have been saying this for long, and it is good that the U.S. has revised its assessment of Pakistan."
InsertArt(891815)The revelations seemed certain to add fuel to the fiery debate over future Indian nuclear tests. Bharat Karnad, one of those who has been vociferously arguing in favor of more testing, the new revelations cannot be dismissed lightly. He said the coalition government of Prime Minister Atal Behari Vajpayee may face domestic political pressure as a result of the revelations being played on the front pages of India's newspapers.
"You know how it is," said Karnad, a prominent professor at Dehli's Center for Policy Research. "The catch-phrase is 'Pakistan.' Its very mention gets our competitive juices flowing, though Pakistan is actually a little nation on the margins."
Karnad said he had been warning the Indian government and political establishment for a long time about the dangers of a moratorium on nuclear explosive tests
"Pakistan may not have a vastly superior weapon design but it may be ahead of us in terms of operationalizing its nuclear arsenal. The reason is simple: they have been transferred fully deployable systems by the Chinese. The key issue is physical testing of nuclear weapons designs.
Bright as our scientists are, the end-user which is the military have to be convinced that they work and they will be convinced only if the designs are tested rather than having the performance simulated through computers."
MORATORIUM UNDER PRESSURE
In an essay in a forthcoming book titled Democratic Peace, Karnad argues for resumption of nuclear tests by India, a cause increasingly echoed by critics of the current prime minister.
"But this decision will have to overcome Prime Minister Atal Behari Vajpayee's hasty, ill-advised and unwarranted offer of a moratorium. But it is only a voluntary ban which can easily be revoked, and should in fact be, if New Delhi is serious about securing a deterrent that actually deters," he wrote.
In an article in Seminar, a leading journal, in January this year, Karnad asserted that tests to date have been wildly insufficient to justify India's public assertions that it is capable of deploying not only nuclear warheads but thermo-nuclear hydrogen bombs.
"Just one of the five Indian May '98 (nuclear) tests pertained to a thermonuclear device and that too is now suspect," he wrote. "Nevertheless, the information on innumerable performance variables available from just this one doubtful explosive test is deemed adequate by way of a database for sub-critical testing to facilitate production of newer, more advanced thermonuclear weaponry! This level of self-confidence verging on scientific and technological hubris, could be ignored were it not that it directly endangers the nuclear deterrent and national security."
As a result of this, in the larger context, Karnad feels, "India may end up having an inventory full of supposedly 'decisive' nuclear weapons that do not work. Proof of performance of the weapons systems in the deterrent force will then be available only in the time of war."
THE CHINA FACTOR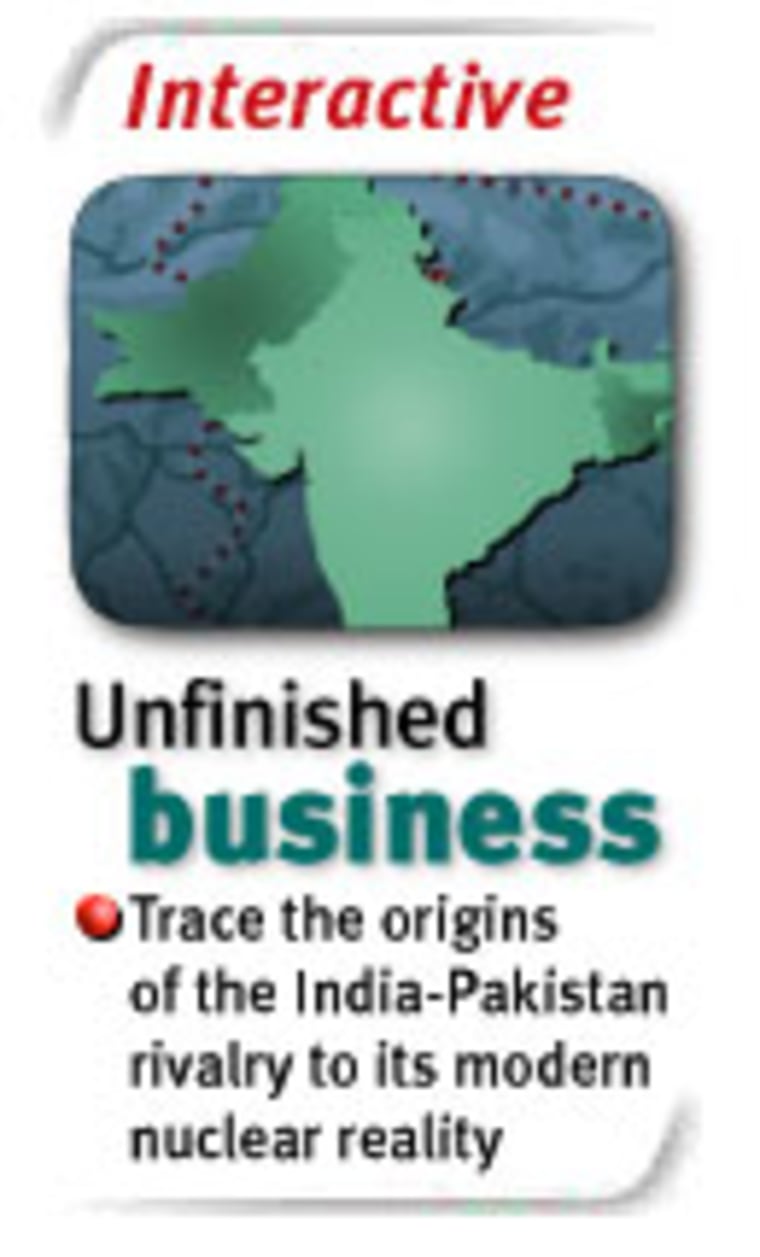 Pakistan, he insists, "has no such problems," because its forte has been "engineering competence and China has given it detailed weapons designs and will continue to do so in the future. All that (Pakistani nuclear program chief) A.Q. Khan and his cohorts do is machine the plutonium core of the bomb and otherwise cobble together the weapon, component by component, Meccano-like. Because the Chinese have done all the testing and have built up a large database, the designs that are accrued as a result and passed on to the Pakistanis will be certified ones. So Pakistan does not really need to test at all."
"Lacking the nuclear weapons supplier relationship with any country of the kind Islamabad has cultivated with Beijing over the years, India will be unable to bank upon an arsenal of proven and tested nuclear weapons," Karnad maintains.
PRESSURE ON TEST-BAN TREATY
The report on South Asia's nuclear balance comes at a time when there is renewed focus on the nuclear issue. The United States and other powers have pressed India on the issue.
Indian Defense Minister George Fernandes was quoted this week in Tokyo as saying that it is only a matter of time before India signs the Comprehensive Test Ban Treaty (CTBT), a key element in nuclear non-proliferation efforts. According to the Indian media, the outspoken Fernandes said he was in favor of eliminating nuclear weapons but domestic politics did not allow him to do so at this time.
Quizzed about Fernandes' statement on Thursday, external affairs spokesman Jassal said he would not like to react until he read the full text of the defense minister's statement. India has said it was trying to build domestic consensus on the test ban treaty before signing it.
Patralekha Chatterjee reports from India for MSNBC.com