With ex-Yugoslav President Slobodan Milosevic facing trial on charges of crimes against humanity, not much attention has been paid to the more mundane financial corruption of his regime. But U.S. officials tell NBC News that Milosevic's transfer to NATO authorities was expedited by an American investigation that implicated the former Yugoslav leader in the pilfering of hundreds of millions of dollars from his country's businesses and national treasury.
MILOSEVIC WAS SCHEDULED to appear Thursday before tribunal judges so trial preparations could be assessed. He is charged with crimes against humanity for the deportation of about 740,000 Albanians from Kosovo and the killing of more than 900 Albanians in the first half of 1999.
The former Yugoslav leader has been in U.N. detention since June 29, when the government of the Republic of Serbia, lead by Prime Minister Zoran Djindjic, spirited Milosevic out of the country and into the hands of the tribunal. Milosevic was indicted for war crimes in 1999.
DOMESTIC OPINION
The transfer of Milosevic to international authorities was a risky move for Djindjic. Indeed, Yugoslavia's prime minister, Vladislav Kostunica, had taken a studiously neutral stance on the issue. However, U.S. officials told NBC News on condition of anonymity that information on the secret bank accounts, money-laundering schemes and other corruption of the Milosevic regime was systematically funneled by American intelligence agencies to the Kostunica government, which in turn leaked this information to the Yugoslav media.
This information, according to a U.S. intelligence official, was turned over to the Yugoslavs to "help them push the indictment" of Milosevic under Yugoslav law. The plan, the official said, was to tar Milosevic's reputation in the eyes of his countrymen, making his extradition to The Hague politically palatable for the new Yugoslav government.
According to these officials, the negative publicity and a sense that public opinion was turning against Milosevic contributed to his arrest on corruption charges on April 1 by the Yugoslav government. The leaks continued through the spring, however, and by June 28 officials in Belgrade, and Djindjic in particular, felt secure enough to spirit him out of the country to The Hague.
InsertArt(1170918)"He is history. Milosevic is not a problem now in Serbia," Djindjic told MSNBC.com in an interview earlier this month. "I think the problem is the relationship between the Serbian nation and Western democracies after the wars and all these events of the past. The people [no longer] support Milosevic."
Once your page is built in workbench, your link will look like this:
The operation is viewed by U.S. officials as a case study in coordinated "information warfare" - the use of data gathered by electronic eavesdropping to affect the situation on the ground. Western intelligence agencies had been monitoring financial transactions by Milosevic, his family and his political allies prior to the Kosovo war. Throughout the war this information continued to be monitored, officials said, though no direct action was taken to freeze or divert money from the various accounts that had been identified.
It was only last September, more than a year after the war, that U.S. intelligence officials got a chance to use this information fully. The event was the surprising election of Vojislav Kostunica as president of Yugoslavia last September, defeating Milosevic in what was supposed to be a rubber-stamp re-election of the Serb strongman. Milosevic's made a ham-handed attempt to steal the election the next month, and U.S. intelligence decided the time was right to unleash what it had learned of Milosevic's financial activities.
The evidence of corruption gathered by the United States was quietly turned over to those in the Kostunica government who were pushing for a harder line on the ousted president. Its detail provided the basis for Milosevic's arrest on April 1 on suspicion of abusing power and corruption. That night, police official Miodrag Vukovic said that the former president's corruption had cost the state close to $100 million, and that Milosevic could face up to five years in prison if convicted.
The newly aggressive Serbian media began picking up Western media accounts of alleged corruption schemes linked to Milosevic, with some suggesting that up to $4 billion in national assets had been smuggled out of the country.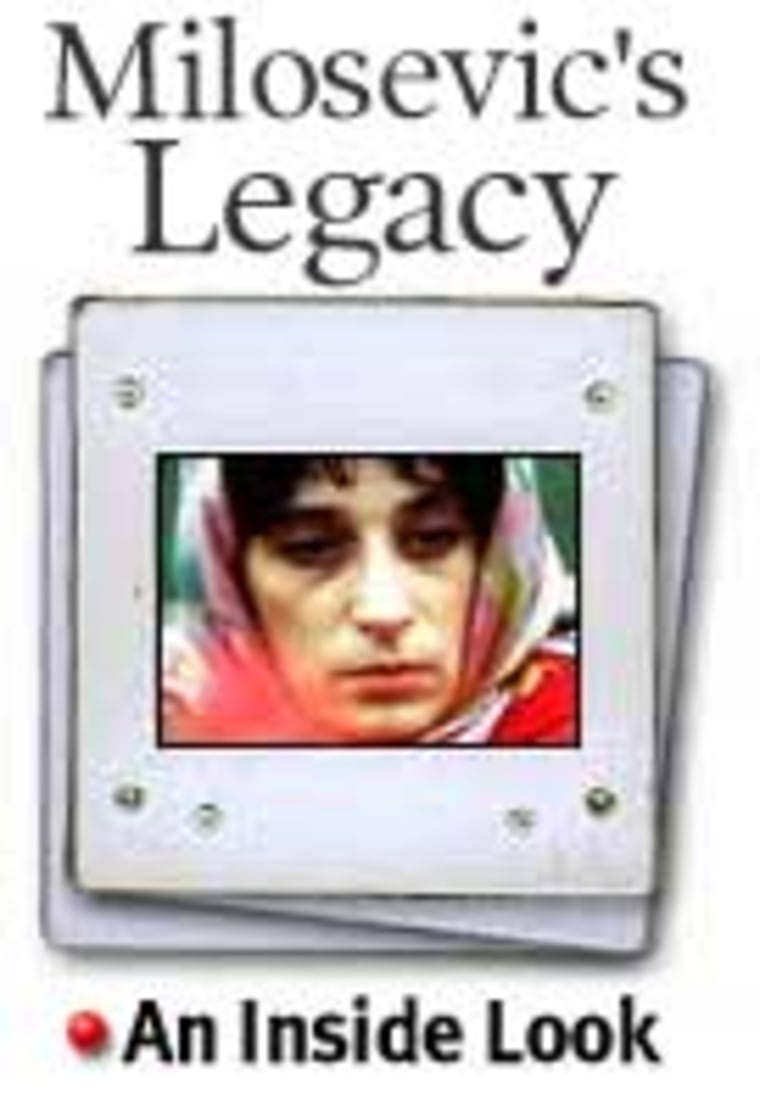 U.S. officials who spoke to NBC News could not put an exact figure on the plunder, but one said: "It's a really fair range to say we found he plundered between hundreds of millions and $4 billion," said one official. "On the high end, 4 billion - or maybe more - has to do with calculations of all the transfers seen from the guy and his cronies. It doesn't mean that it is all plundered money, but our bet is that it is. They have been doing it for years. This is how Yugoslavia worked."
'HUNDREDS OF MILLIONS'
The officials said most of the money moved through the Belgrade bank's offshore banking unit in Cyprus. From there it is harder to trace, although there is strong evidence much of it moved through a bank in Moscow known as WEXIM, said a U.S. Treasury official.
"It wasn't much of a bank," the official added, saying it occupied a small office in a nondescript building in an industrial area of the Russian capital. WEXIM bank officials would not comment to NBC News inquiries, although at the time of an independent Serb press report last November, a bank lawyer denied any money laundering activities, saying the report "had no connection to reality."
A typical scam, said the official, involved moving money from a "big Yugoslav entity ... a state-owned company or a private company" to a company with the same name but ostensibly different principals located in Russia.
"You would see the name in Russia ... set up ostensibly by a Russian but with the same name as the Yugoslav entity. That is endemic. There was a huge number of such transfers ... such a huge network of companies."
Other officials described skimming schemes run by Milosevic cronies using legitimate corporations to move money "in return for a piece of the action" in the form of state contracts.
TRACKING THE FUNDS
In the months immediately after the Kosovo bombing campaign in 1999, the U.S. Treasury's Office of Foreign Assets Control, or OFAC, along with intelligence agencies, established a presence in Cyprus, where much of this money landed as a first stop en route to foreign bank accounts elsewhere. The operation was an outgrowth of wartime intelligence operations run by officials who had concluded that Milosevic was as much of a gangster as a war criminal - one whose hold on power depended upon his ability to maintain these financial schemes and the patronage that flowed from them.
Agents of OFAC, whose specialty is tracking and seizing the assets of people blacklisted by the U.S. government, traced this money to accounts around the world. Meanwhile, electronic monitoring by the National Security Agency and other intelligence groups was fed back to these agents. Between the two efforts, U.S. officials said they believe they have a fairly complete picture of Milosevic's wealth and the sources of it.
Officials involved in these operations balk at taking credit for bringing Milosevic down. But they do feel their information provided the post-Milosevic government of Yugoslavia with the political will to move against him.
"But we did our share," said one obviously pleased official.