It is hard to believe that Slobodan Milosevic, a man who ruled Yugoslavia like a despotic king for 13 years, is finally in police custody and facing trial. But this is not the final chapter of his larger-than-life story.
IN THE END, Milosevic opted not to kill himself — as he had threatened the commander of the special forces who initially botched his arrest — but to defend himself in court. Sources who know Milosevic well say he is confident he can hurt his prosecutors more than they can hurt him.
On Sunday, Milosevic pleaded innocent to charges of fraud and abuse of power and remains in detention for at least 30 days.
Investigators, who spoke on condition of anonymity, claim that their dossier is well-documented, focusing on the plunder of state funds from the Federal Customs Bureau and state-owned Beobanka bank, as well as pension funds from the Serbian Development Fund and Health Security Fund.
The amount of stolen money ranges from $100 to $400 million, depending on the source. But the charges carry a maximum sentence of five years, with a substantial reduction of jail time for "first-time" offenders.
Privately, prosecutors are terrified of the prospect that Milosevic, a clever survivor, will be given a slap on the wrist, maybe a couple of years in a comfortable prison — just enough time to hone his image as a martyr of the Serb nation, and make a political comeback.
'AL CAPONE' SCENARIO
Investigators say it's necessary to keep Milosevic behind bars. To that end, they are scrambling to expand the charges against the former president, a kind of "Al Capone" scenario, starting relatively small, but building to an air-tight murder conviction.
About a dozen of Milosevic's top associates have been detained in recent weeks. The hope is that now, with the boss in jail, they will talk.
But Marko Nicovic, a former police chief when the young Milosevic was Belgrade's Communist Party chairman, said that under Yugoslav law, talk is not enough. "Here you must have material proof — a paper trail — to support such testimony. You can always pay someone to say whatever you want."
It is one thing, Nicovic said, to persuade Rade Markovic, the former secret police chief, to admit that Milosevic gave the order, for example, to kill Slavko Curuvija — a popular newspaper publisher who dared criticize the former Yugoslav president — or eliminate opposition leader Vuk Draskovic in a (thankfully, for Draskovic) botched car accident, in which 4 of his associates and family members died.
But material evidence — and Milosevic — do not mix well. "He always gave orders by phone, verbally, or sent an oral message by courier. He never sent messages by letter and never signed anything," Nicovic said.
ELUSIVE PAPER TRAIL
Expanding the fraud charges to keep Milosevic in jail for years also will be difficult. While the paper trail may prove traceable in the current alleged crimes, it melts away when investigators try to link Milosevic to the $4 billion or more that passed through foreign off-shore accounts, usually in Cyprus.
"There is just no proof," said one top investigator.
The main problem is trying to distinguish between illegal money-laundering and the routine transfer of funds via foreign banks — the only way that a country can pay its bills during a decade of international economic sanctions.
"Yugoslavia became the world's No. 1 expert in hiding financial transactions from the international community" Nicovic said. Under sanctions, the line between plunder and crisis management becomes blurred.
THE UNDERWORLD
And Milosevic, according to sources, has an even bigger card up his sleeve. Yugoslavia is taking steps toward democracy, no doubt. But this is a country where the connection between political power and the underworld is a tradition.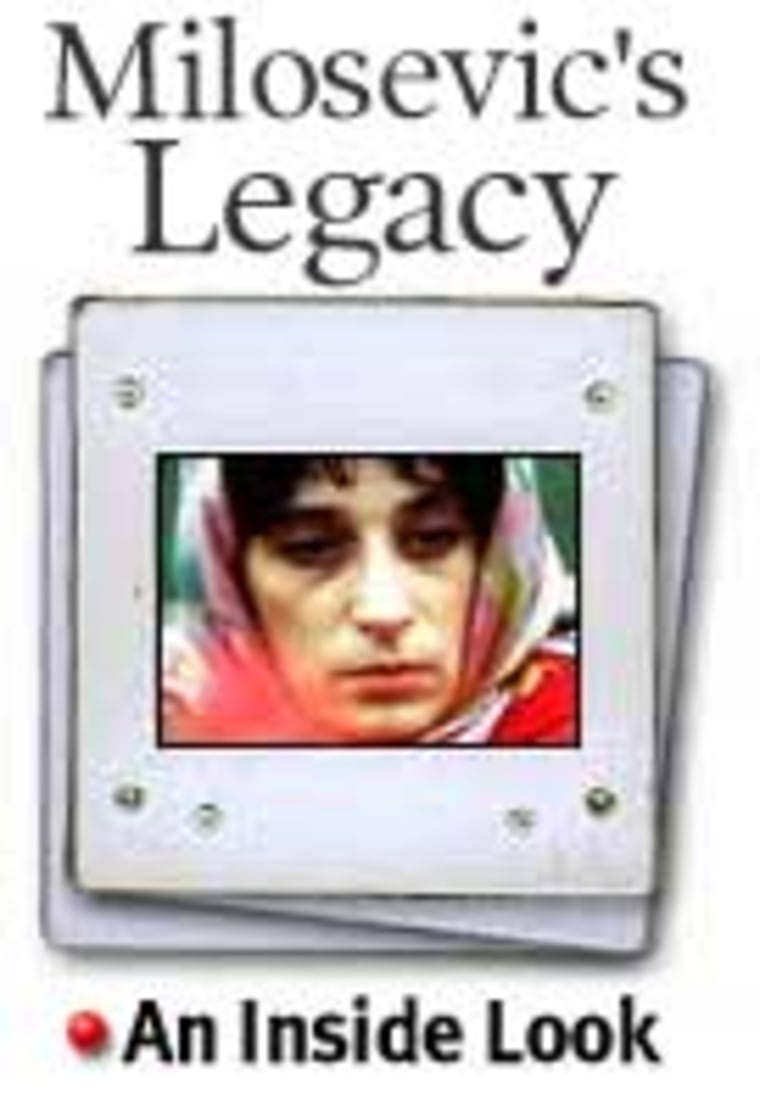 No one is excluded. All leaders here — from the past and the present— have their "connections" and their legal skeletons. Few doubt that Milosevic's legal team will be adept at dishing out as much if not more dirt than their client receives.
Who knows, there may be a smoking gun. A critical signature, a tape recording — something damning that may be recognized in a Yugoslav court of law. But, if not, the collective sigh of relief we hear today over Milosevic's arrest may well be short-lived.
NBC's Jim Maceda, based in London, is on assignment in Belgrade.