Kidnapping and ransom-taking have become a way of life in the Philippines. And even though a group of independence-seeking Muslim rebels has captured headlines by taking dozens of prisoners, the goal of hostage-takers is often less ideological than financial. In a society where the gap between rich and poor is as daunting to bridge as the waters that separate the Philippine archipelago of some 7,000 islands, kidnapping has been part of the local culture for decades.
AS DEMOCRACY spread in the Philippines in the second half of the 20th century from the capital of Manila to the distant provinces, so, too, did a new, effective political tool: the kidnapping of VIPs — landed gentry and moneyed elite — for ransom. Payments from rich hostages often helped finance the campaigns of local politicians and level the electoral playing field.
In addition, police and locally based army units frequently colluded with the kidnappers for a handsome cut. Until recently, the practice was so profitable that, in those months leading up to important provincial and national elections, reports of dozens of kidnappings — and sometimes murders — became common fare in the Philippine media.
Today, kidnapping of a different sort has captured this nation's attention — with Filipinos and westerners as the prime targets. In a scenario almost identical to last year's attack on a luxury resort in neighboring Malaysia, Abu Sayyaf, a group of extremist Muslim guerillas who claim they want an independent Muslim state in the southern Philippines region of Mindinao, struck again.
On May 27, they hit another luxury resort, but this time one in the Philippines called Dos Palmas — much closer to the capital of Manila. The attack shocked the expatriate community and Western tourists as well as successful, professional Filipinos who can afford $300-a-night resorts like Dos Palmas.
Real estate developer Antonio Lilles says the Abu Sayyaf attacks are all about money, and that's why so many of his friends are worried. "Everyone is asking, 'Where can we go now to relax and feel safe?'" Lilles says.
NO MORE LOFTY IDEALS
Even the Abu Sayyaf leaders themselves no longer proclaim lofty political ideals, as they had since surfacing as a serious threat in 1995. Instead, they have concentrated their efforts on million-dollar ransom demands.
In last year's Malaysian attack, for instance, the Muslim rebels held nearly two dozen mostly European hostages for several months, until Manila caved in and allowed Libyan leader Moammar Gadhafi — himself accused of complicity in several international terror attacks — to provide at least several million dollars of ransom money. In return, he made an invaluable appearance on the world stage as a freedom-winner. All but one Filipino hostage were released.
InsertArt(1094721)This time around, the Philippine government led by President Gloria Macapagal Arroyo, a no-nonsense economist who replaced the scandal-plagued Joseph Estrada in a "People Power" revolt last January, has refused to pay any ransom for the hostages and has declared an all-out war on the rebels.
Arroyo has sent over 5,000 army troops to the southern island of Basilan, Abu Sayyaf's lair, to "annihilate" the guerrillas, who currently hold 26 hostages, including three American tourists.
AMERICAN VICTIM?
Last week, the rebels said they had beheaded American hostage Guillermo Sobero, a 40-year-old California resident.
But the death has yet to be confirmed, though accounts from former hostages now suggest that Sobero is likely dead. It is not clear if any of the other American hostages' families have made private overtures to the rebels. The U.S. State Department officially supports the Philippine government's refusal to soften its approach.
"These are not rebels fighting for a holy cause, they are simple bandits — in love with money, and power," says Philippine Minister of Tourism Richard Gordon. "And if we don't stop them, they will hit us, and you, again, and again, and again."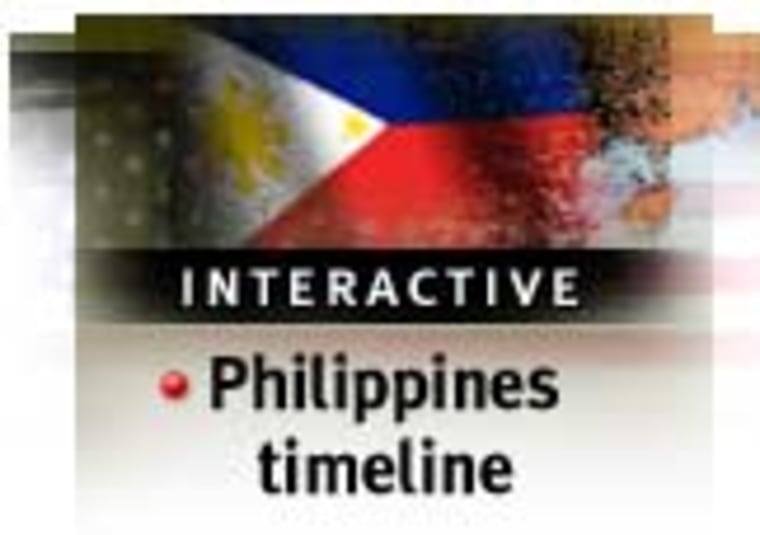 But a "no-ransom" policy may not matter now. In a telling cartoon in Monday's Philippine Star, a Philippines air force officer is seen on the offensive — rifle in hand — seeking out the Abu Sayyaf rebels.
But he is caught, like a wrestler struggling in a head lock, between two arms: one, comes from the direction of Abu Sayyaf, handing over a bound and frightened hostage; the other, from the opposite side, is holding a wad of peso bills, labeled "ransom payments."
QUIET RANSOM PAYMENTS
Indeed, it appears increasingly likely now that, despite blanket denials, several Filipino hostages who either "escaped" or were released in recent days by Abu Sayyaf guerrillas actually met rebel ransom demands. Ten million pesos (about $200,000) transferred to a Manila bank (the rebels maintain bank accounts in proxy names and coordinate deposits via cell phone) reportedly led to the escape of one businessman, Reghis Romero.
Another Filipino, 50-year-old Frances Ganzon, was released last week along with Kimberly Jao Uy, 13. Both had family who allegedly escaped earlier during the ordeal to negotiate, as it is now suggested, the release of their loved ones. Again, hundreds of thousands of dollars were reportedly moved between bank accounts in private cash-for-hostage deals. The government has refused to comment.
"Kidnapping has become the most lucrative industry in Basilan," one Philippines newspaper wrote Monday.
Many Filipinos believe that last year's multi-million dollar hostage-taking in Malaysia has set the tone for future attacks at home.
InsertArt(1094718)BUSINESS AND CRIMINAL LINK
Philippine sources say that during the rule of former president Estrada, kidnappings of rich Chinese-Filipino businessmen flourished in Manila and led to millions of dollars in ransom payments to several bandit groups.
The payments, the sources said on condition of anonymity, were not to Muslim rebels, but to Chinese mafia and former Philippine military renegades with the arms and know-how to get their hostage and payoff.
Even some top brass from the anti-crime force set up by Estrada to combat kidnapping have been indicted on charges of running kidnapping rings.
And while Abu Sayyaf has dominated most of this week's main headlines, the beaming smile of a freed Singaporean businessman and his wife figured prevalently above the fold in many Philippine dailies.
Roger Yeo was released on June 10 by common criminals after his wife, Ng Yiong Hua, paid a reported 8.3 million pesos ($165,000) ransom. He is the fourth Singaporean businessman to be kidnapped in Manila in the past two months. And, as with many kidnappings here, Yeo is free and the criminals are long gone.
NBC's Jim Maceda is on assignment in the Philippines.