/ Source: NBC News producer
The United States has launched an investigation into possible links between an Islamic group that planned to attack race drivers on the trans-Africa Dakar-Cairo rally and the exiled Saudi guerrilla leader Osama Bin Laden, senior U.S. officials told NBC News on Thursday.
WORD OF THE PLANNED ambush was passed to race organizers over the weekend shortly after it was received, leading to a suspension of the race and a massive airlift on Thursday. Cargo planes were flying some 1,365 crew members and 336 vehicles as well as tons of equipment from Niamey, capital of Niger, to Sabha in southern Libya.
The 22nd annual rally, which began Jan. 6, was to resume Monday in Libya and is expected to conclude on Jan. 24 in Cairo.
A senior U.S. official said that although they "have not established a link" between the group and bin Laden ... "we would not bet against it" and confirmed the investigation is underway.
LINKS TO ALGERIA
Race organizers said they had been told the attack was meant to avenge a 1998 Niger military attack on an Islamic insurgent group led by a Algerian civil war veteran named Moukta Mouktari.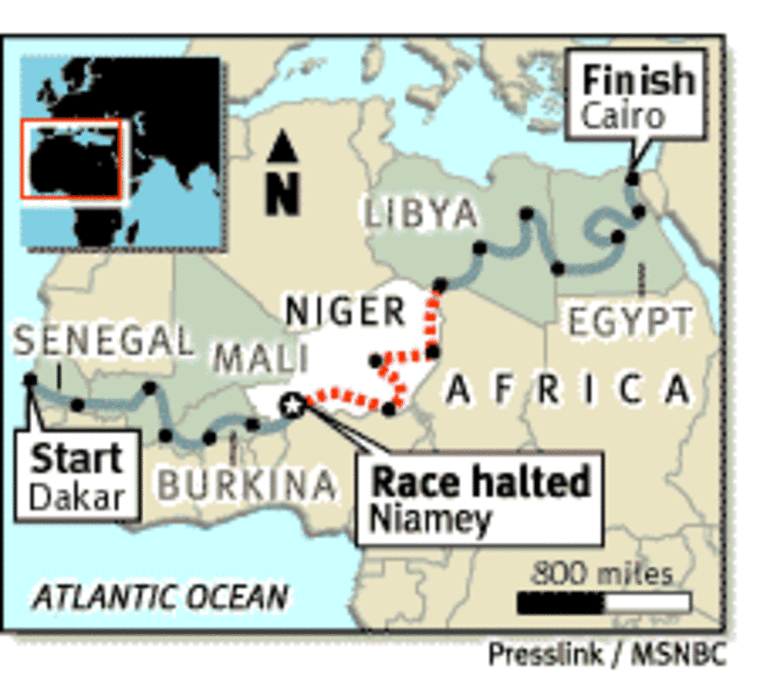 The group, loosely linked with the violent Armed Islamic Group (GIA) that is battling Algeria's military, is allegedly trying to foment a revolution in three poor nations - Niger, Mali and Mauritania - and create a single Islamic state there.
French and Algerian sources in Paris tell NBC News that Mouktari is a former lieutenant of Hassan Hattab, chief of the "internationalist" faction of the GIA, which is blamed for at least half the 100,000 lives lost in Algeria's strife since 1992. The "internationalists" believe in taking the armed struggle abroad, say the sources. U.S. intelligence officials believe the group is funded by Bin Laden.
FEAR OF GREAT BLOODSHED
Calling the planned attack "a serious, credible threat that cannot be minimized," one official noted that the United States feared a "considerable" loss of life if the rebels attacked drivers in Niger. The official, however, disputed accounts from race officials who described up to 300 rebels in 40 four-wheel-drive vehicles. The official, who requested anonymity, said that account was "greatly exaggerated ... although there was a presence there certainly."
The United States believes that dozens of terrorists, rather than hundreds were part of the plan, but that it was still potentially lethal.
"It was a fraction of that," said the official, "both in terms of vehicles and in terms of numbers of insurgents, but again it should not be minimized." The official declined to provide any further details on the numbers actually tracked by U.S. intelligence or the manner in which the United States learned about the threat. However, the United States has extensive satellite surveillance capabilities which are particularly effective in desert regions like the area through which the rally runs.
First word of the threat became public on Monday when the State Department said it had received reports that terrorists may be planning attacks against Americans participating in the annual Paris Dakar-Cairo road rally. Americans, however, were not the only target, official said.
WORLD-FAMOUS RALLY
The race, which is the world's most famous trans-continental off-road rally, attracted more than 400 vehicles this year, including 203 motorcycles, 138 cars and 66 trucks, with drivers representing 31 nationalities. About half the drivers are French.
Most competitors were happy that the rally will continue in Libya but French motorcycle rider Richard Sainct, winner of the latest stage of the race said: "This doesn't suit me at all."
NBC's Robert Windrem is an investigative producer based in New York.