Senior U.S. intelligence and counter-terrorism officials tell NBC News that there has been recent intelligence reporting that Osama bin Laden is financing the Chechen operation in Dagestan and may be ready to leave Afghanistan for the former Russian republic of Chechnya.
The officials, who asked for anonymity, say that foreign contributions to Islamic militants in Chechnya is one of two main sources of funds for operation, the other being ransoms from kidnapping and the capture of oil shipments. The US believes that one of the main foreign sources of money is bin Laden.
The key bin Laden connection is a rebel leader whose nom de guerre is "Hattab." The one-eyed Hattab is a Jordanian who fought in Afghanistan and then moved on to Chechnya and "earned the right to remain there" because of his fighting there during the recent civil war with Russia, said one official.
Hattab was one of the first to help both the Afghani rebels and the Chechens. Of the first 3,000 Chechen rebels, 600 were Arabs like Hattab who had fought against the Soviet Union in Afghanistan.
Now, however, say officials, Hattab and his crowd have become a serious threat to the government of Chechen President Aslan Maskhadov, who was elected in an open election monitored by the OSCE. The government of Chechnya is weak and can not control the fundamentalists who demand that Islamic justice be applied in Chechnya.
The fundamentalists are strongest in the eastern part of Chechnya next to the Dagestan border. Hattab operates a training camp in Chechnya in the town of Vedeno.
PACKING HIS BAGS?
On the issue of bin Laden leaving Afghanistan for Chechnya, analysts are divided as to its likelihood, but neither see it happening quickly.
The Taliban would like to see bin Laden leave and several states have been approached, but Chechnya seems the most promising. Chechnya has been a particular focus recently, said three officials. "Something is going on there ... in Chechnya," said the most senior.
As to how the world's most wanted man would find his way from his current hideout near Jalalabad to Grozny, Chechnya's capital, a journey of 1,500 miles, another official said, "It would not be that hard for someone with his own private air force."
The official explained that bin Laden has access to "several planes," the ownership of which is "a bit cloudy ... but there are certainly enough aircraft to move a rather tall terrorist."
OSAMA'S JET SET
Bin Laden traveled around the Muslim world in charter jets for years prior to his exile in Afghanistan. He also owns a private jet, said an intelligence official.
Flying from Afghanistan to Chechnya would of course be risky, since even a direct non stop flight would take a minimum of three hours and take him over parts of several Central Asian states friendly to the U.S. as well as Russia, who no doubt would not look well on having such a radical Muslim terrorist so close to its borders.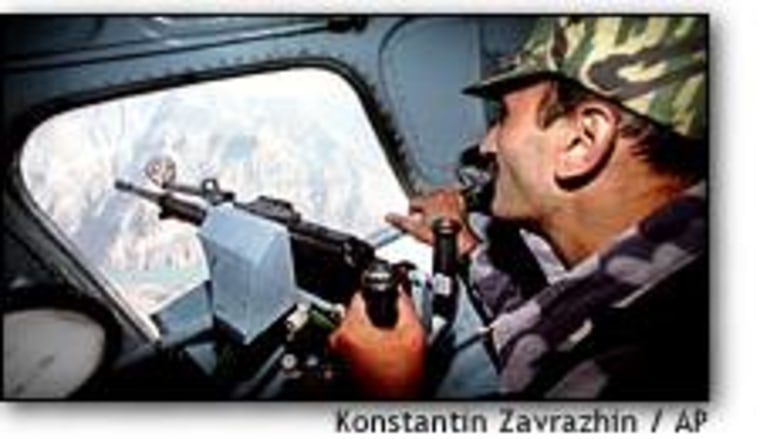 Recall, noted one official, that bin Laden was instrumental in recruiting and financing the Muslim resistance in Afghanistan.
Some, however, believe that bin Laden would be "nuts" to settle there because Hattab is not strong enough to offer a stable environment. The Taliban at least offer some element of stability in Afghanistan because they control almost all of the country. Hattab is part of a movement that is one in a number of factions in Chechnya.
REBEL RADIATION
One U.S. concern about a bin Laden-Chechen militant linkup is that Russian intelligence has told the United States that they believe bin Laden has been working with Chechen rebels to obtain radioactive material for a "radiological dispersal device" or "dirty bomb" that would spray the potentially deadly material over a small area.
An official involved in planning emergency response to a terrorist attack says the U.S. has taken the intelligence seriously, noting how at the height of Russia's war against the breakaway province Chechen rebels obtained cesium-137, a radioactive isotope and placed it in Moscow's popular Ismailova Park.
Robert Windrem is an investigative producer for the Nightly News with Tom Brokaw.