Why are so many people afraid of Lula? Mention the Brazilian presidential candidacy of Luiz Inacio Lula da Silva and international lenders shudder while government officials throughout the hemisphere brace for the worst. Yet despite their anxiety, it may be fourth-time lucky for the former steel worker who is on track to win Sunday's election in Latin America's largest nation.
The candidate of the Workers' Party (PT), known by all as Lula, has failed on three previous occasions. But backed by a well-planned electoral campaign that has soft-focused his firebrand image, the 56-year-old has surged clear of all other candidates.
According to opinion polls taken in the waning days of electioneering, Lula will draw around 45-48 percent of the vote in the world's eighth-largest economy. While he's well ahead of his nearest rivals, he will be forced into a runoff later this month against the second-best contestant if he fails to garner 50 percent of the vote.
Lula's closest rival, government-supported and market favorite candidate Jose Serra, has about 21 percent of the vote, followed by former Rio de Janeiro state Gov. Anthony Garotinho with 18 percent and ex-finance minister Ciro Gomes with 10 percent.
U.S. WORRY?
David Fleischer, professor of political science at the University of Brasilia, said Lula's triumph will likely give the United States cause for concern.
"The worry is of an overall shift to leftist governments in the region," he said, noting swings away from market-friendly governments in Argentina and Venezuela as well as possibly down the road in Uruguay.
"Clearly [Lula's] leftist background has made him suspect for Washington and the Brazilian political establishment," said Larry Birns, the director of the liberal-leaning Council on Hemispheric Affairs. "The fear is that with the country in precarious economic straits, he will bring more instability to Brazil."
And while Fink and others say that the fears are overstated, the financial markets have voted with their assets, dumping the country's bonds, stocks and currency over the past six months.
The currency, the real, is now trading at around 3.7 to the dollar, down about 40 percent from its value at the start of 2002.
FINANCIAL JITTERS
These are "tough weather conditions" for the financial community, said Paulo Leme, Managing Director of Emerging Markets Economic Research at Goldman, Sachs & Co.
The next Brazilian leader must figure out how to handle the nation's staggering debt load in a precarious global climate while satisfying the demands of the electorate hungry for changes, noted the former senior economist with the International Monetary Fund.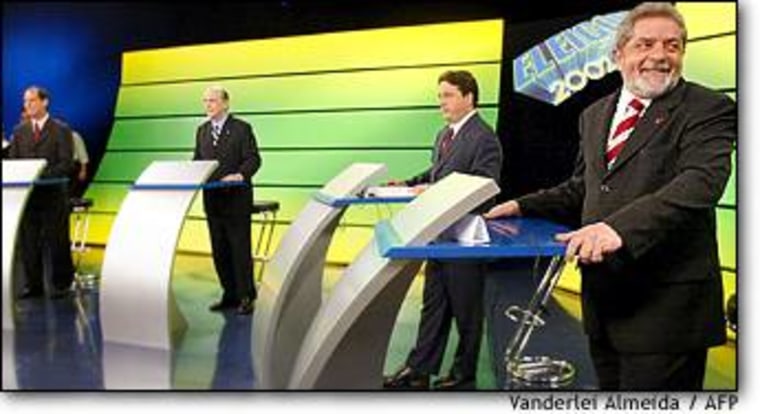 With Lula, "the markets are not optimistic that we will have the experienced crew that the markets feel comfortable with," Leme told a recent gathering at the Council of the Americas in New York.
As an example, the economist noted widespread dismay over the candidate's announcement late September that he would not retain Arminio Fraga as the country's central bank president.
The move was seen as evidence that Lula may stray from the IMF-backed financial orthodoxy that helped outgoing president President Fernando Henrique Cardoso rid the country of hyperinflation and make Brazil a favored nation for investors.
For his part, Lula pointedly said his choice would be someone with technical and market experience who would also understands "the subtleties of hunger and poverty."
Brazil has a foreign debt of $236 billion, about $100 billion of which is owed by the government. Earlier this year, neighboring Argentina defaulted on its huge debt — the largest sovereign default on record.
But Lula has refused to kowtow to the financial markets, although he promised not to break existing agreements with the IMF.
"Brazil won't go broke; Brazil won't go bankrupt. We've already survived worse crises. What we need is for Brazilians to believe in themselves," he said this week.
DARLING OF THE POOR
Lula has survived many crises of his own, including three campaigns where he was derided as uneducated, corrupt and a souped-up version of Fidel Castro.
Since the late 1970s he has been at the forefront of a fight to improve the lot of Brazil's poor and the working folk who make up most of the country's 170 million people.
Jailed by the military in 1980, he soon after founded the Workers' Party and turned it into one of Latin America's most potent leftist forces.
He is a hero among the working class. And while Brazil's elite may question his lack of a college degree, his message resonates with the 60 million Brazilians who live below the poverty line. He has made job creation his top priority.
Others have remarked on his charisma, with Jesse Jackson recently likening him to Martin Luther King Jr. and Nelson Mandela.
"I was with Martin Luther King ... and with Nelson Mandela ... and they were inspired by a special spirit," the U.S. activist told a gathering this week outside the capital Sao Paolo. "And the same special spirit ... is inspiring Lula."
Standing next to the candidate, Jackson said Lula has been "touched by God."
MELLOW LULA
For observers such as former U.S. ambassador to Brazil, Lincoln Gordon, the candidate has mellowed since his early days.
"I think there is evidence that there has been a real evolution in Lula's policy orientation," said Gordon, a guest scholar at the Brookings Institute, a Washington, D.C, -based think-tank. "The evidence is pretty strong, part of that can be seen in the distress of the radical left [over the new direction]."
He also noted that there will be limits to what Lula can accomplish as Brazil's president. According to public opinion polls, his Workers' Party will need to hammer out a coalition arrangement to pass legislation.
The most likely partners would be from within the outgoing centrist coalition government that backed Serra. However, Gordon and others cautioned that such an arrangement could be soured if the election requires a second-round runoff, set for Oct. 27.
Analysts expect that a three-week mano a mano struggle between Lula and Serra would hit the nadir in terms of ugly personal attacks.
Bernard W. Aronson, former assistant secretary of State for interAmerican affairs, said the market anxiety over Lula's candidacy was justified if he follows the radical tendencies of his party.
But he also noted the tradition in Latin America elections of candidates running on populist platforms who, once in office and faced with economic crises, move decidedly to the center. He cited the past campaigns of former Argentina President Carlos Menem and former President Alberto Fujimori in Peru.
"My guess is that if he wins, that he will understand that he will have to send signals to reassure the market," Aronson said.
As for the United States, Aronson noted that Washington has kept an appropriate hands-off approach to the election, saying that U.S. diplomats have met Lula on a number of occasions.
"If he wins, the White House will reach out to him," Aronson said.
(Sean Federico-O'Murchu is an international news producer/editor at MSNBC.com. The Associated Press and Reuters contributed to this report.)