A day after he was restored as president in April, Hugo Chavez called on Venezuelans to "reunite, to reflect" while promising a new era of consultative leadership after a botched attempt to remove him from power. Two months later, his grip on power appears tenuous and a new violent chapter may be about to be written in the South American nation.
"I think we are on the verge of a social implosion in the county; the level of tension is almost palpable," said Miguel Diaz, who directs the South America project at the Center for Strategic and International Studies in Washington, D.C. "Something has to give, and that implies violence," he said.
Diaz returned from Venezuela on Thursday after meeting with opposition figures and government officials, including Chavez, and he senses that the world's fifth-largest oil producer faces worse violence than occurred when a military group attempted to oust the president on April 11.
In a report on June 3, Diaz wrote that "the odds of another attempt to oust Chávez unconstitutionally are quite high." Now, he sees no reason to change his assessment.
"The military high command and Chavez gave the impression that things are under control, but what we saw with the naked eye was that things are not under control," he said Friday.
"There is the beginning of marginal skirmishes between the two groups [pro- and anti-Chavez]. It's only a question of time before that will ignite."
COUP RUMORS
Already, weekly coup rumors have sent edgy residents in the capital, Caracas, scrambling to stock up on food. Angry mobs harass both anti- and pro-Chavez politicians at public events.
In some neighborhoods, residents have reportedly organized "paramilitary" contingency plans to defend their homes against looting, the Venezuelan-American Chamber of Commerce warned in a report Thursday.
This week, the U.S. State Department issued a warning against traveling to Venezuela. Chavez, who blames the media for hyping the tensions, has invited former U.S. President Jimmy Carter to mediate stalled reconciliation talks with the opposition.
But Carter's mission may be too late, with both sides polarized more than ever, according to analysts.
"Chavez speak out of both sides of his face," said Eric Ekvall, a consultant for U.S. companies in the country.
"For public consumption he talks about reconciliation and dialogue, but on the other hand his people are busily arming the Bolivarian circles [the paramilitary neighborhood groups], and Chavez is giving incendiary speeches to his followers."
Meanwhile, dozens of hearings and more than 200 hours of testimony on who was responsible for the April coup have produced conflicting claims and more destabilizing hyperbole.
Chavez, testifying this month before a congressional panel investigating the coup, accused his "Nazi" opposition of inciting the rebellion and vowed that his leftist "Bolivarian revolution" will continue.
An equally defiant labor boss, Carlos Ortega, told a congressional panel in May that Chavez has "taken the country to its worst crisis in its democratic history" and urged Chavez to resign. "All of Venezuela will thank you," he said.
Chavez was ousted after 17 people were killed in an opposition march, then was reinstated two days later, on April 14, on the wings of a popular rebellion and aided by a military brass that was unwilling to support his ouster. Dozens of people died in riots.
FLASHPOINTS?
Ekvall, originally a political consultant in Venezuela, said the military holds the key to the outcome of the crisis. And he believes the army has become increasingly disenchanted with Chavez, a former paratrooper who assumed power in 1998.
"Everybody believes we are going for somewhat of a showdown at this stage," he said.
According to analysts, there are any number of flashpoints in the weeks ahead, including a parade by retired military officers on June 20 and the announcement of promotions within the armed services on July 5.
"There is a concern amongst the opposition that Chavez would promote people on the basis of political allegiance rather than merit," Diaz said.
On Thursday, Defense Minister Gen. Luis Rincon dismissed reports of discontent in the ranks, asserting most of the armed forces are "working and content, completing their duties and their missions."
He also rejected talk of a coup. "We are investigating where the rumors are originating, looking into these e-mails and pamphlets calling for people to buy food and store water. It's a series of lies, trying to create anxiety and fear," he said.
Another trigger could be a brewing scandal about the disappearance of $2.3 billion from a government fund set up from oil revenues to cushion the economy against a sharp fall in the commodity, the country's greatest resource.
"Chavez has up to now maintained the impression of being clean. If the evidence were to tie him to the disappearance rather than bureaucratic incompetence — assuming this money went for personal purposes — that might hit some of his support very hard," Diaz said.
Michael Coppedge, associate professor of Government and International Studies at the University of Notre Dame, noted that there was speculation that some of the funds were used to support Chavez's Bolivarian Circles.
"I suspect that a lot of missing money used to build up this political organization," he said.
THE SOLUTION
Other than Chavez die-hards, few observers inside or outside the country expect the president to complete his presidential term, which ends in 2006. Most of the speculation revolves around the path to his departure.
Ekvall suggested that a negotiated settlement is likely whereby the military will lean heavily on Chavez to step down, offering him and his top aides immunity from prosecution.
Notre Dame's Coppedge believes neither the military nor the opposition has the appetite for orchestrating a revolt.
"I would not be too surprised if there was not another coup attempt, but I doubt it would be successful," said Coppedge, author of "Strong Parties and Lame Ducks; Presidential Partyarchy and Factionalism in Venezuela."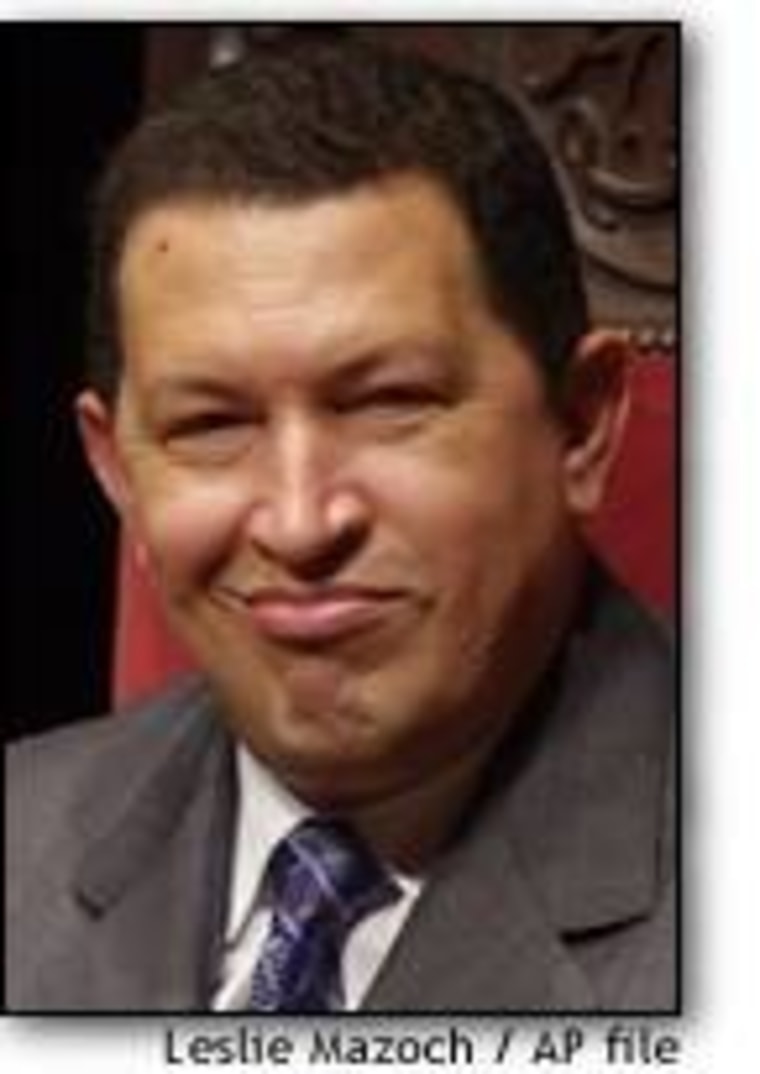 Instead, he sees Chavez being challenged through a number of legal means being employed by the opposition, including efforts to trigger a recall election or changing the constitution to shorten his term in office.
Under the constitution, Chavez could face an election if the opposition gathers 1.8 million signatures in support of his recall — and Coppedge believes he would lose the subsequent vote.
Also, on Wednesday some opposition members asked Attorney General Attorney General Isaias Rodriguez to charge the president with embezzlement over the missing money from the rainy-day savings fund.
But such legal options could take at least a year to play out. Diaz isn't sure the country will wait for these options to run their course — even with an opposition unable to agree on much other than a fierce distaste for Chavez.
"They are on the verge of opening up a Pandora's box but they have no idea of the consequences," Diaz said.
(Sean Federico-O'Murchu is an international producer/editor for MSNBC.com The Associated Press and Reuters contributed to this report.)