When you encounter him unawares, without him seeing you for a moment, he looks too small to be such an outsized presence in American literature, too unassuming to have such a brash, powerful voice. If it weren't for the white Panama hat pitched at a rakish angle and the subtly loud sport shirt, Walter Mosley could be anyone you'd pass on the street, as nameless, as faceless, as any good detective.
It's a measure of his phenomenal success — more than a dozen books in print, and adaptations of his work pending in Hollywood — that he's not so invisible these days. Mosley is nearly finished with a national tour to promote his latest novel, "Fearless Jones" (Little, Brown & Co., 312 pages, $24.95).
Interview time is tight, the better to get the author from one West Coast city to another in a day, or less. But it's to be expected of a man in demand, a writer whose formidable array of characters have almost single-handedly retrofitted the noir detective genre, from a black perspective.
His characters are largely inhabitants of the Los Angeles of the '50s and '60s, a sun-dappled Shangri-La whose shadows hold secrets of corruption, violence and, all too often, a virulent racism.
Mosley, who speaks with an energy that sidetracks itself from time to time, with verbal edits and revisions made while he talks, is keen to reinforce the ways in which his characters relate to the present day, even as they inhabit an America of generations ago.
'Not talking about history'
"A lot of things haven't changed," he said. "You might be talking about some time before today, but you're certainly not talking about history. [What happened to] Rodney King is no more amazing than what happens to Fearless or Easy or Socrates. Their lives are very contemporary."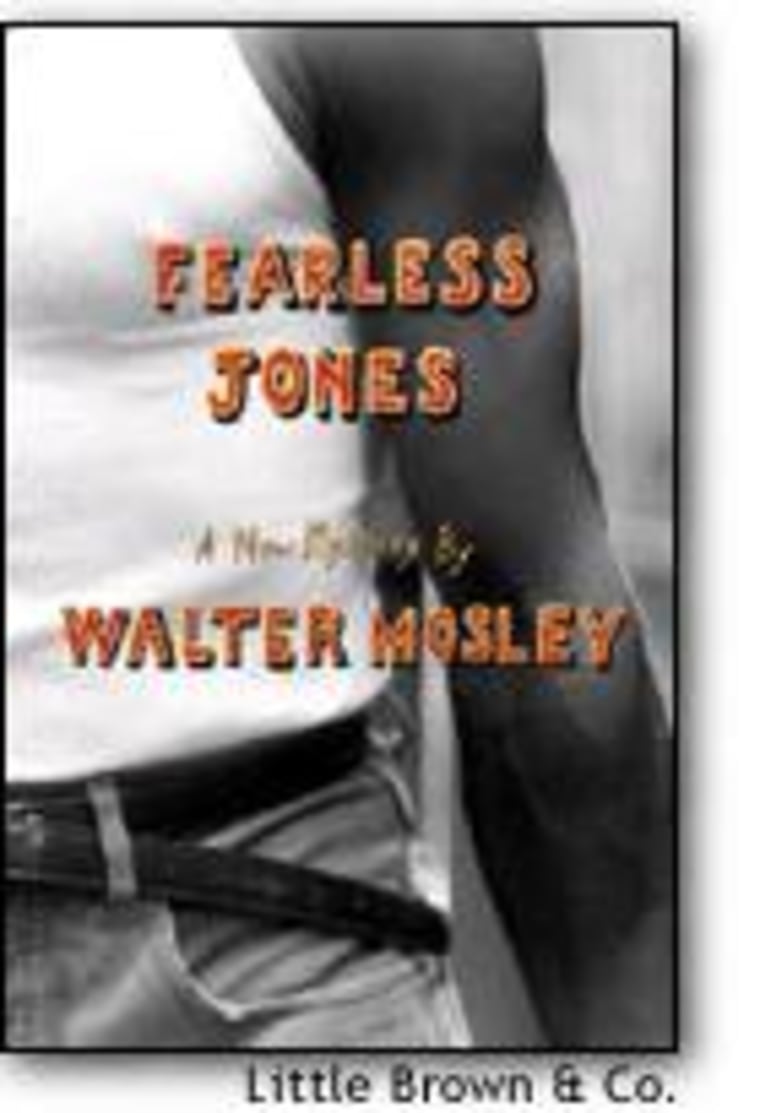 The police officers that are mostly an annoyance in the work of the legendary triumvirate of noir fiction — Chandler, Hammett, Cain — are potentially lethal in Mosley's world-view, a view that brings 21st-century understanding of interactions between blacks and police to characters living in the 1950s.
As recent real-life revelations of corruption and bias in the LAPD would suggest, in the world of Mosley's characters, as in our own, past is often prologue.
"To understand that you have 40 million Americans whose lives have been altered and changed, the trajectories of their lives decided by situations like that, gives you not just a view of 1940-whenever but also a view of life in the 21st century."
It's long been an article of faith that Mosley carries high the noir torch of the celebrated writers of the form. (Mosley has even borrowed John D. MacDonald's flair for books with colors in the titles.) But Mosley has tapped into something more relevant, more American, something that makes Mosley as much the tender of the flame of the generally unsung author Chester Himes as that of the more widely praised Raymond Chandler.
Turning conventions upside down
In a literary genre historically dominated by white authors and white characters, Mosley has created a franchise by turning the traditional noir universe on its head. Like Himes, Mosley has consistently populated his novels and stories with strong black male characters — not cardboard cutouts from the central casting department of the national imagination, but men whose tough, brittle, sometimes violent complexity mirrors, often brilliantly, the American times in which they live.
Though some of his characters originate in other places, Mosley has made Los Angeles another silent but towering character in his books. He has an intimate knowledge of that city — "from 1952, when I was born there, to 1973, when I finally left" — and the intricate politics of being black and male there. "Many times I was stopped by the police in Los Angeles, pulled out of a car, guns pulled on me. ... It was a very common thing. I came to expect it."
Those everyday interactions with the law are emblematic of situations that his characters face every day: their lives spent in the free-fire zone of good and evil, and deciding what defines each at any given time. The morally ambiguous situations facing his characters are all of a piece with noir's tradition of exploring the hidden places of the heart and soul. In Mosley's hands, however, the ambiguities intrinsic to the noir genre are in the service of a black American story — a story fraught with real-life American ambiguities.
"The notion of right and wrong, good and bad in America, especially for poor and black people in America, has never been real. Look at it. Here you are, a poor person surrounded by crime, and the people who are supposedly there to protect you and work with you can't or don't want to. But if you go out and shoot some guy for committing the crime, then the cops will arrest you."
Anotuher kind of gumshoe
Mosley's detectives aren't the gumshoes we've come to expect in the movies, with an office and a secretary and a bottle of bourbon in the right-hand drawer next to the loaded .38. Mosley's detectives tend to be masters of improvisation — sleuths with little family and few friends, one step ahead of the landlord, two steps ahead of the higher, heavier authority of the LAPD.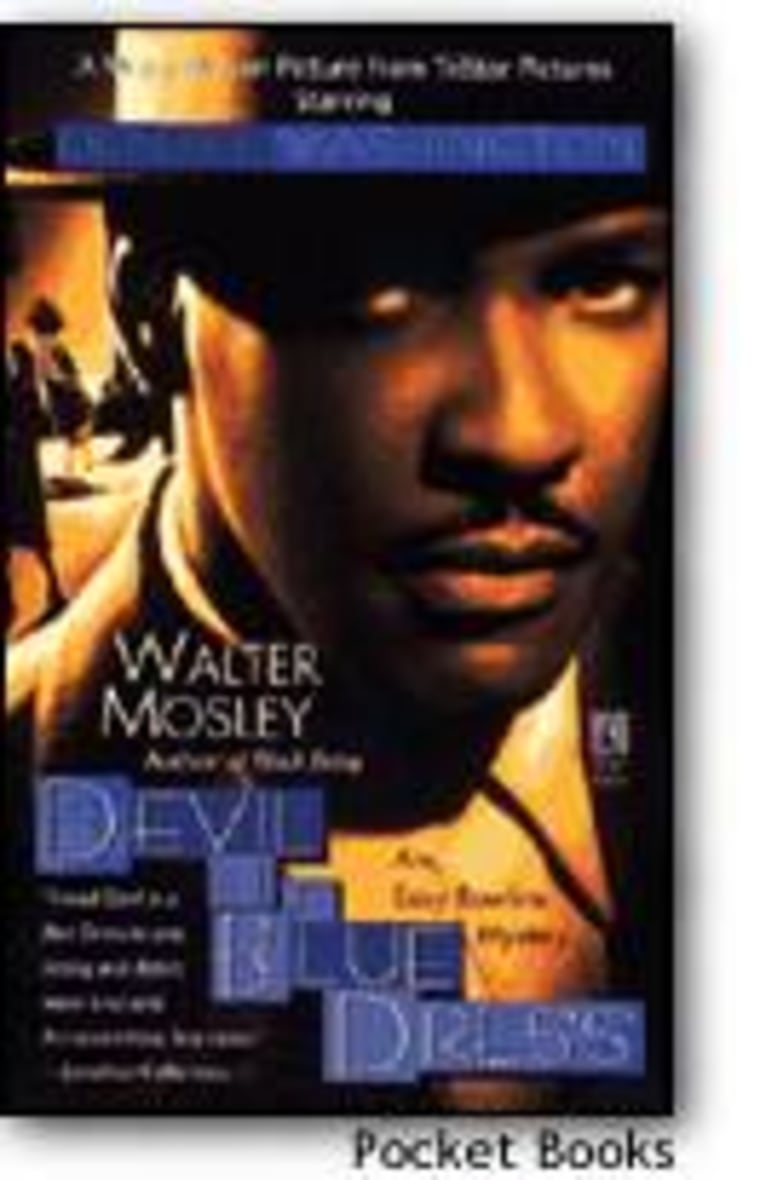 His most memorable characters traverse the no-man's land of ethical haziness: Ezekiel (Easy) Rawlins, a Texan transplanted to L.A., a World War II veteran who dabbles in real estate and amateur detective work, ever wary of the police; Socrates Fortlow, released from prison after serving 27 years for double murder, a man animated both by rage and a quest for personal redemption; or Tristan (Fearless) Jones, who lives by a personal code of chivalry and retribution, a man by turns knight in shining armor and avenging angel.
Mosley says his characters question, sometimes with fear and trembling, the power of the status quo. "My characters, they're coming and they're saying, 'What are you doing here?' My characters don't enter into a world where they're happy and grinning and peaceful with police officers. They're questioning the validity of the structure."
Mosley has secured his reputation in detective fiction; more recently, though, he's moved beyond that form. In one book of essays, "Black Genius," he probes the crafty, survivalist aspect of black American life and history; in a second such book, "Workin' on the Chain Gang," he ventures beyond race to speak on social issues besetting all Americans, regardless of race.
And back in the fiction world, Mosley has boldly gone where too few black writers have been. His 1998 science-fiction novel "Blue Light," a story of supernatural possession, is one of a relatively few black sci-fi novels (Mosley has in the past intimated it may be part of a trilogy). Mosley's also preparing "Futureland," a collection of interconnected science-fiction stories, for publication. It's due out in November.
Not upbeat on black writing
Despite being part of the new pantheon of black writers, Mosley is surprisingly downbeat about the future of black American writing, even as he admits that there's been an explosion of black authors in recent years. "Black people are reading a lot, a lot about themselves. [But] we don't have anyone like a black James Joyce. [Black readers] want to read popular fiction, so you have a lot of people out there: Terry McMillan, Eric Jerome Dickey, E. Lynn Harris. And underneath you're getting people like Paul Beatty, Colson Whitehead and Octavia Butler.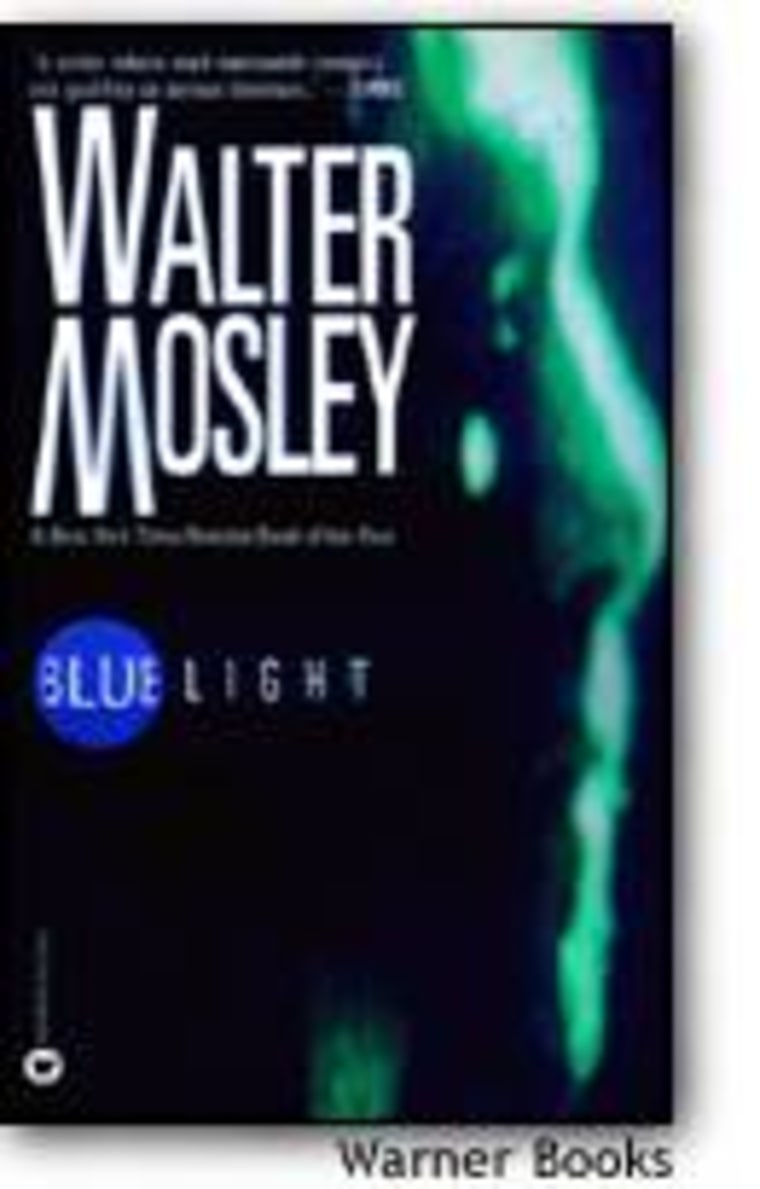 "There's so much black literature, but I don't think that we're really in that developed and strong a vein of who we are and what we are and where we're going in literature," he said. "I think most of the writers who are writing today, in 10 years are going to find themselves without publishers. The only question is will they be replaced by other writers, and I don't really know. When you look at the writers who were here 20 years ago ... almost all the black writers you know from 20 years ago aren't being published today.
"White writers," he said, "are ensconced in a world that remembers them, that will keep them in the universities. There's all kinds of white writers who are great or not great who'll still get a million-dollar contract. A lot of [black] writers aren't going to be remembered like that. We haven't developed any kind of presence in the large publishing world, and we haven't developed any kind of presence in the individual black publishing world."
Hoping to change that, Mosley is involved with a partner, W. Paul Coates, in the continued development of Black Classic Press, a small, Baltimore-based independent publisher. "I think that independent black publishing is really important," Mosley said. "As publishers have gotten larger and larger, they've lost the ability to reach down and do those smaller books — with five, six, seven thousand-copy runs."
While Mosley hopes to give the unknown a leg up in being published, for his own work in the foreseeable future, the livin' is, well, Easy. His next project is an Easy Rawlins television series, for ABC. "I've written four Easy Rawlins short stories," he said, "and I'm going to write two more and publish them over the next year and a half." He's also completed the screenplay for "Walkin' the Dog," the second Socrates Fortlow novel. Laurence Fishburne will reprise his role as Fortlow in a film to be directed by Edward James Olmos.