What is it about the 60s — the age range, not the era — that's so invigorating lately? For some of the long-distance runners of popular music, these seem to be the best of times. Bob Dylan, who joined the sexagenarian set this year, just released an album that finds him creatively as strong as he's ever been. Neil Diamond (60) and Paul Simon (60) are still out there. Now it's time to welcome back another old favorite: Leonard Cohen.
"Ten New Songs" (Columbia), Cohen's first album in nine years, finds the Canadian singer in familiar territory, affairs of the heart taking center stage. The wistfulness and melancholy that Cohen has long communicated in novels, poems and songs are still there.
In these bleak but beautiful songs, bittersweet stories of lost opportunities, Cohen suggests that time doesn't heal wounds, just gives you thicker bandages to cover them — even as memory rubs them raw all over again.
Nine years out of circulation
Cohen, a mainstay of the folk scene from the late 1960s (such songs as "Suzanne" and "Famous Blue Raincoat" were staples of the era), spent much of the past nine years out of the public eye.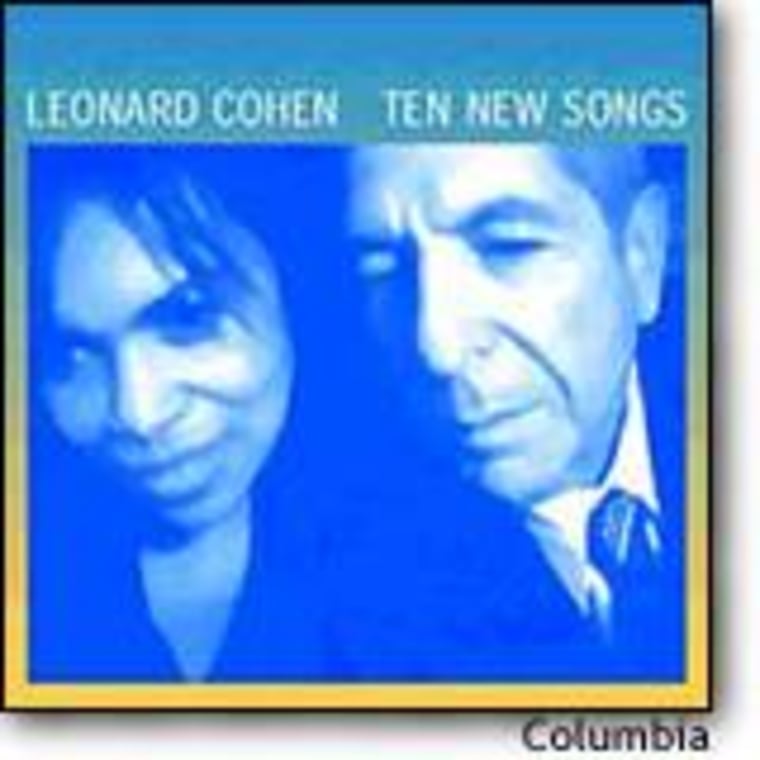 For five years he was at the Mount Baldy Zen Center, in the San Gabriel Mountains east of Los Angeles, for much-needed spiritual R&R.
Previously he'd undergone treatment for clinical depression, a disorder he had tried to treat in various ways, including a further embrace of the wine, women and song that were for decades the constants of his life.
This release — a sparsely-instrumentalized collection of some of Cohen's most heartfelt, calmly passionate ruminations on life and love — is his return to the world, and a welcome one at that.
Joint venture
Cohen's is the name on the marquee, but this record is a joint venture. He writes and sings with Sharon Robinson, his songwriting significant other (Robinson co-wrote "Everybody Knows," one of Cohen's more well-known, if more downbeat compositions of recent years).
"Ten Songs" is a product of their enduring collaboration: they recorded the album in their home studios, even trading music files online. Their work here — from "Here It Is," its sad goodbye lyric set against a spare bossa-nova backdrop, to the coda, "Land of Plenty," a ballad of rueful resignation to life's many velocities — is engaging and highly personal, with Cohen's trademark weather-beaten baritone in tandem with Robinson's sturdy, evocative alto.
To these ears the showcase is "Alexandra Leaving," a haunting farewell valentine rendered by two voices wrapped around some of Cohen's most heartfelt poetry in too many years:
As someone long prepared for this to happen,
Go firmly to the window. Drink it in.
Exquisite music. Alexandra laughing.
Your firm commitments tangible again.
And you who had the honor of her evening,
And by the honor had your own restored -
Say goodbye to Alexandra leaving;
Alexandra leaving with her lord.
Back to the heart
A departure from his previous album — "The Future" (1992), his statement on environmental decay, war and other ills of the modern world — "Ten New Songs" returns Cohen, quietly but forcefully, to the equally turbulent terrain of the human heart.
The joys and disappointments of relationships, the power of time and perspective, animate this album, along with a wry, world-weary brand of optimism — exactly what's needed today.
This is the music of a man who's made at least a shaky peace with himself, and whether it's the result of age, love or years at a Zen retreat doesn't matter. At day's end, Cohen discovers that happy, or at least happier, is possible. In these too-suddenly terrifying times, that's almost a revelation.