/ Source: The Associated Press
Attorneys for Microsoft Corp. head back to federal court Tuesday to defend a landmark antitrust settlement from a last-ditch challenge from Massachusetts' attorney general and other critics.
THE TWO SIDES will square off before a panel of judges in the U.S. Court of Appeals for the D.C. Circuit, with critics of the settlement arguing it should be overturned and stricter sanctions imposed on the world's largest software maker. (MSNBC is a Microsoft-NBC joint venture.)
"It (the settlement) fails to stop Microsoft's illegal conduct and does nothing to restore competition to the monopolized market or to prevent Microsoft from engaging in similar means to the same unlawful end," Massachusetts AG Thomas Reilly said in a brief filed over the summer.
Microsoft will likely counter that the dissenters are extremists out of step with the courts, the Justice Department and 20 other states, all of whom have endorsed the settlement.
"Only Massachusetts continues to pursue different relief that would benefit certain of Microsoft's competitors, but not consumers," Microsoft said in a reply brief.
Microsoft argued successfully during last year's remedy hearings that more stringent sanctions would benefit only rivals like Oracle Corp. and Sun Microsystems , while hurting consumers.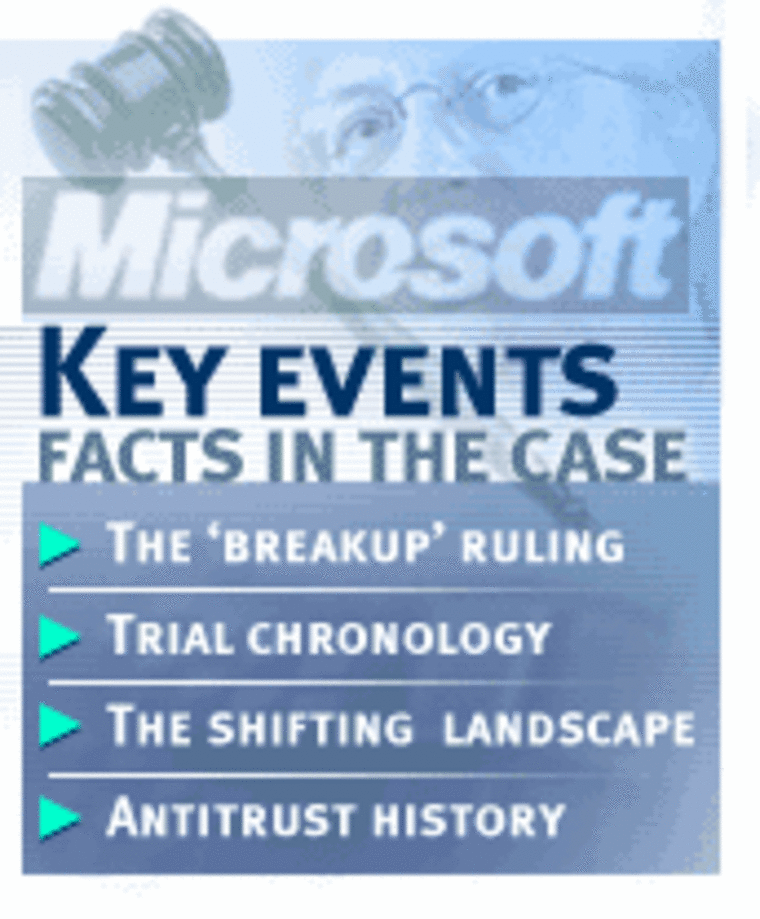 In a separate argument before the same appeals judges, another group of dissenters led by two industry trade groups will argue the settlement is not in the public interest, as required by U.S. antitrust laws.
The main legal question will be whether the lower court judge, U.S. District Judge Collen Kollar-Kotelly, properly interpreted a 2001 ruling by the appeals court, which outlined how to design a remedy to address Microsoft's antitrust violations.
George Mason University law professor Ernest Gellhorn said Kollar-Kotelly will likely get a lot of deference from the appeals judges, having presided over long hearings and having written a 500-page opinion on the case.
"It's not whether she reached the right decision, but whether her decision on remedies was reasonable," he said.
The appeals court transferred the case to Kollar-Kotelly in June 2001 after ruling that Microsoft had illegally maintained its Windows operating system monopoly, but rejected a proposal to break the company in two.
In November of 2001, Microsoft and the Justice Department agreed to settle the case. The company agreed to restrictions that would, among other things, give computer makers greater freedom to feature rival software on their machines by allowing them to hide some Microsoft icons on the Windows desktop.
Microsoft also agreed to license key computer code that competitors need to make their server software work well with Windows.
In court proceedings last year, Kollar-Kotelly heard 32 days of testimony to determine what sanctions should be imposed on Microsoft, with Massachusetts and eight other states seeking stricter sanctions.
Kollar-Kotelly approved the settlement with minor changes. Eight of the nine hold-outs have since joined the settlement.
Gellhorn said it will be hard to convince the appeals judges that Kollar-Kotelly was unreasonable given that the other states have settled.
In its briefs, Massachusetts lawyers have dismissed the settlement as an ineffectual remedy rubber-stamped by a mixed-up lower-court judge.
Massachusetts attorneys argue that Kollar-Kotelly endorsed the settlement without evidence that it would work, and that it would do nothing to stop Microsoft from "commingling" computer code of its monopoly Windows with other software applications, a tactic that the appeals court ruled was anticompetitive.
In its legal briefs, Massachusetts also contends that the settlement also fails to take away the "fruits" of Microsoft's illegal tactics, including the dominance its Internet browser.
© 2003 Reuters Limited. All rights reserved. Republication or redistribution of Reuters content is expressly prohibited without the prior written consent of Reuters.