Lori Rabon, general manager of the Nassau Inn, a colonial-style guesthouse in the heart of Princeton's upscale Nassau Street shopping district, heaves a sigh as she thinks back to last fall.
In an interview with MSNBC.com one year ago, Rabon said the economic fallout from the Sept. 11 terror attacks had hit her business hard. As businesses scrambled to cut costs in the weeks following the attacks, cancellations for conferences and holiday parties in the normally very profitable October-to-December quarter flooded in. Business functions are an important source of revenue for the hotel.
"Things were very bleak for us at the end of last year," Rabon said. "We started to see a slowdown in bookings in June 2001 and we attributed it to the slowing economy, but then things got much worse after Sept. 11. Corporations cut back on travel and cancelled meetings. We did promotions and arranged special packages to lure them back, but the corporate segment of our business has been in decline ever since last September."
Twelve months ago, when MSNBC.com first visited Princeton to assess the impact of last September's attacks on local merchants, many said business had slowed.
One year later, an informal survey of the same merchants reveals the economic ripple effects are still being felt. While the initial impact on consumer confidence and the travel business has lessened, a year of Wall Street scandals and declining stock prices has kept business slow.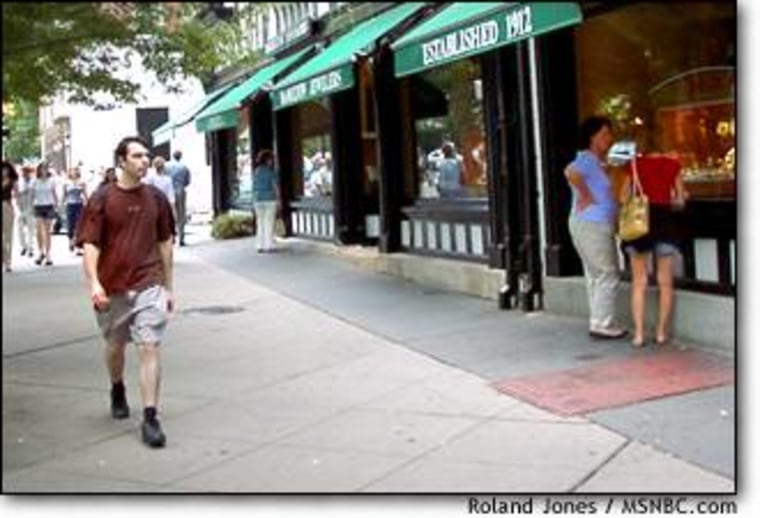 Michael Hopper, manager of Hamilton Jewelers, a family-owned business on Nassau Street, told MSNBC last September that shoppers were becoming more conservative in their spending habits. He predicted a short-term dip as a result of Sept. 11, but long-term he thought Princeton's mainly affluent demographic would be insulated from the national economic malaise.
Twelve months on, Hopper says business is still challenging. Shoppers remain price conscious, he says, and so he has altered his businesses accordingly, focusing on marketing more moderately priced products. "Sales of the ultra high-end transactions are down," Hopper said. "We're seeing more products in the $35 to $5,000 range being sold."
Hopper says he doesn't see a turnaround on the horizon. Tourist traffic in the store was down over summer and even local customers are not visiting the store as much as they used to, he said.
"November and December are normally huge months for us, and we're still projecting an increase in sales for the year," Hopper said. "But at the same time we're looking at ways we can cut costs, from the way we buy our jewelry to offering incentives to employees who think of ways for us to be more profitable — it's a challenge."
Further down Nassau Street at the Nassau Inn, Lori Rabon is looking forward to the fall. Reservations at the hotel are starting to pick up pace and holiday party bookings for later in the year are trickling in.
"I have a general sense that business will be back to normal by 2003 and we're over the worst," Rabon said. "This year has certainly taught us a lot about cost containments, but we're looking forward to better times."