/ Source: The Associated Press
The United States is sending new high-tech systems to Iraq aimed at thwarting strikes on its forces, including a "virtual microphone" in the sky to help pinpoint snipers, the head of the Pentagon's cradle of technologies said on Wednesday.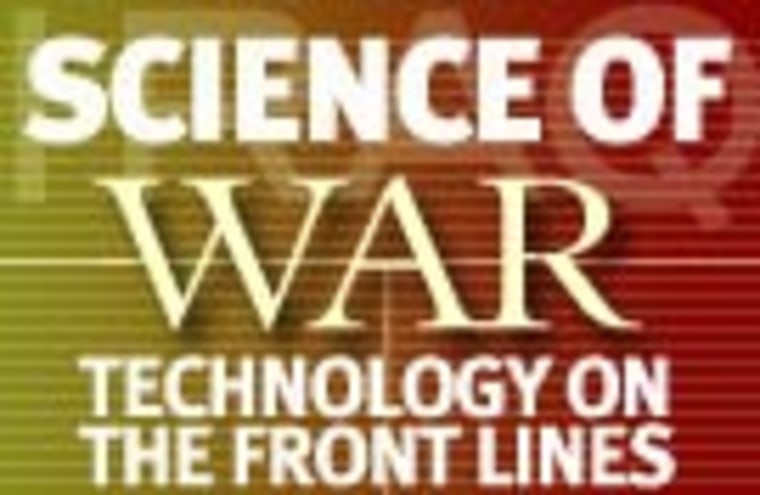 OTHER ANTIGUERRILLA gizmos would help detect roadside bombs and booby traps that have been killing U.S.-led occupation forces, said Anthony Tether, head of the Defense Advanced Research Projects Agency, or DARPA.
The devices use everything from lasers and acoustic sensors to electromagnetic technologies, he said, adding they would ship in the next three to four months or sooner, after stepped-up, last-minute development and testing.
A total of 203 U.S. forces have been killed in Iraq since President Bush declared major combat over on May 1, including 104 in hostile fire.
"They're not going to be 100 percent solutions," Tether told reporters at a breakfast forum. "But when you're in a situation where you have no solutions, even a 25 percent solution is going to be great."
Separately, he said there might be fewer guerrilla bombings if not for privacy advocates' fears of research on linking thousands of cameras to computers to track vehicles in an urban combat zone.
"If we had it in Baghdad today, we'd probably have fewer bombings," he said, citing the possible use of such technology to trace the origins of blasts destabilizing U.S.-led postwar reconstruction efforts.
This program, called "Combat Zones That See," was ending because Congress had earmarked no funds for it in the fiscal year that began Oct. 1, said Jan Walker, a DARPA spokeswoman.
THE UNCERTAINTY FACTOR
One reason for rushing in technology before it is fully proven, he said, was "to put uncertainty into somebody who wants to do something (hostile) that now he may get caught ... That's what we're trying to do."
One project uses a large ground-based carbon dioxide laser to project a kind of microphone in the air with a range of "tens of kilometers" to determine where a shot came from by gauging particle movements, Tether said.
Originally designed to detect things like ground vehicles over a hill, this system was developed by Santa Barbara, Calif.-based Mission Research Corp. and has cost about $7 million, he said.
On its Web page, Mission Research shows pictures of lab work on "atmospheric remote sensing" using laser radar, which generates an optical pulse rather than broad radio waves. A receiver system times, counts and process the returning data. The company did not return a phone call seeking comment.
SHIP IT AND TRY IT
The virtual microphone was "not quite ready for true military-spec prime time," Tether said. "But there's no reason why we can't take what we have and put it in a container and bring it over there and try it."
The new antiguerrilla gear has been under development for as long as five years, and was not designed with Iraq in mind in particular, he said.
He said the equipment would go to to Col. Bruce Jette, who heads the Rapid Equipping Force under Army Vice Chief of Staff Gen. George Casey, a program designed to speed innovative technologies into combat zones.
Jette, in a telephone interview, said he was planning to use the new sensors to try "to determine where the enemy is — in some cases before they've fired and in some cases after they have fired a weapons system."
Jette said he had already sent "very successful" DARPA-developed robots to Iraq and to explore caves in Afghanistan, another U.S. battlefield after the Sept. 11, 2001, attacks on the United States.
HOMING DEVICES
Other experimental gear would try to home in on the electronics used to trigger roadside bombs, typically being set off remotely using cell phones or pagers, Tether said.
DARPA, which aims for radical innovation to boost U.S. combat power, spearheaded the development of hand-held translation devices that U.S. troops in Iraq and Afghanistan use to bark out orders such as "Drop your weapons!" and "Put up your hands!" in 16 languages.
Tether said an improved, two-way version probably would be ready in about a year that would translate phrases back into English from Arabic and "a lot of other languages that are of interest too."
© 2003 Reuters Limited. All rights reserved. Republication or redistribution of Reuters content is expressly prohibited without the prior written consent of Reuters.