/ Source: msnbc.com news services
He jiggled a little too much, but then who can blame him — wouldn't you if you had 14 pythons and 10 geckos taped to your body?
The jiggler, a 22-year-old Norwegian man, was arrested for allegedly trying to smuggle the two dozen snakes and geckos into Norway by hiding them under his clothes.
He was apprehended in the southern town of Kristiansand after getting off a ferry from Hirtshals, Denmark.
Customs agent Helge Breilid said the man had 14 royal pythons and 10 albino leopard geckos under his clothes.
"Customs officers quickly realized the man was smuggling animals, because his whole body was in constant motion," Breilid told Norway's VG newspaper.
Breilid said the non-venomous snakes — the smallest species in the python family — were hidden in stockings duct-taped to the man's abdomen. The geckos were in bins taped to his thighs.
Customs officials found the reptiles, which are not endangered, on Sunday during a search following the discovery of a tarantula in one of the man's bags.
A full body search revealed 14 stockings — one for each snake — taped around his torso.
When the man dropped his pants, the officers found 10 cans taped to his legs, each containing a lizard, Breilid said.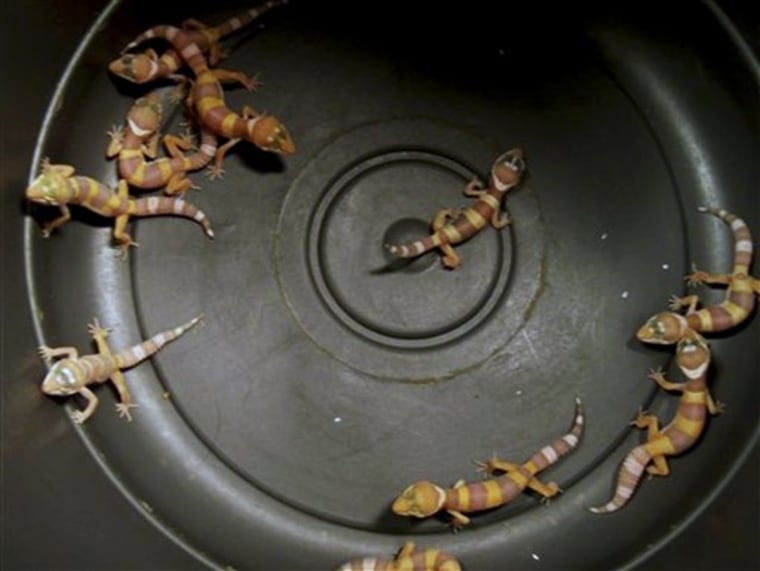 Reptile smuggling is not uncommon in Norway, which prohibits people holding many reptile species as pets, but office manager Helge Breilid at Kristiansand Customs was quoted by VG as saying that customs officers had been "horrified" by the discovery.
Kristiansand police attorney Johann Martin Kile said the man was being released upon agreeing to pay a 12,500 Norwegian crowns ($2,256) fine.
The reptiles were handed over to a security firm until Norwegian authorities decide what to do with them, Breilid said.