/ Source: msnbc.com contributor
It frequently has been observed that it is easier to stalk the leader than it is to preserve that position once it is achieved.
A case in point: The struggles Toyota has endured since overtaking General Motors as the leader in worldwide car sales last year.
The Venza, a new, hard-to-define crossover-wagon thing, may well be Toyota's predicament embodied in steel, rubber and glass. And plastic. Loads of cheap, shiny, sloppily installed plastic.
Having apparently concluded that six Toyota-brand SUVs and a minivan were not enough to target every potential customer for hauling families, Toyota introduced the Venza as a 2009 model.
It's unknown whether this was the result of a genuine belief that the company should offer a product in every imaginable category, or because hubris led Toyota to believe that the Venza would find buyers who eluded the very similar (and discontinued due to lack of interest) Chrysler Pacifica and Ford Taurus X crossovers.
Toyota reached the top of the industry by use of its "kaizen" system of continuous improvement, key attributes of which have been widely adopted industry-wide. But somewhere along the line "continuous improvement" became "continuous cost reduction" and it shows in all the company's recent products.
The interiors in particular are awash in cheap-looking, shiny plastic. Likening the Venza's apparently ready-to-hose-clean, plastic door panels to something from the toy aisle would insult Buzz Lightyear and Woody.
Worse yet, the plastic bits in the test model weren't installed correctly, so the cut lines between pieces were misaligned in places and the dashboard air vents had shockingly large, irregular gaps around them. These are the things that killed GM's image. Now Toyota is making the same inexcusable mistakes.
Even the big doors have a tinny, cheap sound when opened and closed, another unexpected trait in a Toyota. With these astounding failings, can unreliability be far behind? Is it here already but we don't know it yet?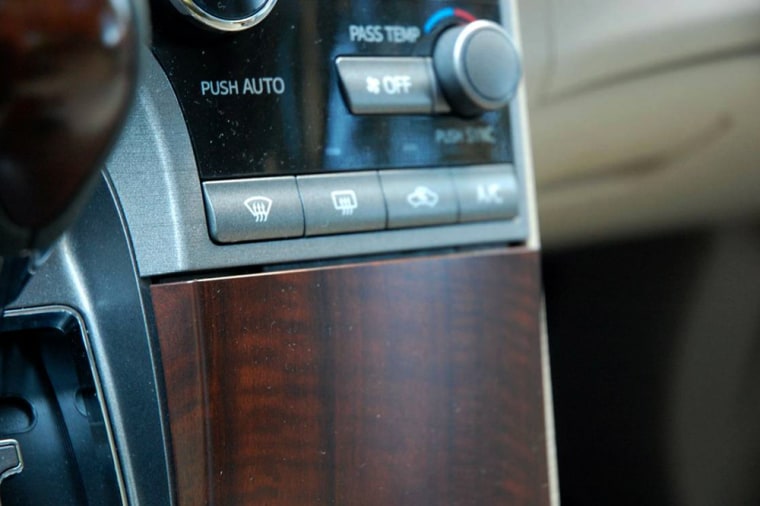 The cabin looks good in photos, and the designers surely had high hopes for the final result. But it seems the continuously cost-cutting accountants whacked the budget for decent materials, so the plastic fake wood paneling fell to the level seen on televisions in the late '70s, when TVs still tried to look like furniture.
Toyota says it uses real leather for the Venza's seats, but the material was so hard and shiny it was indistinguishable from the perforated vinyl that Volkswagen and BMW are offering in their entry models.
Toyota extends its poor track record with its calibration of the Venza's electric power steering. Electric power steering offers benefits to car makers because it is cheaper, cleaner and simpler: No hydraulic pump drains power from the engine and there are none of the attendant hoses, plumbing or fluid.
But six decades or so of development have left hydraulic power steering assist finely honed to provide superb steering feel and feedback, which are critical attributes for engaged drivers. Electric power steering can be calibrated to perform almost as well, but many car makers, Toyota included, don't even seem to try. Either the company discounts the importance of this or it figures that its car-as-an-appliance customers can't tell the difference.
Whichever the cause, the Venza's steering is too light, with a near-total absence of feedback, especially at low speeds. In an earlier Venza, tested previously, it actually felt like the steering column had snapped when the car came to a stop, because the steering effort fell to zero and the wheel could spin almost freely, like on an old Pole Position arcade game. The company must have noticed this, because the recently tested example didn't have that problem. The steering was still far from ideal.
The Venza also included automatic headlights, a feature which is normally very convenient. But again, Toyota's execution is lacking, because the lights do not automatically go on when they should — in dull, misty gray weather or when the driver activates the windshield wipers.
The Venza does benefit from Toyota's estimable powertrain know-how, with a capable, smooth V6 engine and six-speed automatic transmission. Those are really the only areas where the Venza demonstrates an advantage over the Pacifica and Taurus X. Unrefined engines and less-advanced transmissions diminished those vehicles' appeal (though both did get nice six-speed automatic transmissions later in their production runs).
Venza's powertrain also provides unexpectedly good gas mileage for a vehicle of its size (though its five-passenger capacity is unexpectedly paltry for a crossover this large), especially considering that it features the security of all-wheel-drive traction for bad weather. The EPA rates the tested all-wheel-drive version at 18 MPG city and 25 MPG highway. The front-drive model is more efficient and there is even a four-cylinder engine for maximum fuel economy.
However, the Pacifica and Taurus X didn't lose sales because customers thought their powertrains were intolerable. Consumers didn't seem interested in their big-wagon design, even though they held more passengers than the Venza and, to my eye, were better looking. So it would be shocking if Toyota were to strike gold by mining a vein that turned up only pyrite for Ford and Chrysler, especially when the company now has eight light truck passenger vehicles vying for customers' attention at the Toyota dealer.
Do these criticisms mean the Venza is unredeemable? No, but these are notable shortcomings regardless of the manufacturer. In terms of the overall cheapness, they are surprising for a company with Toyota's reputation.
The company's own minivan is a far better family hauler and was designed before the latest round of cost-cutting that has rendered the cabin of other candidates such as the Camry and Highlander disappointingly cheap-looking. Look at the Chevrolet Equinox, Honda CR-V, Ford Edge, and Mazda CX-7 before signing papers on a Venza.
If Toyota doesn't correct the problems it is experiencing, GM is ready to recover its title as world's-largest carmaker, with a chastened plan to do better this time. And Volkswagen is pulling closer to the leaders with a plan to pass both of them in the coming decade. For this leadership position, only quality products need apply.