/ Source: NBC News and msnbc.com
An Army psychiatrist who opened fire at Fort Hood, Texas, killing 12 people and wounding 31 others, was shot but captured alive, military officials said late Thursday.
The gunman, identified as Maj. Nidal Malik Hasan, was wounded at the scene but was captured alive and was in stable condition, Lt. Gen. Robert W. Cone, commanding general of the Army's III Corps, said at a press conference late Thursday.
Eleven of the victims died at the scene, military officials said. A 12th died later at a hospital, NBC station KCEN-TV of Waco reported. Cone said that most of those who were shot were military but two were civilians.
Cone also said that a female officer who was thought to be the first responder shot Hasan and was herself wounded and had undergone surgery at a hospital. It was not clear if the officer was a military policewoman or a civilian officer.
Col. Ben Danner said the suspect was shot at least four times. "I would say his death is not imminent," Cone said, adding that Hasan was in custody at a hospital.
It initially was reported that Hasan had been killed at the scene. But Cone said at the press conference that Hasan had been in custody since the incident occurred, and there was no explanation of the earlier report.
Poor performance evaluation
U.S. officials said Hasan was an Army psychiatrist, NBC News reported. Defense officials said Hasan, 39, arrived at Fort Hood in July after practicing for six years at Walter Reed Army Medical Center in Washington, which included a fellowship in disaster and preventive psychiatry.
At Walter Reed, Hasan received a poor performance evaluation, according to an official who spoke to The Associated Press on condition of anonymity because he was not authorized to discuss the case publicly.
There was no official word on motive. But Hasan was scheduled to be deployed overseas on Nov. 28, officials said. Sen. Kay Bailey Hutchison, R-Texas, said military officials had told her that Hasan was "pretty upset" about his deployment, which she said was to be to Iraq.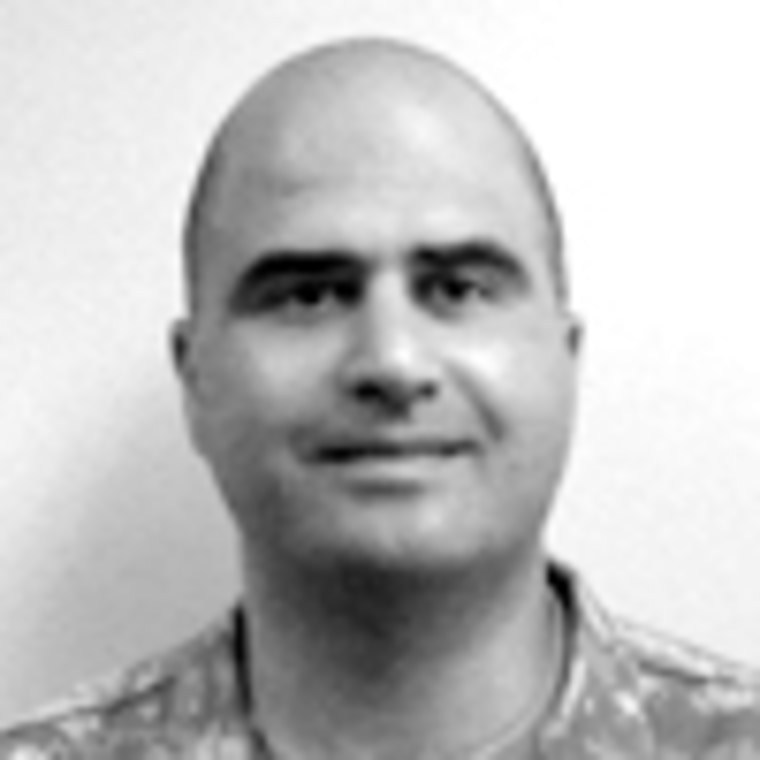 The Associated Press, quoting federal law enforcement officials, said Hasan had come to their attention at least six months ago because of Internet postings that discussed suicide bombings and other threats. The officials said they were still trying to confirm that he was the author.
Medical records on file in Virginia, where Hasan was born and was registered to practice, and Maryland, where he received his medical degree at the Uniformed Services University of the Health Sciences in Bethesda, revealed no disciplinary actions or formal complaints.
Two handguns used Cone said the gunman used two handguns. He said that military officials believed that there was a single shooter.
Two other soldiers were taken into custody after the shooting, but Rep. John Carter, R-Texas, said they were released.
A senior administration official told NBC News that the shootings could have been a criminal matter rather than a terrorism-related attack and that there was no intelligence to suggest a plot against Fort Hood.
Military and local hospital officials said the victims were a mixture of men and women, military and civilian. At least four local SWAT officers were among those wounded, KCEN reported.
'They shot me!'
Among the wounded was Pfc. Keara Bono, 21, of Independence, Mo., who was shot in the shoulder. She called her mother, Peggy McCarty, to let her know she would be OK.
Bono, who works with soldiers dealing with stress, arrived in Fort Hood only Wednesday from her previous posting in Topeka, Kan., NBC station KSN-TV of Wichita, Kan., reported. Her brother, Dustin, told the Kansas City Star that Bono was "mad more than anything."
"They shot me! And I'm still here in this country!" Dustin Bono quoted his sister as saying.
Robin Geiser of Random Lake, Wis., said her 24-year-old son, who commands soldiers at Fort Hood, knew some of the victims. He had been scheduled to be in the readiness center Thursday ahead of his deployment in January, but he was spared because his day's orders were changed and he was on the training ground, instead, Geiser said.
"I was terrified come January," Geiser told NBC station WTMJ-TV of Milwaukee. "I'm doubly worried now. If you can't be safe here ..."
Geiser said that in conversations with her son, he told her that "there's a lot of anger in a lot of these soldiers."
"Who knows what it stems from?" she asked.
Reminders of 1991 massacreFort Hood, one of the largest military complexes in the world, was put on lockdown until about 7 p.m. ET, as were schools in the area. Dozens of agents of the FBI and the Bureau of Alcohol, Tobacco, Firearms and Explosives responded to the post, federal officials said.
The base is surrounded by the town of Killeen, where a man shot and killed 23 people in a Luby's restaurant in October 1991.
"Unfortunately, this is a day we had dreaded," said Hilary Shine, a spokeswoman for the city of Killeen. "Every time you hear of a mass casualty situation in Killeen, you think of Luby's. ...
"Here in City Hall, it's panic," Shine said. "We all have friends and family members who work or have business on Fort Hood."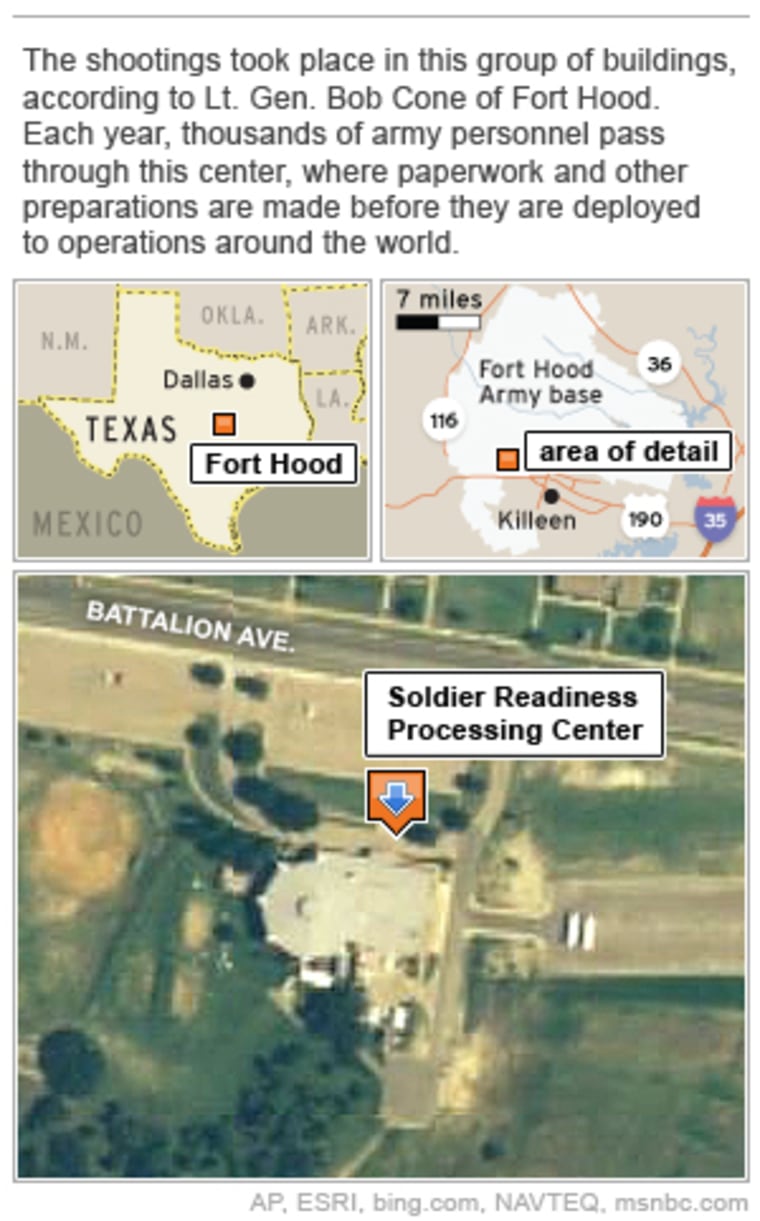 Speaking in Washington, President Barack Obama called the shootings a "horrific outburst."
"It's difficult enough when we lose these great Americans in battles overseas," Obama said at the Interior Department. "It's horrifying that they should come under fire at an Army base on American soil."
Noting the Arabic nature of the gunman's name, the Council on American-Islamic Relations, a Washington interest group, condemned "this cowardly attack in the strongest terms possible and ask that the perpetrators be punished to the full extent of the law."
"No political or religious ideology could ever justify or excuse such wanton and indiscriminate violence," the council said in a statement. "The attack was particularly heinous in that it targeted the all-volunteer army that protects our nation. American Muslims stand with our fellow citizens in offering both prayers for the victims and sincere condolences to the families of those killed or injured."
Shootings in deployment centerEmergency Services officials at Fort Hood said the incident began about 1:30 p.m. CT (2:30 p.m. ET) when the gunman opened fire in the Soldiers Readiness Processing Center on the west side of the base. A spokesman for the base, Sgt. Major Jamie Posten, said the processing center was where soldiers "cycle through as they prepare to deploy."
Retired Army Col. Greg Schannep, an aide to Rep. John Carter, R-Texas, who was on the post to attend a graduation service, told the Fort Hood Sentinel that he heard "three or four volleys of shots, with eight to 12 shots in each volley."
"Initially, I thought it was a training exercise," he said. But then, "a soldier came running past me and said, 'Sir, there is someone shooting.'
"As he ran past me, I saw blood on his back," Schannep told the base paper. "I don't think he even knew he had been shot."
The sprawling Fort Hood complex is home to at least 4,929 active-duty officers and 45,414 enlisted. Civilian employees total nearly 9,000.
A spokesman for the Army, Lt. Col. Lee M. Packnett, said he was unaware whether security measures were put in place at other military bases. Other U.S. military bases told local NBC stations that the shootings were being treated as an isolated incident and that no special security measures were being implemented in response.
'Shocked and saddened' Hutchison said in a statement: "I am shocked and saddened by today's outburst of violence at Fort Hood ... My heart goes out to their loved ones."
Texas Gov. Rick Perry's campaign spokesperson said the governor was in Denton, scheduled to attend a campaign event, when word of the shooting occurred. There was no word on whether he had left Denton or whether he was headed to Fort Hood.
Fort Hood has seen other violence in recent years. In September 2008, a 21-year-old 1st Cavalry Division soldier shot his lieutenant to death and then killed himself. Spec. Jody Michael Wirawan of Eagle River, Alaska, shot himself to death after killing 1st Lt. Robert Bartlett Fletcher, 24, of Jensen Beach, Fla.
You can also follow this story at @msnbc_breaking on Twitter.
Pete Williams, Savannah Guthrie, Scott Foster, Kameko Jones and Joel Seidman of NBC News; Bill Dedman and Alex Johnson of msnbc.com; and NBC stations KCEN of Waco, Texas, KSN of Wichita, Kan., KXAS of Dallas and WTMJ of Milwaukee contributed to this report.