/ Source: The Associated Press
Relentless rain drenched much of the Atlantic Seaboard Thursday, pelting communities from North Carolina northward with gusty winds and heavy rains, inundating streets, stranding drivers and causing three deaths in hard-hit Virginia and one in North Carolina.

The downpours were the continuing aftermath of late-season Tropical Storm Ida, which quickly weakened once it made landfall on the U.S. Gulf Coast on Tuesday but still soaked a swath from Alabama to Georgia.

In Virginia, Gov. Timothy Kaine declared a state of emergency and officials urged people in some areas to stay home. Rain and resulting floods were predicted to continue at least through Friday, especially along the state's southeastern coast.
Along southeast Virginia's coast, rising waters combined with high tides could reach levels not seen since Hurricane Isabel in 2003, the Weather Channel reported.
Sustained winds of 30 to 50 mph are likely, with gusts between 55 and 65 mph, in Virginia, Maryland and Delaware, the Weather Channel added. Cape Henry, Va., had a gust of 70 mph.
Winds gusting between 35 and 45 mph are expected as far north as Long Island and coastal New England by Saturday, the channel said.
Deadly accidents
In central and eastern Virginia, three motorists died in weather-related crashes, said Corrine Geller, state police spokeswoman.
Some motorists were rescued from their cars after getting stuck in high water, said Bob Spieldenner, Virginia Department of Emergency Management spokesman.

Flooding closed several area streets, bridges and a major tunnel as winds worsened high tides that were already 6 to 7 feet above normal.

"Each high tide is going to be worse, because the water's going to keep building," Spieldenner.
Mari Rosadson, who works at the front desk of the Marriott Waterside in downtown Norfolk, said she and her friend encountered standing water during a commute that took twice as long as usual.

"We made it through fine, thank God," she said.
In western Virginia, officials reported flooded streets and some people being pulled out of low-lying areas. The Roanoke River also was expected to flood Thursday.
32,000 customers lose power
Dominion Power reported more than 32,400 customers without electricity in Virginia and North Carolina, with more than 26,850 of them in southeast Virginia. Most Hampton Roads schools and universities canceled classes, and many businesses closed for the day.


The Port of Hampton Roads closed Thursday afternoon. The Norfolk Naval Station and all other area Navy installations, Langley Air Force Base and Fort Eustis trimmed operations down to essential personnel, officials at the bases said.

Meanwhile, Coast Guard officials continued searching for three commercial fishermen whose boat sank in churning seas off the coast of New Jersey. There were no serious problems elsewhere in the state, though emergency management officials were bracing for tidal flooding along the shore.

In North Carolina, where thousands of residents lost power at some point during the deluge, flood warnings were posted from the mountains to the coast, with trees down and some roads closed. Schools in several districts opened late.
And an elderly man standing in his yard was killed when a pine tree was snapped off by strong winds and fell on him, said Mooresville Fire Department Assistant Chief Curt Deaton. Mooresville is about 30 miles north of Charlotte.

The Coast Guard on Wednesday plucked two people from a sailboat off the North Carolina coast, where seas had churned and winds gusted near 30 mph. Two other people remained with the boat as it was towed back to shore.

The National Weather Service said Thursday morning that rainfall in some places on the coast was near 6 inches.
Flooding in Columbia, Atlanta
In South Carolina, state health officials blamed the heavy rains for overwhelming sewage plants in the Columbia area, dumping some raw sewage into three rivers.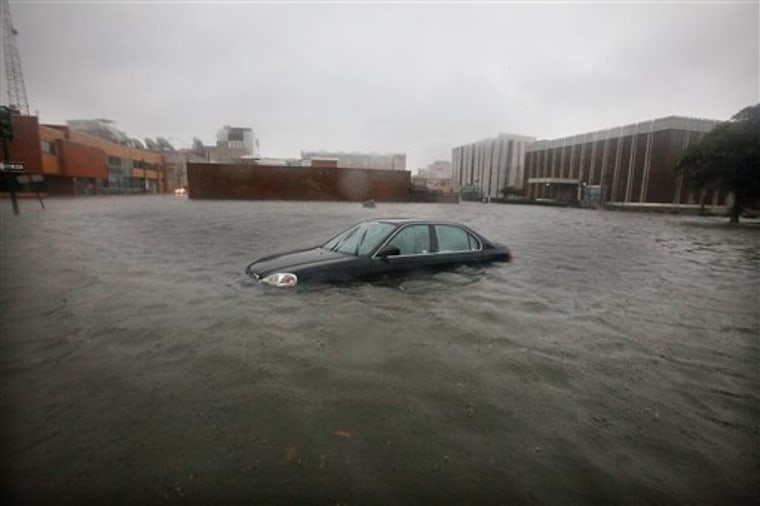 In suburban Atlanta, streets and yards that border the Chattahoochee River filled with water as the river spilled over its banks from the rain.
The area is still waterlogged from historic flooding in September, which swamped homes and businesses.

In Delaware, power outages were reported and at least two inches of rain had fallen in parts of the state. Some low-lying areas were already flooded, and wind gusts were as high as 55 mph.