/ Source: The Associated Press
A former Louisiana congressman who famously hid $90,000 cash in his freezer was sentenced Friday to 13 years in prison for taking bribes, the longest term ever imposed on a congressman for bribery charges.
William Jefferson, a Democrat who represented parts of New Orleans for nearly 20 years, was convicted in August of taking roughly $500,000 in bribes and seeking millions more in exchange for using his influence to broker business deals in Africa.
The sentence, while severe, was still far less than what prosecutors had sought.
Agents investigating the case found $90,000 wrapped in foil and hidden in boxes of frozen pie crusts in his freezer.
Prosecutors had asked a judge to follow federal guidelines and sentence him to at least 27 years, though the judge determined Friday that the sentencing guidelines should have been calculated at 22 years instead of 27. The defense asked for less than 10 years, arguing a stiffer sentence would be far longer than those imposed on congressmen convicted of similar crimes in recent years, none of whom was sentenced to more than a decade.
Former Rep. Randy "Duke" Cunningham, R-Calif., for example, was sentenced to more than eight years in prison after pleading guilty in 2005 to taking $2.4 million in bribes from defense contractors. Former Rep. Bob Ney, R-Ohio, was sentenced to 2 1/2 years in prison for taking bribes from lobbyist Jack Abramoff. Former Rep. James Traficant, D-Ohio, served a 7-year sentence after being convicted in a 2002 trial of bribery and racketeering.
Prosecutor Mark Lytle said that, had Jefferson's schemes come to full fruition, he stood to reap hundreds of millions of dollars in 11 separate bribery schemes.
"His activity represented the most extensive and pervasive pattern of corruption in the history of Congress," Lytle said.
Jefferson's lawyer, Robert Trout, said that while his client acknowledged a level of responsibility for his conduct, he also believed that he was operating within the law. And he urged the judge to consider the fact that Jefferson lifted himself up from poverty to become the first African-American to represent Louisiana in Congress since Reconstruction.
"He has led an extraordinary life," Trout said.
Free pending hearing
U.S. District Judge T.S. Ellis III said he did take Jefferson's life history into account but that public corruption must be dealt with severely.
"Public corruption is a cancer on the body politic," said Ellis, who lamented that so many other congressmen have been convicted on similar charges. "There must be some sort of greed virus that attacks those in power."
Jefferson said nothing in court after he was sentenced — Trout said he advised Jefferson not to speak because Jefferson is challenging his conviction in appellate court.
When sentenced, Jefferson showed no visible reaction to the verdict, nor did his wife and five adult daughters who attended the hearing.
Two of the jurors who convicted Jefferson attended the hearing as well, one of whom fought back tears throughout the three-hour hearing. Both declined comment.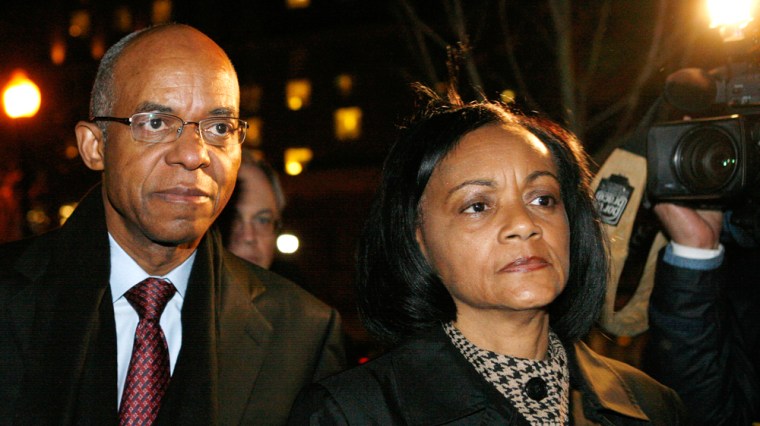 Jefferson was allowed to remain free pending a hearing next week. Prosecutors want him to begin serving his sentence immediately, while the defense wants Jefferson to remain free while he appeals his conviction.
Jefferson was also ordered to forfeit roughly $470,000 in bribery proceeds — the government expects to seize Jefferson's retirement savings and other assets to enforce the judgment. Jefferson, meanwhile, has filed for bankruptcy protection and his wife is claiming rights to some of those assets.
Because he was sentenced to more than 10 years, he needs a special waiver from the judge to be allowed to serve his time in a low-security prison camp. Ellis agreed to recommend a waiver, but it will be up to the Bureau of Prisons to decide where Jefferson serves his time.
Wired informant
Jefferson was convicted in August of 11 counts, including bribery and racketeering, and acquitted on five others, including the one most closely associated with the money in his freezer.
The investigation started in March 2005. In August of that year, FBI agents searched Jefferson's Washington home and found the cash. Prosecutors said he had planned to use the money to pay a bribe to the then-vice president of Nigeria to secure a multimillion-dollar telecommunications deal there, an accusation Jefferson denied.
The money ended up in the freezer after a disgruntled businesswoman, Lori Mody, agreed to wear a wire after telling the FBI she had been cheated out of $3.5 million in deals brokered by Jefferson. The jury saw videotape of Mody handing over a suitcase filled with $100,000 cash outside an Arlington hotel. Most of that money was recovered from the freezer.
The defense argued that Jefferson was acting as a private business consultant in brokering the deals and his actions did not constitute bribery.
New Orleans voters had long been loyal to Jefferson, who in 1991 became Louisiana's first African-American congressman since Reconstruction. He rose from the poverty of the Louisiana Delta parishes to prominence as a street-savvy political tactician.
He was re-elected in 2006 even after news of the bribery scandal broke but was indicted and then lost to Republican attorney Anh "Joseph" Cao this past December.
Residents react
In Louisiana, several residents of Jefferson's district said the sentence was just.
"I think it's sufficient considering his age," said Songy Turner, 56, of Marrero, La., a New Orleans suburb. "I'm really hoping that the newer politicians, the younger politicians, really consider being honest, really take their job seriously and make an effort to make Louisiana honest."
Cristian Boise, 41, of New Orleans, said 13 years wasn't enough for Jefferson's actions, which may have hurt the state's recovery from Hurricane Katrina.
"He abused the public trust," Boise said. "He hindered our recovery efforts, and he really did this city a lot of harm at a time when it needed help."