For two months this holiday season, an empty jewelry store in midtown Manhattan has been magically transformed into a toy train shop, complete with a Christmas tree and electric engines chugging along miniature tracks.
No, Santa's elves did not descend on Rockefeller Center.
It was more like a bunch of retail elves — a speedy real estate agent, an inventive designer, a staffing agency and an amenable landlord.
Thanks to all of them, iconic train company Lionel Electric Trains opened its first retail store ever on Nov. 1. But it will disappear just as quickly Jan. 5.
"We wanted to do this for the past few years, but this year we decided to go for it because we felt the circumstances were right," said Jerry Calabrese, CEO of Lionel.
The circumstances are right for a lot of companies this year as a sluggish economy and abundant commercial real estate has made it easier than ever to open "pop-up" stores that appear in time for the holidays and disappear shortly after.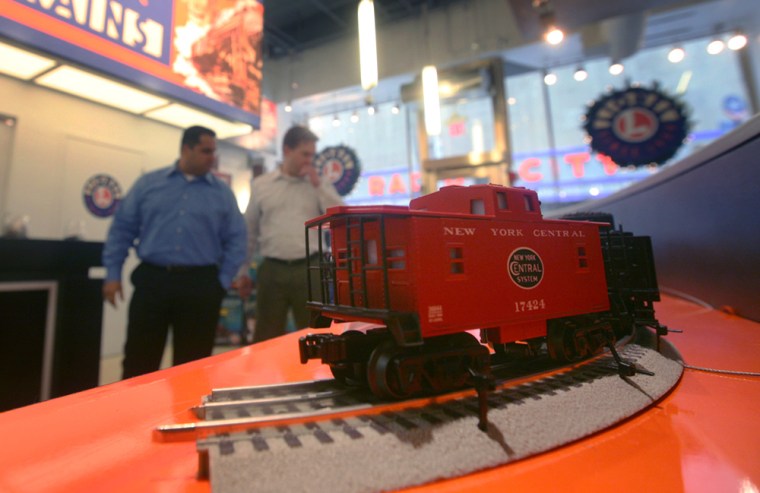 Over the past few years, pop-up shops have become a fixture for Halloween and Christmas,  with their endless racks and shelves of costumes or ornaments sold in bare-bones, warehouse-type stores, typically housed in  nearly vacant shopping centers on the edge of town.
Now holiday pop-ups are going upscale, showing up on fancy streets in big cities, and upscale malls, seen as more than just a way to collect extra sales but also as a marketing tool to boost a company's brand. That means stores have to look more like they've been there for years. The décor has to tell some sort of story. And they have to be in high-traffic areas, preferably with a lot of locals and tourists.
And it's not always just about cashing in on the holidays.
"If we make a few bucks that's great, but our intention is not making the store a profit center," said Calabrese, the Lionel CEO.  "Our intention is to create a wish-book environment where people can immerse themselves in our brand and products."
"We're seeing this nationally, from Manhattan to St. Louis to Texas," said Edward Mermelstein, a New York lawyer and real estate expert who represents regional malls across the country. As shopping centers have seen their vacancy rates surge during the recession they have opened the door to temporary tenants, who at least make the malls look busier.
But that doesn't mean they're letting just any company open up pop-ups, he said. "In certain types of regional malls, or in certain parts of country, upscale malls, don't want to devalue the rest of mall by bringing in something low end," he said. "They have to fit in with rest of atmosphere."
Some longtime retailers are short-term dabbling. Toys 'R' Us is opening temporary stores in 80 malls around the country for the holidays, while Beverly Hills' glitzy Robertson Boulevard recently saw the opening of a pop-up Gap store.
It's more than just a tough real estate market that is opening the door to pop-up shops. It's also a larger "retail paradigm shift," said Richard Gottlieb, a toy expert who writes the blog "Out of the Toy Box."
A new generation of consumers is more comfortable buying online, and they're not going to spend a lot of time in traditional brick-and-mortar stores as their parents did. As a result, the pop-up trend may be here to stay for companies that want to take advantage of holiday sales traffic without committing to a five-year lease.
Take Mousumi Shaw, who owns Austin, Texas-based jewelry company Sikara & Co. She decided to open a temporary store on a busy street in San Francisco for the holidays. The firm sells products online and through other retailers but had never owned a retail location. "I've always been intrigued by retail, but the day-to-day schlepping never appealed to me," she said.
The pop-up strategy made sense for her, but it does have its drawbacks. She finds herself convincing customers that her company will still be around when the holiday is over.
For Fathead, which makes life-size sports and entertainment posters, opening a pop-up made sense because 65 percent of their sales occur in the fourth quarter, said CEO Patrick McInnis.
The company opened its first-ever retail location in a mall in Novi, Mich., Oct. 23 and was able to get a 35 percent discount on rent. "As long as we can keep our costs extremely low it works for us," he said.
"It's almost like a cash cow for companies," said Bill Baxter, director of the McGaughy Professional Development Center at Longwood University in Farmville, Va. "They have fixed costs, use a temporary work force, don't have to pay benefits, they don't need a full inventory, and they gain more exposure and sales."
"It's a fly-by-night, get in and get out kind of thing," said Baxter, former head of the Richmond Retail Merchants Association.
Lionel CEO Calabrese said the idea to open a store after 100 years in the model train business was almost done on an impulse.
"A couple of us were walking back from lunch one day saying, 'Gee, we should open a store,'" he recalled. They figured it was a viable plan, he explained, "because there's no secret the commercial real estate market is suffering. You just walk down the street and see all the stores available for rent."
Company officials started looking into the possibility in early October and it snowballed from there, said William Finkel, Lionel's manager of business affairs, who oversaw the project.
Working with broker Jay Gilbert of Newmark Knight Frank, Lionel officials toured a variety of high-traffic sites and settled on the Rockefeller Center location, owned by Tishman Speyer.
Most deals Gilbert works on are long-term leases that can take months, even years, to complete, but this one was turned around in days. "Both sides were motivated, and they understood the timing there," he said.
It helped that the landlord was accommodating and the space was in impeccable condition, Gilbert said. Neither side would comment on pricing, although high-profile tenants can often get deep discounts in the current market.
At that point, Roger Farkash, creative director for Dallas-based T W Design, came into the picture to transform the 1,100-square-foot space into a holiday train shop.
T W Design had worked with Lionel for years, designing temporary installations, but never a full store.
The biggest challenge was that Farkash was not allowed to alter the physical space, meaning no permanent displays or nails in the walls. Everything had to be removable, and Lionel could not even remove the old jewelry displays that were still in the shop.
Typically the design process could take two to three months, but the Lionel shop had to be done in just a few weeks. "I explained to them what I envisioned," he said, "and we talked about resources they already had — such as train displays — to keep the new build to bare minimum."
The one thing T W Design had to build was a five-by-nine-foot train table for the front store window.
"We put it on a truck and met it in New York City on Oct. 26," he said. "And then we had three days to install it all, and Lionel had three days left to put in the product and open up."
Since Lionel sells to dealers, a lot of their merchandise was spoken for, but in the end the company was able to get about 95 percent of what they wanted for the store, said Finkel, the business manager. That included everything from $139.99 train sets for young kids to $900 Denver & Rio Grande train models.
And of course, someone had to sell the trains.
Since the company does not ordinarily handle hourly workers, executives enlisted  staffing agency Kelly Services Inc. the hire the six to nine temporary workers and managers who were needed. Applicants proved to be relatively easy to find, including a manager and assistant manager who were hired through ads on Craigslist.
Days before the opening of Lionel, Finkel was training the staff on the basics of the products. Given the quick turnaround, not every member of the staff worked out. "We had one saleswoman who just didn't show up," he said. "But we had extra people on staff just in case."
On opening day, almost everything went off without a hitch.
"It all happened so fast that even UPS and FedEx couldn't find our store to make deliveries for several days," he said.