A $600 netbook? That's the unsubsidized price of Nokia's new Booklet 3G, the company's venture into the netbook field. Or, it's $300 with an AT&T contract for two years. Neither is an appealing price option. After a year of great success with consumers, is the heretofore "inexpensive" netbook starting to stray into high-priced territory?
Nokia doesn't like to call its new 2.76-pound device a netbook, but it walks like a netbook and talks like a netbook, albeit one of the best-looking ones out there, with its aluminum, MacBook Pro-like appearance. The Booklet 3G has a 10.1-inch screen and promises a battery life of up to 12 hours, quite good for a netbook or any laptop. It became available this week at Best Buy.
"There are two things that differentiate the Booklet from other netbooks," said Michael Gartenberg, vice president of strategy and analysis at Interpret, LLC. "One is somewhat nicer design, but the other is a huge cost difference. The problem is that consumers are going to be hard-pressed to pay a premium on design for a machine that's slower and less capable of similar devices that cost half as much."
The Booklet 3G ran well wirelessly using a Wi-Fi connection in testing. However, using AT&T's 3G — or third-generation — wireless connection to the Internet, it seems pokier. And its mini-Chiclet keys are underwhelming for such a high-priced device.
Two unappealing choices
Consumers are left with two unappealing choices if they want the Booklet 3G: Cough up $600 for the device without AT&T's service, or $300 with it, and pay a monthly service fee of either $35 or $60 for two years.
With the cheaper plan, you're spending $840 plus $300 for the device, totaling $1,140. All of a sudden, $600 starts to look good. And it's not.
Most netbooks continue to hover in the $300 to $400 range. Some are cheaper, and there are new models like the Booklet 3G that are pushing into the higher price strata. Samsung's new Go netbook, which has received initial positive reviews, is $430. It, too, can be purchased with a subsidy through AT&T for $199 (after a rebate). The same contract formula applies.
If you want a netbook from AT&T, there are other, less expensive choices, including Acer's Aspire One or Dell's Inspiron Mini 10 netbooks for $149 (with contract). Deals are available on AT&T's Web site.
Sans contract, the Aspire One, one of the most popular netbooks of the past year, runs between $250 and $350 depending on where you buy it and how it's configured. Dell's Mini 10 is in the $300-plus range, depending on the configuration you get.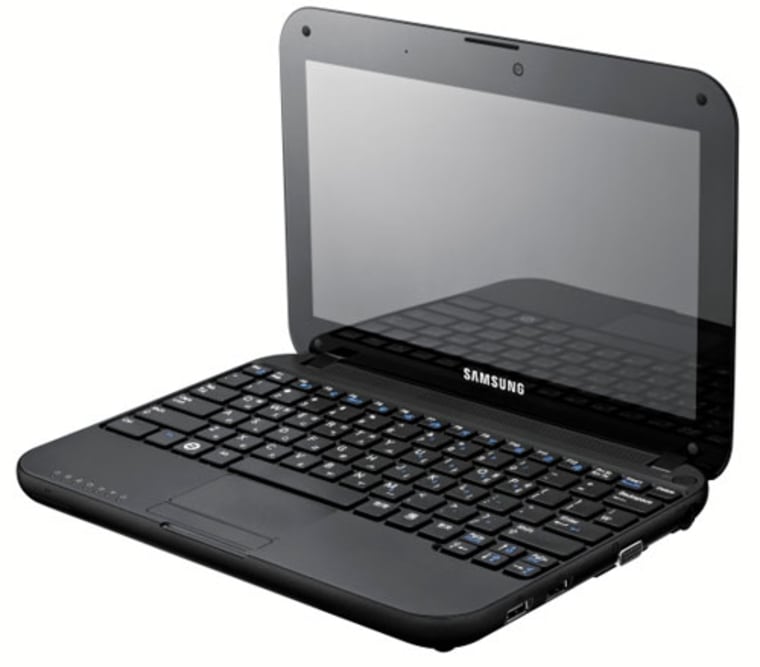 Verizon Wireless also sells netbooks (monthly plans are $40 or $60), and Sprint ($60 a month), too, just started carrying the Mini 10 from Dell, meaning netbooks are available from the nation's three largest wireless carriers. (Sprint is trying out the netbook first in the Bay Area.)
Price is largely the draw
But the drawbacks of buying a netbook from a carrier outweigh the pluses for most consumers. It does make sense if you travel a lot, aren't sure about where to get wireless access and want a reliable — although not always fast — connection.
"Much of the allure of the netbook for consumers is simply price, and while vendors like Nokia are looking to raise their margins with premium pricing, it's not likely to resonate with the very ... buying market looking for this type of device," said Gartenberg.
"Through the years, charging a premium for small computers has never worked in the United States, and that's not likely to change with Nokia's offering."
Netbooks remain attractive to buyers because of their low prices and value as a "secondary PC for the home," as well as "making them more affordable for first-time PC buyers in emerging markets who are less likely to require all the features available on a larger mainstream notebook PC," said John F. Jacobs, DisplaySearch's director of notebook market research, in a recent report.
That $600 price point
Where does that leave Nokia's Booklet 3G? Perhaps with price reductions to come, or maybe its high-quality product will be enough to persuade consumers to spend that kind of money.
A recent survey by consumer electronics shopping site Retrevo.com asked more than 700 shoppers about how much they would be willing to pay for an Apple tablet computer, something that has been rumored for much of this year. The results are an indication of how much wallets will open for a device that has been so highly gossiped about on blogs.
Sixty-eight percent of Mac owners said they would pay more than $600 for an Apple tablet, compared to 36 percent of PC owners, Retrevo.com found.
"If Apple wants to grab a larger market and get in on the netbook craze it will need to attract PC owners to generate significant sales," Retrevo.com said on its blog. "To convert PC owners to Apple owners, Apple needs to consider a (close to) $600 price point for the tablet and they should not delay bringing it to market."
Some see the Booklet 3G's pricing not as an indication of where the netbook market is headed as much as one company trying to distinguish itself with its first-ever netbook.
Stephen Baker, vice president of industry analysis for the NPD Group research firm, said he thinks Nokia "is trying to separate itself with build quality, design and trying to make a statement with its first computer.
"Much better, in my mind that they should enter the market with a product with perceived high quality and design then they enter with a 'me too' product that is the same as what everyone else is doing," he said.