/ Source: a href="http://www.travelandleisure.com/" linktype="External" target="_blank" resizable="true" status="true" scrollbars="true" fullscreen="false" location="true" menubars="true" titlebar="true" toolbar="true">Travel + Leisure</a
One morning at a hotel in the Bahamas, Sheri Rosenow, a lawyer for the World Trade Organization, spent an hour and a half sorting her documents into neat piles for a week's worth of meetings.
Then she stepped out. When she returned, she found that housekeeping had helpfully combined all her papers into a single, useless stack. "So instead of getting my one afternoon at the beach," she recalls ruefully, "I had to stay and sort all my papers again."
Every business traveler can tell stories about hotel stays gone wrong—from lost reservations to lousy Internet connections to the $8 soda or sock-cleaning bill. But what makes a hotel great?
To many travelers, business is personal. The hotel that can provide a welcome snack and a coffeemaker, give a choice of pillows, greet a guest by name—and know how to spell it—makes it on the top 10 list for some travelers. All would agree, however, that the best business hotels first and foremost make it easy to accomplish the work you came to do.
At the very least, that means a central location, efficient check-in and checkout, reliable and high-quality technology, comfortable work spaces, attention when you need it and quiet when you don't. It also means value.
Instead of adding amenities, says Jeff Higley, vice president of digital media and communications for Smith Travel Research, hotels are concentrating on packaging: "They're including free Internet access or parking or breakfast whereas before they might have charged for it." In our annual World's Best survey, Travel + Leisure asked readers to pick the best business hotels—properties that met the highest standards of convenience, service, and comfort for the business traveler.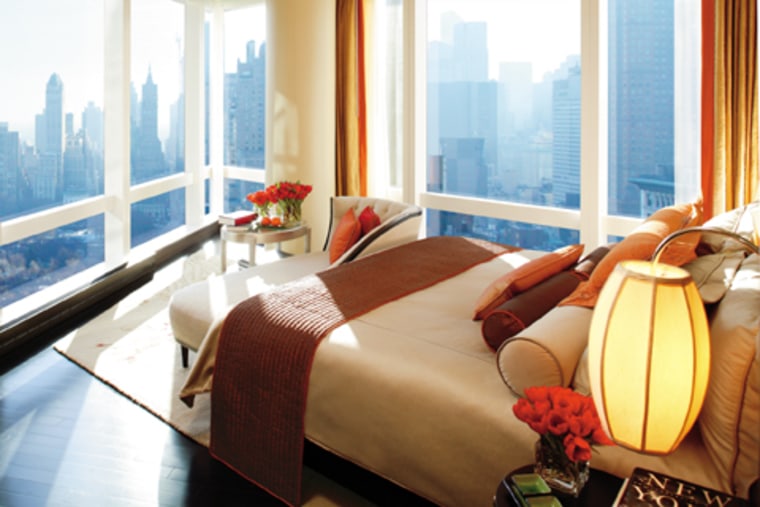 The stylish London in West Hollywood, for example, combines free Internet access and a 24-hour business center with spacious suites, a rooftop pool, and an award-winning Gordon Ramsay restaurant. The Eliot, a lovely boutique hotel in the heart of Boston (and No. 1 on our list of this year's best small city hotels in the U.S. and Canada), features touch-screen monitors that guests use to order room service, make restaurant reservations, even print out boarding passes.
Another winner (not surprisingly) is the Peninsula Hong Kong, a place Rosenow says made her "feel like royalty"—she was transported in a Rolls-Royce, treated to tea upon arrival, and always greeted by name.
Business can even be a pleasure, as at New York City's Ritz-Carlton Central Park, with its panoramic park views, full-service spa, and acclaimed BLT Market restaurant. Whether it's a modern boutique or a palatial landmark, the best business hotel is one that understands exactly what travelers need from the minute they step in the door.
Says Arnie Rusinek, vice president for international operations at Teknion and a 30-year veteran traveler: "A big smile and a friendly reception go a long way when you've been in the same clothes for two days."