In a historic move, Democratic presidential hopeful Howard Dean will skip public financing and the spending limits that come with it, hoping his money-raising power can help win the nomination and unseat President Bush, campaign officials said Saturday.
THE 2004 RACE is the first time that candidates from both major parties will forgo the Watergate-era public financing system. Bush also is opting out, as he did in the 2000 Republican primaries and raised a record $100-plus million.
Dean made his decision based on a high-tech tally of 600,000 supporters, whom he asked to vote by e-mail, Internet, telephone or regular mail through Friday.
He was announcing the results at noon EST in Burlington, Vt., but campaign officials, speaking on condition of anonymity, said about 85 percent of the 105,000 supporters who weighed in urged the former Vermont governor to opt out. He becomes the first candidate in Democratic Party history to take such a step.
At least two Democratic rivals — Massachusetts Sen. John Kerry and retired Gen. Wesley Clark — also have been considering opting out.
Like Bush in his primaries, Dean now can spend unlimited amounts on his campaign for the nomination and, if successful, through the summer before the general election season starts.
Candidates who accept public dollars in the primaries can get up to $18.7 million in taxpayer money but are limited to about $45 million in spending.
A campaign official said Dean has no plans to limit his spending through the primaries to that threshold, as some campaign finance watchdogs have urged.
FLOOD OF CONTRIBUTIONS
Dean was the first 2004 hopeful to qualify for the government money. He told The Associated Press last March that he was committed to taking it, in part because he believed in campaign finance reform.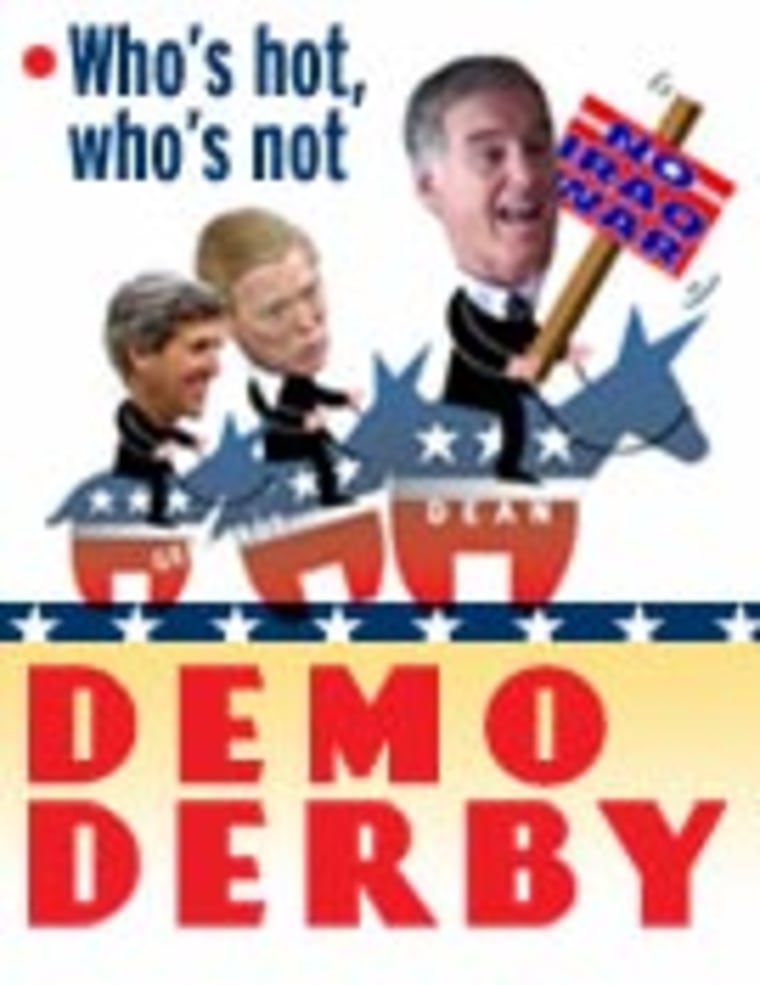 He began to rethink that plan over the summer after his campaign saw an unprecedented flood of contributions over the Internet.
In the latest three months of fund raising, through September, Dean raised nearly $5 million over his Web site in just over a week, astounding his rivals with a record $14.8 million for the time period.
Democratic National Committee Chairman Terry McAuliffe has urged his party's candidates to seriously consider turning away the government money, arguing that Bush removed it as a campaign issue when he did so in 2000 with no public outcry.
McAuliffe and other Democratic strategists have worried that public financing's strict spending limit would leave their nominee low on cash after several bruising primaries. Bush, facing no GOP opponent, would have tens of millions left to spend next spring and summer. Bush already is closing in on $100 million since starting to raise money in May.
The new campaign finance law also doubled the individual contribution limit to $2,000. That makes the government match of up to $250 for each donation less attractive.
The program was created after Watergate to try to reduce presidential candidates' reliance on big donors. Congress has done little to it since, and even the system's supporters say it has failed to keep pace with the cost of campaigns.
The system is financed by taxpayers who check a box on their tax returns to direct $3 to the program. Though marking the box doesn't increase their tax bills, only about one in 11 taxpayers do so, leaving the program short on cash when candidates get their first payments in January of the election year.
POLITICIANS CRITICIZE CHANGE
Dean's decision to opt out is not without risk.
Some politicians have criticized his change in position as a flip-flop.
"Three months ago, Governor Dean was saying what a Democratic principle it is to have campaign finance reform and what a big issue it would be if someone stepped outside," Kerry said Saturday in Concord, N.H.
"That's when he wasn't raising a lot of money. Now, Mr. Change-Your-Opinion-for-Expediency is saying, 'Oh, I'm now able to raise money. Maybe we should get out of the system.' I think somewhere along the line, fundamental principles are important," Kerry said.
Dean, with about $25 million raised through September, will need a continued flood of contributions to make up for the $18.9 million in government money he's turning away.
No major-party candidate has ever skipped public financing in the general election, in part because that money covers a much shorter period. The nominees selected at the Democratic and GOP conventions next summer will each be eligible for about $74 million in full government dollars for the Nov. 2 election.
© 2003 Associated Press. All rights reserved. This material may not be published, broadcast, rewritten or redistributed.