/ Source: The Associated Press
For years, no one on Crest Drive paid much attention to the little white house with pink trim.
The front yard was overgrown with shrubs and three cars sat motionless in the driveway. Neighbors on the quiet street knew the owner, a retired psychologist named Carina DeOcampo, was an odd, private person — even her family would leave bags of food on the front steps, then quickly drive away.
But folks here were shocked in early October when police forced their way into the home and discovered the 72-year-old DeOcampo dead, surrounded by six feet of garbage that packed the house.
DeOcampo was a hoarder.
"She had trails throughout the house, from her chair to the kitchen to her bedroom," said neighbor David Collins, who peered in the front door after DeOcampo's body was removed. "It was unbelievable."
This year, compulsive hoarders are in the spotlight. Books, movies and TV's "Hoarders" — a popular A&E reality show that begins its second season Nov. 30 — have all brought the disorder out of its shame-filled past.
Some hoarding experts worry that the media sensationalizes the problem while making solutions seem tidier than they really are. But they concede any attention may entice people who suffer from the disorder to obtain help.
Stories like DeOcampo's spring up around the U.S. with regularity; some hoarders are fined tens of thousands of dollars by local authorities for zoning or health code violations, while others are arrested on animal abuse charges after collecting dogs or cats. Hoarders' family and friends often give up in frustration, unable to help clean out a dangerous living space.
On the "Hoarders" TV show, people with the disorder recognize they have a problem, then work with psychiatrists and organization experts to help clean up. Viewers are fascinated; the show is the number one "freshman" nonfiction series on cable for people ages 25-54.
"There's just a core relatability that people feel for this subject," said Robert Sharenow, A&E's senior vice president of programming. "People look at this show and see themselves to a degree, or see people they know."
Unable to throw things away
An estimated 2 million people in the U.S. suffer from compulsive hoarding, according to several mental health groups that treat the afflicted. Hoarding is an obsessive-compulsive mental health disorder defined as the acquisition of, and inability to discard, things. Sometimes those things are new; in many cases, it is literally garbage, as in the case of Kitty Lewis, an Oklahoma City woman whose decomposing body was found in her mold- and cat-infested home in May.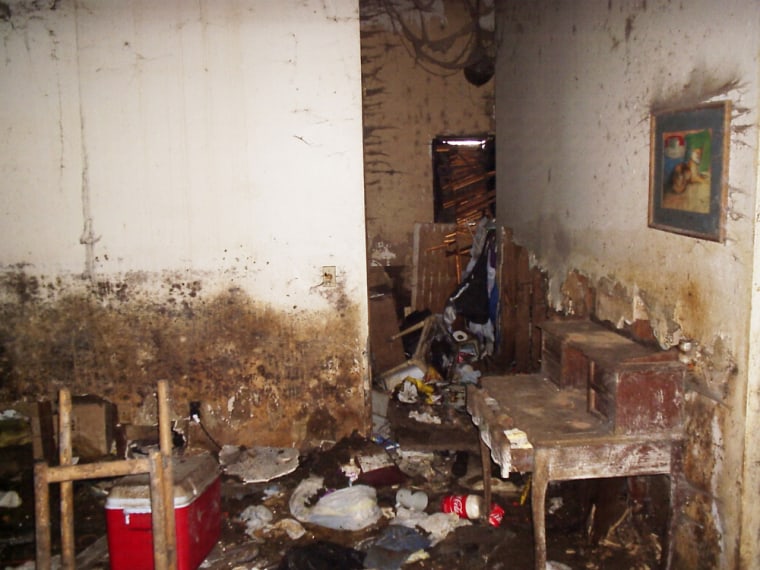 Some, like Paula Kotakis of San Francisco, don't have problems accumulating.
"I'm what is called a passive hoarder — most hoarders have a compulsive acquisition problem, buying or getting stuff," she said. "For me, stuff comes in the normal way, with papers, mail and subscriptions. My problem is, it never went out."
Kotakis, 51, feared throwing things away.
"If I get rid of this, I may need this sometime," she would think.
Kotakis, who was treated for obsessive-compulsive hand washing years ago, has used many of the same behavioral and cognitive therapy tools to treat the hoarding. She says her house is under control — and an online support group she founded helps.
Few resources were available when Kotakis realized she was a hoarder in 1998. There's more help now, in part because everyone from Oprah to best-selling writer E.L. Doctorow has tackled the topic.
"The publicity is definitely a double-edged sword," she said. "I get very upset about the sensationalism. It's a long treatment process, it takes a long time to clear a house."
Jeremie Barber of the South Florida-based Clutterbusters has received more calls this year because of the media attention. They're from people who think they are hoarders because they have a messy home.
"A lot really aren't," he said. "I ask them questions like, 'Does your plumbing work? Can you cook? Use the shower? Do you normally keep all of your blinds closed?"'
Barber's clients include a woman who was removed from her home because of the filth. It took Barber and his wife 140 hours to clear 84,000 pounds of stuff from the structure — all while wearing Hazmat suits.
Mental health problem, not just an icky habit
Psychologist Michael Tompkins, who recently published a book to help hoarders' families, said those with the affliction make for good television because the situations are often "high drama." He hopes people see hoarding as a mental health problem.
"These people aren't any different than you and I," he said. "There are people with this problem you may work with. You think their desk is a little messy but you would never guess their home looks the way it looks. It's not about a character flaw. They're not people who don't care."
Hoarding experts and family members say that the situations portrayed in the media often show an unrealistic version of a hoarder's life: After the cleanup, homes are sparkling clean, and the problem is gone.
Cynthia Lester made the documentary film, "My Mother's Garden," about her mother's struggle with the disorder. Lester filmed the painful and quick cleanup of the packed house — which was falling apart and ready to be condemned by authorities.
Although Lester's mother is now living in a group home and getting some treatment for her problem, it's been difficult to obtain the intense therapy she needs because she doesn't have insurance.
And, said Lester, "the hoarding continues to be a problem. She's collecting again, she's out all night."
In Jacksonville, Carina DeOcampo's family didn't want to talk about her problems. The county's medical examiner said she died of "natural causes."
Nearly two months after DeOcampo's body was found, the remnants of her disorder are still evident. Red tape with the words "DANGER-DO NOT ENTER" is stretched across the property's chain-link fence and a notice of condemnation is stapled to the door. While the shrubs and the cars have been cleared from the front yard, a giant red trash bin sits in the driveway.
The home, neighbors say, has yet to be emptied.