/ Source: The Associated Press
Retailers heading into the traditional start of holiday shopping are facing consumers who are only a bit less gloomy than they were a year ago as they worry about a weak job market.
The latest snapshot from the Conference Board showed shoppers' confidence improved only slightly in November, from October, but it's stuck far below what could be considered healthy and is about half of the historic average.
The private research group said Tuesday that its Consumer Confidence Index edged up to 49.5, up from a revised reading of 48.7 in October. Economists surveyed by Thomson Reuters expected a reading of 47.7. That compares with a reading of 44.7 in November 2008, a level that sank even lower before enjoying a three-month climb from March through May. But the road has been bumpier since June as rising unemployment has taken a toll on consumers.
A reading above 90 means the economy is on solid footing. Above 100 signals strong growth.
Last fall, "consumers were facing the fact that America was entering a deep economic hole," said C. Britt Beemer, chairman of America's Research Group, a consumer research group based in Charleston, S.C. "Now, they're in that hole."
Economists watch consumer sentiment because spending on goods and services for consumers accounts for about 70 percent of U.S. economic activity by federal measures. How consumers behave during the holidays and beyond will be key to how strongly the economy rebounds from the worst recession since the 1930s.
With holiday sales accounting for up to 40 percent of many retailers' annual sales, analysts will be dissecting shoppers' receipts to see how deal-driven shoppers are and whether they're leaning toward small-ticket items like DVDs.
Experts say depressed spending could persist for several years amid stubbornly high levels of unemployment, which is now at 10.2 percent, the highest in 26 years.
"Consumers won't be in the mood to spend for some time," Paul Dales, U.S. economist at Capital Economics Ltd., wrote in a report Tuesday.
After shoppers showed some signs of life in September and October, stores are seeing a sales lull in November, according to reports from analysts and stores. And some merchants are starting to get a little edgy; several, including Gap Inc and Lord & Taylor, have extended their sales. Jewelry chain Zale's Corp. is offering what it described as a "clearance sale," marking down items anywhere from 40 to 60 percent off.
Such signs of stress are appearing even though retailers were conservative in stocking shelves this year. Overall, the generous discounts leading into the day after Thanksgiving are planned out well in advance. But that could change if shoppers pull back more than expected.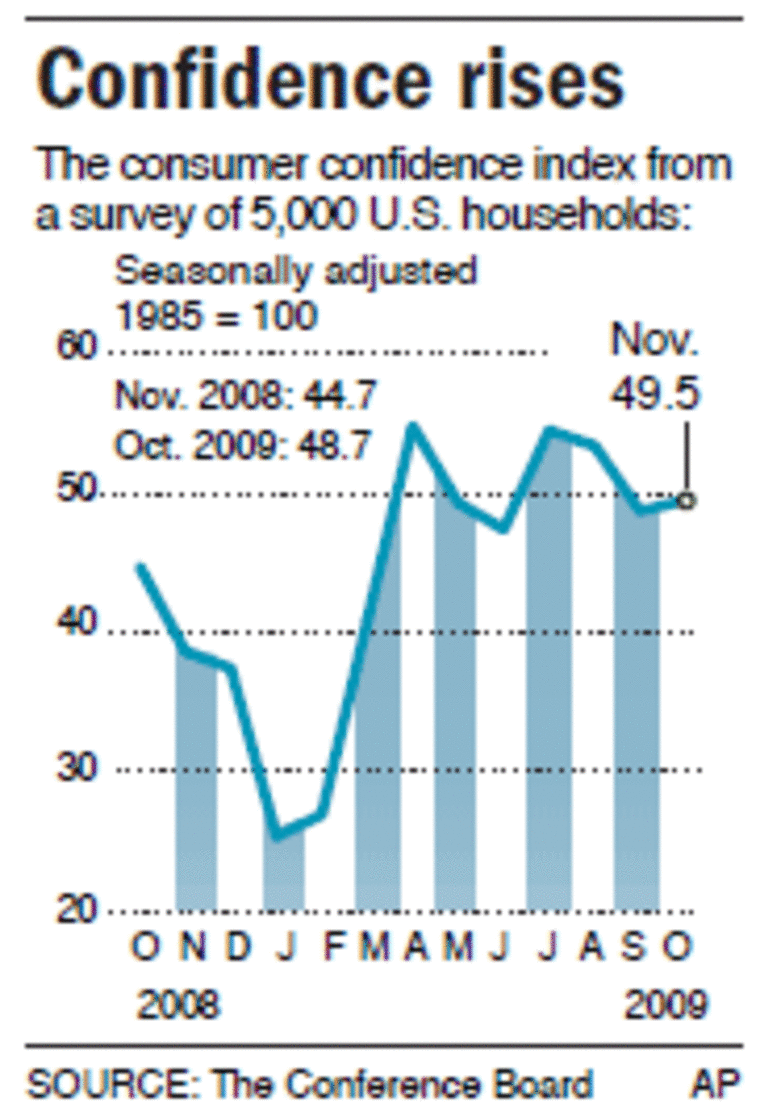 Tonja Jordan of Milwaukee has cut her holiday shopping list to only the basics. She quit her job at a domestic-abuse hotline in August and hasn't found a new one yet. So this year she won't give gifts to adults in her family, including her three grown children. Instead, she'll focus on just her eight nieces and nephews.
"If I buy anything for them, it's going to be stuff they need, like clothes. They can always use clothes," she added.
In fact, 93 percent of consumers surveyed say they'll spend less or about the same as last year, according to an Associated Press-GfK poll. The AP-GfK poll involved interviews with 1,006 adults and was conducted Nov. 5-9. The margin of sampling error was plus or minus 3.1 percentage points.
Similarly, a survey released Monday of 5,000 U.S. households conducted by The Conference Board revealed that families plan to spend $390 on Christmas gifts this season, down from last year's $418.
Shortages in such areas as luxury, toys and electronic book readers from Barnes & Noble have masked shoppers' overall tepid spending because stores had severely cut back on orders.
"The fall season ended with a whimper," said John Morris, BMO retail analyst. He noted that the volume and level of discounts at the mall-based apparel stores he tracks is up 5 percent from a year ago even as inventory is down 10 percent.
"Retailers are hedging their bets and their optimism," he said.