/ Source: The Associated Press
When the final votes are counted, it's likely the black political machine that integrated Atlanta's City Hall — and kept it that way for four decades — will have pulled through one more time to deliver a fifth consecutive black mayor.
Barely.
Unofficial results in this week's mayoral runoff show voters elected former state Sen. Kasim Reed over white councilwoman Mary Norwood by a mere 715 votes, with a recount inevitable.
No matter what those final numbers say, the fissures in the machine were exposed, its future viability cast in doubt.
Atlanta's black population has shrunk and its white population grown since its current mayor, Shirley Franklin, was elected in 2001. Its voting rolls are filled with newcomers unfamiliar with Atlanta's habit of assigning its business interests to whites and its political interests to blacks. The reality is sinking in that black political power here is not as strong or united as it once was, and is destined to weaken as more whites seek office and more blacks shed their civil rights-era sentimentality.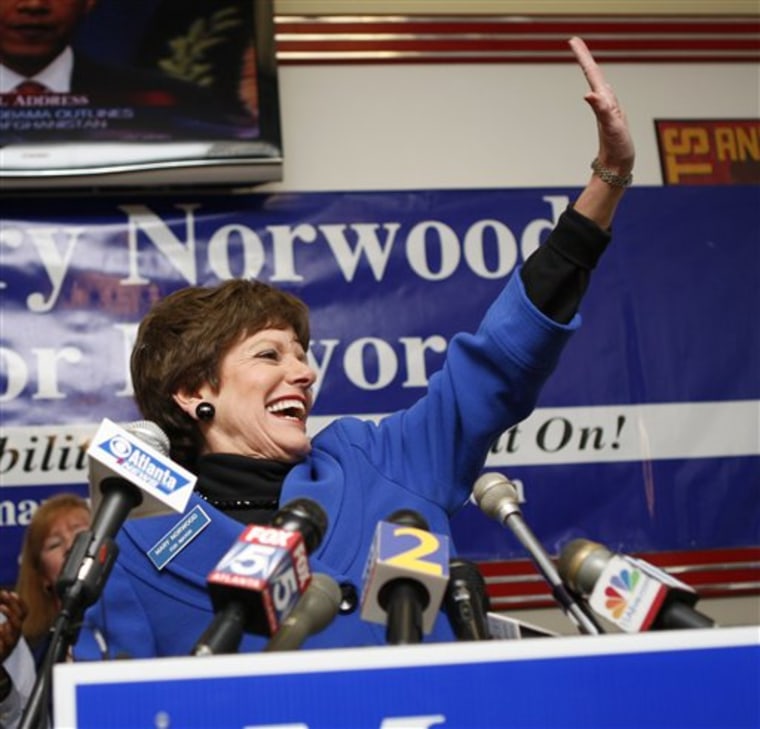 "The racial issue has always been there," said former state Rep. Bob Holmes, who has studied Atlanta politics for more than a decade. "It was higher and closer to the surface in large part because this was the first election in 20 years where there was a significant white candidate. But there appeared to really be unity in the black community."
Atlanta's allure as the black mecca focused national attention on the race, as blacks across the country watched to see whether the city would remain a beacon of black leadership. To wit, Reed raised a million dollars during the runoff campaign — a quarter of it from out of state.
Both black and white voters demonstrated a willingness to stick to their own. Of the city's 537,958 residents, about 237,000 are registered voters. According to the latest data from the U.S. Census, Atlanta's black population is 56 percent, compared to 38 percent white.
The city's population has swelled by more than 76,000 since 2000, when the black population was 61 percent and whites made up 33 percent of the city's residents.
More than 84,000 ballots were cast in the runoff, about 5,700 more than in the general election, and the outcome itself hung on the votes from Atlanta's most staunchly segregated enclaves. The Associated Press has not called the race because Georgia law automatically grants a recount request when the margin is less than 1 percent, and Norwood plans to make that request.
The highest turnout was in Buckhead — the city's whitest, most affluent area and Norwood's home turf — where more than 53 percent of registered voters cast ballots. On the city's heavily black southside, Reed's base of support, better than 41 percent of registered voters showed up there.
Reed, who ran both of the current mayor's campaigns, was seen in some corners as the heir to Maynard Jackson. Jackson was elected the city's first black mayor in 1973, when blacks wrested control of City Hall from whites after years of being shut out of city politics. Since then, blacks have fiercely defended Jackson's legacy, which has been as much about access as appearances.
During the election, Reed was embraced by Jackson's family, as well as former mayor and civil rights icon Andrew Young and Franklin — affirmations that may have struck a nostalgic chord with some black voters.
"There are folks who are here who struggled to see the election of black mayors and a majority black city council and school board and a municipal work force," Emory University political science professor Michael Owens said. "That still has a lot of meaning for people, the image of people like them being in control of political resources."
A major challenge to the machine is the thought, rapidly taking hold, that black leadership has not always meant black progress in Atlanta — the city still has a poverty rate of 22 percent, far more than the national average of 13 percent.
While race did factor into the campaign, the average Atlantan focused on balancing the city budget and getting the city through the down economy, said the Rev. Raphael Warnock, pastor of politically influential Ebenezer Baptist Church. But in addition to addressing crime, the city's finances and its future as the South's economic engine, Reed will need to work to unify a city that was divided during the campaign.
"Those issues ultimately trump the enduring issue of race," Warnock said.
For its part, the Reed campaign didn't rely on the black vote alone. The runoff campaign also focused heavily on white intown voters, who supported Reed and his rival during the general election, city council President Lisa Borders — who endorsed him in the runoff.
"We had to get more white support than she did black support," said campaign manager Tharon Johnson of the contest against Norwood. "You could look at the numbers from November 3 and see we did well there."
The Reed campaign did offer a model for helping the machine survive. While he recruited the hip-hop stars like Ludacris and Keri Hilson and used Facebook, YouTube and Twitter to rally support and raise money, he also relied upon old school tactics that have worked in Atlanta for years — especially mobilizing the city's civil rights community and black clergy.
"They are still a very potent force," said Harvey Newman, chair of the department of public management and policy in the Andrew Young School of Policy Studies Georgia State University. "And black congregations have been good, strong voters."
But black church attendance is not what it used to be. And Norwood's grassroots appeal also spoke directly to many in those pews.
"She spoke to an element that felt left out, overlooked," said the Rev. Timothy McDonald of First Iconium Baptist Church. "That's who we represent. Ministers were challenged to go back to their pulpits and start energizing the base."