/ Source: The Associated Press
A federal judge denied bail Tuesday for two Pennsylvania teens who pleaded not guilty to a hate crime charge in the death of a Mexican immigrant, noting that one defendant is accused of kicking the victim in the head "as if you were kicking a field goal."
Brandon Piekarsky, 18, and Derrick Donchak, 19, were charged in the July 2008 beating death of 25-year-old Luis Ramirez in the town of Shenandoah. A separate indictment charges three police officers with obstructing the investigation into Ramirez's death.
Judge Malachy Mannion ruled that Piekarsky and Donchak should remain locked up pending trial, calling them dangers to the community. He set a March trial date.
A Schuylkill County jury acquitted the teens in May of the most serious state charges against them — including third-degree murder in Piekarsky's case — angering Hispanic leaders and civil-rights groups. Gov. Ed Rendell then asked the Justice Department to pursue civil rights charges.
'Extremely unjustified'
Mannion noted that it is extremely rare for the federal government to pursue charges in a case already decided in state court.
William Fetterhoff, Donchak's lawyer, denounced the federal charges as "tragic" and "extremely unjustified."
"In most civilized countries in the western world, people are only tried once" for the same crime, he said outside court.
James Swetz, Piekarsky's lawyer, said he plans to challenge the government's jurisdiction in the case.
Prosecutors have cast Ramirez as the victim of a gang of drunken white teens motivated by their dislike of their small coal town's burgeoning Hispanic population. Ramirez, a native of central Mexico, was in the United States illegally working at various jobs.
The confrontation began when a half-dozen high school football players were headed home from a block party in Shenandoah. They came across Ramirez and his 15-year-old girlfriend in a park and an argument broke out, following by a melee.
Piekarsky was accused of delivering a fatal kick to Ramirez's head after he'd already been knocked unconscious by another teen, Colin Walsh, who pleaded guilty earlier this year in federal court to violating Ramirez's civil rights. Donchak took part in the fight and then conspired with Shenandoah police to cover up the crime, federal prosecutors said.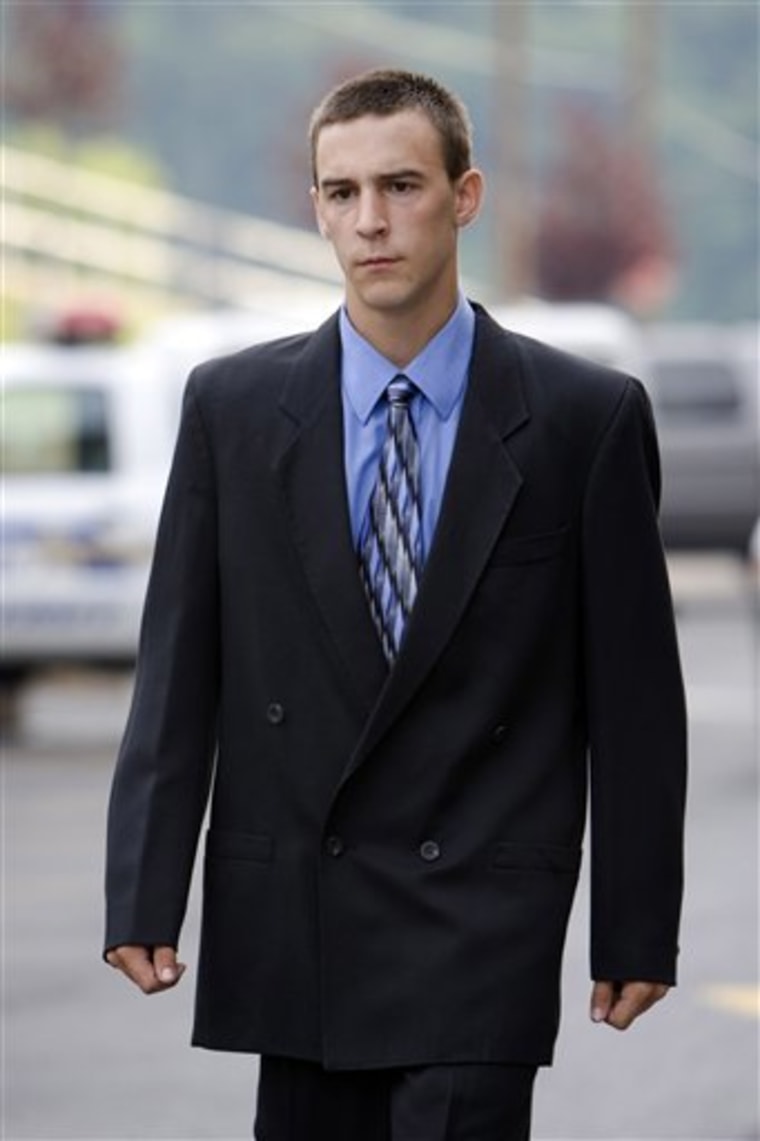 Piekarsky was acquitted in May by an all-white jury of third-degree murder and ethnic intimidation; Donchak was acquitted of aggravated assault and ethnic intimidation. Both were convicted of simple assault.
Piekarsky was scheduled to be released from the Schuylkill County jail this week. Donchak was scheduled for release in February.
Noting that Donchak has spent 70 days of his state sentence in solitary confinement for breaking prison rules, Mannion told the teen: "It's not exactly appearing that you're getting the point here, and that's something that's hard to understand."
Piekarsky's mother, Tammy Piekarsky, who dated one of the officers charged last week and is herself named as an unindicted co-conspirator for her role in the alleged cover-up, declined to comment Tuesday.