"It was a mad house."
That's how Julee McCully, a screener for the Transportation Security Administration, described the security checkpoint at the normally quiet, orderly Spokane International Airport.
Carolers were crooning Christmas classics in the terminal lobby. Eighty of Santa's elves were trying to get 60 kids from this year's "nice" list through security for Alaska Airline's secret Flight 1225 (get it?) to the North Pole. And alarms kept going off at the metal detector.
"It was all those jingle bells," McCully said. "The elves had metal bells sewn onto their clothes and stuffed into these little purses that said 'Elf Stuff.' It was like a puzzle finding all the bells on each elf. My hands were covered in elf glitter after just the first pat-down."
Elves? A secret flight to the North Pole? What is this, a Hallmark/Homeland Security Christmas special?
Well, yes, sort of.
Thanks to the efforts of airline and airport employees, the TSA, sponsors, donors and an army of  secret Santas, plane loads of seriously ill and/or disadvantaged children have been taking off for the North Pole not just from Spokane, but from Chicago, San Antonio, Phoenix and a sleigh-load of other cities around the country.
What happens up there?
Embedded as an elf, I was able to tag along on Flight 1225 organized by , a non-profit group that invites area shelters and community programs to pick a group of kids who could use "an evening of wonderment and surprise" — and a pile of presents.
On the big day, kids meet their "buddy elf" at the airport and set off for a 40-minute flight to the North Pole, which is actually nearby hangar, populated by Santa, Mrs. Claus, extra elves and, of course, a few reindeer.
Some might call it cheating, but as one elf mused: "If you're a little kid on your first plane ride and your ticket says North Pole, and the shades are drawn, and everyone, including the flight attendants and all the elves are saying the magic words, then who's to say you haven't landed at the real North Pole?"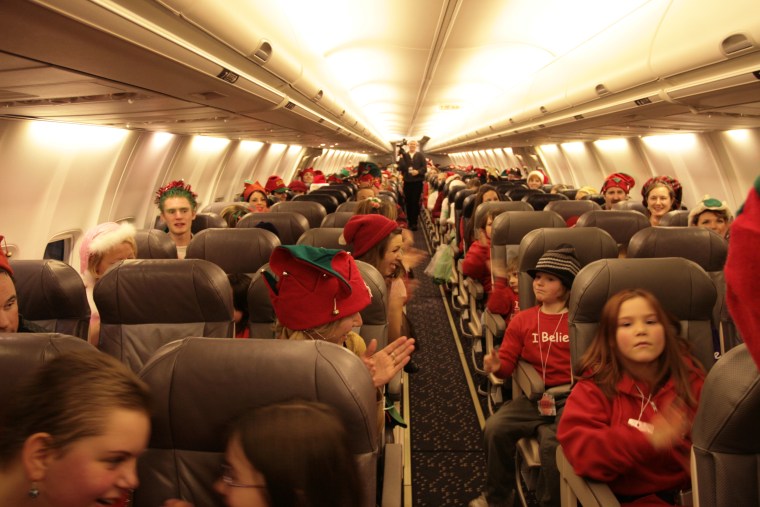 She has a point.
This is the 12th year a North Pole-bound flight has "taken off" from Spokane International. Despite two months of planning meetings between the TSA, the airport and airline representatives, Horizon/Alaska Airlines customer service manager Dave Burris was still anxious. "This is only the second year our airline has been the official North Pole carrier," Burris said. "United Airlines used to host these flights, but in 2008, there was a mix-up and no plane was available. Alaska Airlines stepped in at the last minute and it was such a hit with the kids and our employees … now that we have our foot in the door, we're not going to pull it out."
Plenty of North Poles to go around
Don't worry: Alaska hasn't pushed United out of the Christmas business — not by a long shot. For the past two decades, United has hosted an annual North Pole flight from Washington's Dulles International Airport. Airline employees also organize North Pole flights in Phoenix, Chicago, San Francisco, Los Angeles, Buenos Aires, Sydney and, for the first time this year, Denver.
"United provides the airplanes, the gates and the use of our resources, but it's the local employees at each airport who work endlessly to make it a success," said Sonya Jackson, president of United Airlines Foundation.
In addition to gathering gifts and transforming a gate area, airport employees make sure the flight is posted on the departure board and that everyone's ticket destination says North Pole. "There's even a special 'North Pole Only' check-in area," she said.
It works much the same way with the themed flights hosted by Continental Airlines in San Antonio. The carrier uses planes that are scheduled to sit overnight at the airport, said Beth Reininger, who works in the President's Club lounge. "We put the kids on the plane and then taxi around the airport for about 20 minutes telling stories and singing songs. Then we let them out in an area decorated to look like the North Pole." This year, San Antonio's North Pole was set up in an airport hangar owned by private carrier Valero, so "Santa arrived and left on his own private jet," she said.
The Snowball Express
In a twist on the afore-mentioned charity events, American Airlines, with the help of volunteers, donors and sponsors around the country, hosts the , and aims to "provide hope and new memories to the children of our fallen military heroes."
Instead of putting together small gatherings in a variety of cities, the Snowball Express takes place in one city and the airline flies families in from all over the country.
Cities and towns across the globe have illuminated and unveiled decorations in anticipation of the upcoming holidays.
In past years, the event has been held in popular Southern California spots such as Disneyland and Universal Studios. This year, more than 1,300 kids and their families were flown to Dallas, where the week-long festivities included visits to the Southfork Ranch (where the "Dallas" TV series was filmed) and the new Dallas Cowboy Stadium, as well as a rodeo-and-ranch event, barbecues and concerts.
"We look forward to it," said Connie Watts, who attends the event each year with her son, Austin. Watts' husband, Billy, was killed in action in 2004, when Austin was just 10 months old.
Watts recalled being skeptical when someone first called to tell her about the Snowball Express. "I said, 'What do you mean, they'll pay for our trip?' I hung up on them."
She then researched the cause and discovered it was for real. "We've gotten to know other families and we see many familiar faces. We've all been through the same experience of losing someone and have a kind of security with each other. So it's a time we can just be together," she said.
That's what the holidays are all about. Trust me — I'm an elf.
Harriet Baskas is a frequent contributor to msnbc.com, authors the and is a columnist for USATODAY.com. You can follow her on .