The most intriguing non-contender for the Democratic presidential nomination, New York Sen. Hillary Rodham Clinton played host to the six of the nine contenders at the Iowa Democratic Party's annual Jefferson-Jackson fund-raising dinner meeting in Des Moines on Saturday night. Although some observers had expected prior to the event that Clinton would outshine the contenders, she played a fairly deferential role as mistress of ceremonies.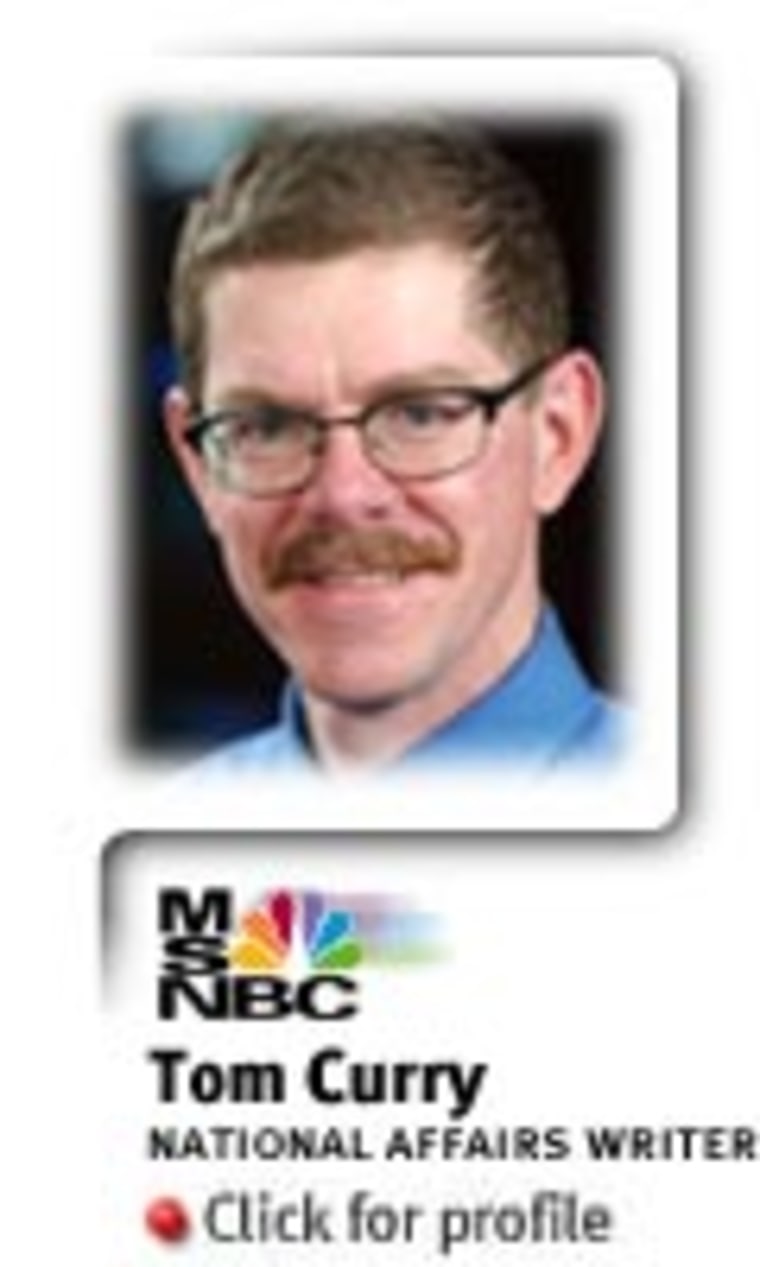 "TONIGHT MARKS the beginning of campaign that leads one of our best Democrats that we've produced in years to the White House," Clinton told the crowd of more than 7,000 Democrats.
Iowa holds it first-in-the-nation presidential caucuses on Jan. 19.
Speaking without notes, Clinton told the crowd before the contenders spoke that, "I've been listening and watching to what some of the pundits say. You all hear it: 'The field is weak. …The nomination won't be worth having.' But those are comments that were made in 1992 when Bill Clinton and Tom Harkin were running!"
Clinton also seemed to slip in a reference to the speculation about whether she might belatedly jump into this year's race.
Alluding to the large contingent of college students and young people in the galleries, Clinton said, "This election is much more about the future of all of these young people than it is about me — or people my age — because the decisions that will be made by the next president … will set the course of America and the word for the 21st century."
NO ENDORSEMENT, NO HINT Clinton did not endorse any of the candidates, nor did she drop hints about which one she prefers to win the nomination. And her speech was notably lacking in the self-deprecating humor that she often includes in her prepared addresses.
The most rousing speakers were Massachusetts Sen. John Kerry and the front-runner in the race, former Vermont Gov. Howard Dean.
In his speech, Kerry mocked President Bush for posing on the deck of the aircraft carrier USS. Abraham Lincoln in front of a sign reading "Mission Accomplished."
He "thought we wouldn't notice that the troops are dying every day," Kerry shouted.
Kerry contended that Bush "has shown that he does not have the experience to be commander-in-chief."
He added, "If George Bush wants to make national security the issue in this campaign, I have three words for him that I know he will understand: Bring it on!" — a jibe at Bush for taunting Iraqi terrorists two months ago.
Kerry also offered a dig at Dean, whose candidacy has tapped rank-and-file Democrats' ire at Bush and at congressional Democrats who supported him on the issues of tax cuts and the war in Iraq.
"We need to offer answers — not just anger," Kerry declared.
North Carolina Sen. John Edwards also seemed to have Dean in mind when he said in his speech, "If we are the party of anger in 2004, we will not win."
But Dean was unapologetic, continuing to denounce the Democratic leaders in Congress for not standing up to Bush on Iraq and on education policy.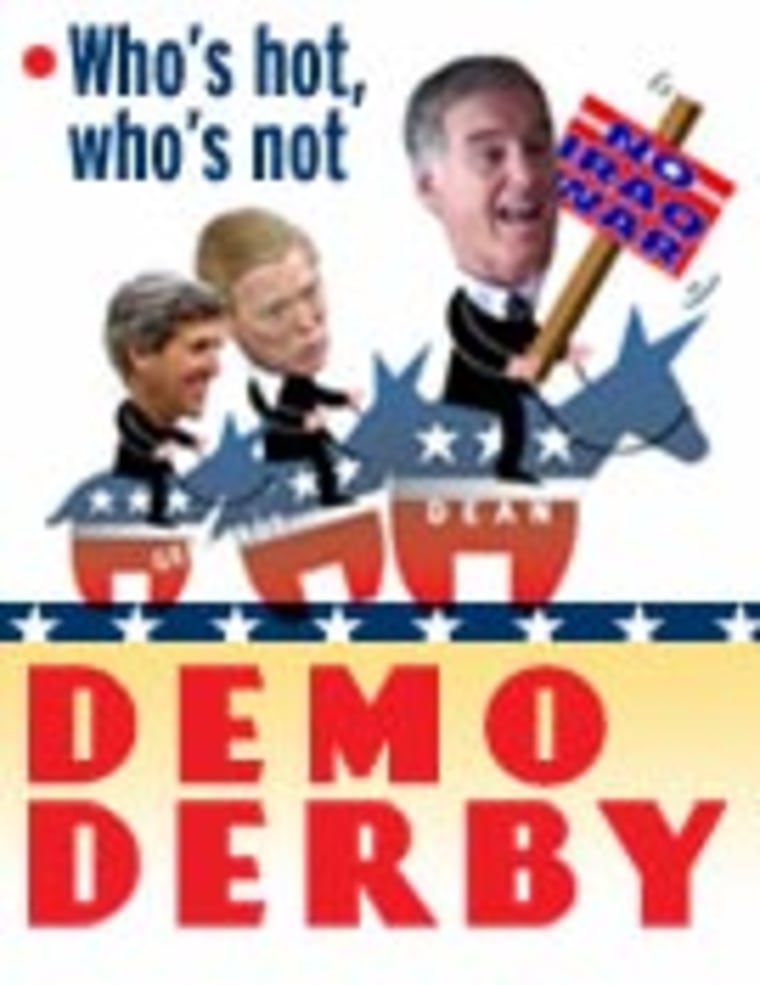 "We didn't fight hard enough," he said — but it was clear that by "we" he really meant "they" — congressional leaders such as Missouri Rep. Dick Gephardt, who is leading Dean in the most recent Iowa poll by seven percentage points.
"This election is not about electing Howard Dean president of the United States," he said. "This election is about electing us president of the United States, we are all in this together."
He told the crowd, "You have the power to take back this party and make it stand for something again!" — another dig at Gephardt and other congressional Democrats.
At the end of his speech, in a stentorian voice, Dean shouted the phrase "You have the power!" 14 times.
IRAQ A CONSTANT THEME The war in Iraq was a constant theme during the evening.
Clinton recalled a tour she made last Tuesday of Walter Reed Army hospital outside Washington where she met soldiers wounded in the Iraq war. "Seeing young men who lost arms and legs … I knew that I was seeing the best that America has to offer, selfless sacrifice, bravery and courage — and we must keep faith with these young men and women."
Clinton voted last year for the use-of-force resolution that authorized Bush to launch the attack on Iraq. She also voted last month for Bush's request for $87 billion to pay for ongoing operations and reconstruction in Iraq.
Four of the nine Democratic contenders — Kerry, Edwards, Gephardt, and Connecticut Sen. Joe Lieberman — voted for the use-of-force resolution. Ohio Rep. Dennis Kucinich voted against it.
But Kerry and Edwards voted against the $87 billion funding request.
Striking a sharp contrast with Clinton, Kucinich, the most left-wing contender in the Democratic field, told the crowd, "It is time for America to get out of Iraq — it is time for America to rejoin the world community."
Kucinich said it was wrong to ever send U.S. troops to Iraq and "it is wrong to stay there."
Democratic opposition to the war is one of forces powering Dean's rise to front-runner status, although Dean, unlike Kucinich, does not support immediate withdrawal of American troops.
DEAN ATTACKS GEPHARDT In a flier mailed to Iowa voters this week, the Dean campaign assailed Gephardt for supporting the Iraq war resolution.
The Dean flier says that as Democratic leader in the House of Representatives in 2002, "Gephardt quickly cooperated in approving the White House's war resolution — dashing the hopes of Democratic legislators and American citizens seeking further debate and examination of the disastrous new doctrine justifying pre-emptive war."
Dean says in the flier, "I supported Dick in 1988 (when he ran for the Democratic nomination), but I think he has made a terrible mistake supporting President Bush in Iraq."
In his speech to the Jefferson-Jackson dinner, Gephardt made no reference to Iraq.
He did pay a compliment to Clinton. In an allusion to the failed Clinton health care plan in 1994, which as first lady she played a pivotal role in designing, Gephardt said, "She had courage — she did what was right."
Three presidential hopefuls, Rev. Al Sharpton, retired Gen. Wesley Clark, and Connecticut Sen. Joe Lieberman, decided to skip the Iowa event. Clark and Lieberman are not actively campaigning in the state.