In the wee small hours of Thursday morning, while most of the nation was fast asleep, senators talked and talked and talked — and, as the lyric goes, never even thought of counting sheep. In what might be deemed a public service for America's insomniacs, Republicans were staging a marathon debate to dramatize the predicament of President Bush's judicial nominees. Democrats have blocked four of them and may block more by threats of filibuster, the unlimited debate that, under Senate rules, it takes 60 votes to end.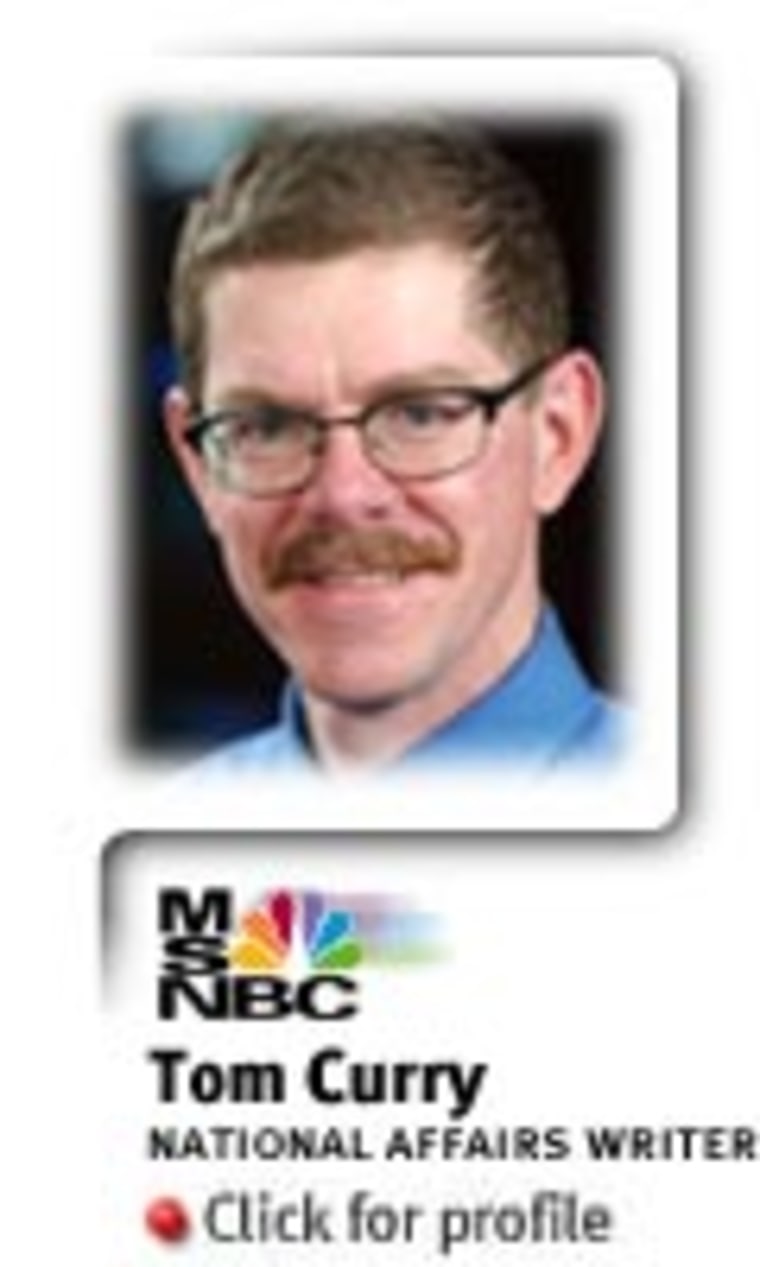 THE SENATE Republican leaders decided Friday to extend the debate on the stalled nominees through another overnight session until 9 a.m. Friday. The talkathon, originally slated for 30 hours, will now go to 39.
Even as the Senate entered its 14th hour of debate, Bush stood in the Oval Office with three whom the Democrats have blocked, California Supreme Court Justice Janice Rogers Brown, Bush's nominee to the U.S. Court of Appeals for the District of Columbia Circuit; Priscilla Owen, a Texas Supreme Court justice nominated to serve on the Court of Appeals for the Fifth Circuit; and California judge Carolyn Kuhl, whom Bush wants to appoint to the Court of Appeals for the Ninth Circuit.
BUSH DECRIES 'UGLY POLITICS'
"I have told these three ladies I will stand with them till the bitter end because they're the absolute right pick for their respective positions. And the senators who are playing politics with their nominations are acting shamefully."
Since Bush became president in 2001, the Senate has confirmed 168 of his judicial nominations. There are a total of 817 federal district court and appeals court judges now on active duty. (Some semi-retired senior judges also take part in hearing cases.)
Hours before Bush spoke at the White House, the Senate was a busy place at 1:30 am Thursday.
On the floor Sen. Blanche Lincoln, D-Ark., reminded her listeners that the Senate was scheduled to adjourn next week and complained "we are spending such a large portion of our remaining time and energy on this unnecessary debate.... How many seniors have my colleagues talked to in their travels back home to their states about the need for prescription drug coverage for our elderly?"
Off the floor in the the Republicans' "war room" a group of home schoolers gathered for a press conference to decry the Democratic filibusters.
MILLER TAKES THE FLOOR
At 2:10 a.m., Sen. Zell Miller, the Georgia Democrat who has voted with the Republicans on crucial issues over the past few years and has just published a book, "A National Party No More," attacking his party's leadership, took the floor to complain about his fellow Democrats' blocking Brown's nomination.
Brown is a conservative black woman with a history of giving speeches warning of the dangers of big government.
"They're standing in the doorway carrying a sign, which says 'conservative African-American women need not apply,'" Miller declared, referring to his fellow Democrats.
At 3:25 a.m., Sen. Rick Santorum, R-Pa., the leading strategist for the GOP talkathon, made a motion for the Senate to debate Brown's nomination and proceed to an immediate vote on her.
Sen. Mark Pryor, D-Ark., objected.
At least one Democrat had to be in the chamber at all times during the marathon to ensure that Santorum or some other Republican did not ask "unanimous consent" that the Senate move to a confirmation vote on any of the nominees.
Under Senate rules, almost any motion can be OK'd if there is unanimous consent from those senators present in the Senate chamber.
Democrats tried their own unanimous consent gambit. At 3:50 a.m., Sen. Jon Corzine of New Jersey made a motion that the Senate debate and vote on a bill to increase the minimum wage.
Sen. Norm Coleman, R-Minn., objected.
"We have not done anything about the 9 million (unemployed) who want to work," Corzine said.
THREE NOMINEES UP FOR VOTES
On Friday, Republicans will seek "cloture" votes to move to a confirmation vote on Brown, Owen and Kuhl.
In next year's elections, if Republicans succeed in adding a few seats to the 52 they now hold and if they continue to get four Democrats to vote with them, they will have the 60 they need to defeat the filibusters.
In an early morning interview with MSNBC.com Thursday, Senate Majority Leader Bill Frist said the battle over judicial nominees "represents one of the most substantial issues in the elections" next year.
"The more we can do to educate" the American people, Frist said, "the greater the impact will be on the elections."
Democrats said the all-nighter was designed to whip up support among what Senate Minority Leader Tom Daschle called the Republicans' "right-wing base."
MOBILIZING VOTERS
In a background briefing Wednesday morning, a top Senate Republican aide pretty much agreed with Daschle's analysis.
The aide, speaking on condition of anonymity, said that while it is true that the majority of voters are not deeply concerned about judicial nominations, for a small but highly motivated group of conservative voters, the courts are a mobilizing issue.
"The margin of voters that go out and determine elections for Republicans are watching the issue of judges," he told MSNBC.com.
He added that polling data and analysis done by the Republicans convinced them that in three hard-fought Senate races last year that the GOP won — in Minnesota, Missouri and Georgia — the margin of victory was provided by highly motivated voters focused on the issue of judges. He characterized such voters as "pro-life voters" who are interested in "society renewal" issues such as abortion and protection of children.
Democrats point out that they have allowed up-or-down confirmation votes on almost all of Bush's judicial nominees, including some impeccably conservative ones such as Michael McConnell of Utah and Jeffrey Sutton of Ohio.
After a 24-month wait, McConnell was confirmed to an appeals court position last November on a voice vote. Sutton was OK'd by a 52-to-41 vote in April, also after waiting 24 months. Two Democrats, Sen. Dianne Feinstein of California and Sen. Ben Nelson of Nebraska, voted with 50 Republicans to confirm Sutton.
ESTRADA BLOCKED
The Democrats used the threat of filibuster to block any confirmation vote on Miguel Estrada, the Honduran immigrant and former Justice Department official whom Bush wanted to place on the Court of Appeals for the District of Columbia Circuit, the nation's most powerful appeals court.
From March through July of this year, Estrada's nomination went through seven cloture votes as the Republicans attempted to end the filibuster.
Each time, the Democrats had the votes they needed to keep the debate going and prevent Estrada from getting a chance at confirmation.
The most that Estrada's supporters were able to muster was 55 votes, including four Democrats — that was five less than the 60 they needed to stop the filibuster.
Finally in September, Estrada asked Bush to withdraw his name.
The Democrats have also used filibuster threats to block votes on Owen, Charles Pickering Sr. of Mississippi, a Fifth Circuit nominee, and William Pryor of Alabama, a nominee to the 11th Circuit Appeals Court.
In each case, the Democrats accused the nominees of being "out of the mainstream," too rigidly committed to a conservative creed to be trusted with a lifetime appointment to the bench.
PAYBACK TIME
The filibusters are payback for what Republican senators did to President Clinton's nominees, such as Judge Richard Paez, whose confirmation was delayed for four years.
In March during the Estrada filibuster, Sen. Barbara Boxer, D-Calif., acknowledged the payback motive, pointing out that in 1999 and 2000, then-Sen. Bob Smith, R-N.H., engaged in an intermittent filibuster to delay Paez and another Clinton nominee, Marsha Berzon.
Boxer approvingly quoted a statement Smith made on the Senate floor on March 7, 2000: "Don't tell me we haven't filibustered judges and that we don't have the right to filibuster judges on the floor of the Senate. Of course we do. That is our constitutional role."
Both Paez and Berzon were ultimately confirmed and are now serving on the Ninth Circuit Court of Appeals.