Phones ring non-stop as "Stop Bush" and "Bliar" T-shirts, posters, and badges fly off the shelves at Britain's Stop the War Coalition north London headquarters. With up to 100,000 protestors expected to march in Thursday's national demonstration — to culminate with the destruction of an effigy of President Bush in Trafalgar Square — the coalition is planning a rousing "unwelcome" for the American leader.
Comprised of more than 100 anti-war groups from across the United Kingdom, the Stop the War Coalition has organized five days of events for the president's three-day visit, ranging from "Unwelcome Bush protests" to film viewings, plays, poetry, and music.
Meantime, student organizations are urging students to walk out of school on Wednesday, the first full day of Bush's visit, while the Muslim Association of Britain has invited the country to take part in a day of fasting in remembrance of the Iraqis killed since the war to oust Saddam's regime began nearly eight months ago.
The demonstrations illustrate the widespread unhappiness in Britain about an alliance that Prime Minister Tony Blair has heralded as a cornerstone of British foreign policy.
Bush's popularity is at rock-bottom in Britain where the war in Iraq and the subsequent occupation have been widely unpopular.
Bush, speaking to reporters Sunday as he returned to the White House from Camp David, said he was unconcerned about the demonstrations.
"No, not concerned at all. Glad to be going to a free country where people are allowed to protest," he said.
Anger over Blair's decision to join the Bush coalition in Iraq has been further fueled by the inability to find weapons of mass destruction, the apparent suicide of a British weapons expert who allegedly told a reporter that Blair's government exaggerated the threat posed by Saddam's regime, and by the rising death toll among coalition soldiers.
"I am totally against his visit," said Reg Keys, whose son Lance Cpl. Thomas Keys was killed by a mob at a police station in southern Iraq. "I don't know how he has the nerve to show his face in this country," he told the Associated Press.
Last week, a Populus poll published in the Times of London showed that 60 percent of British voters strongly disapprove of Bush's handling of Iraq.
ANTI-WAR FACTIONS MOBILIZE
The outcry has been boon for the anti-war groups.
Surrounded by images of casualties in Iraq and Afghanistan, Stop the War volunteers greet a stream of local leaders seeking to pick up box-loads of anti-Bush gear before meeting with their contingencies.
"All of our members will be mobilizing people to go to the national demonstration," said Vicky Williamson, a 23- year-old member of the Socialist Workers Party as she carried out a load of T-shirts, signs and leaflets.
"The coalition is made up of a whole host of organizations that have differing views," said Ghada Rhazuki, a full-time Stop the War employee.
"Some have the position that the U.N. should go in, while others want a complete and immediate end to the occupation. Now that it's gone on and on with umpteen explosions and people dying, more people are moving toward the latter view," she said.
Rhazuki, who started working for the coalition a year ago, was born in Baghdad and lived in the Iraqi capital until she was five years old.
"I have family in Iraq and said 'I have to do everything I can to stop this war'. So I came in (to the Stop the War office), started stuffing envelopes, and it went from there."
Although Rhazuki is Iraqi, she pointed out that "most (members of the coalition) have no ties to Iraq. The thing that links them altogether is that they just don't like seeing people be killed."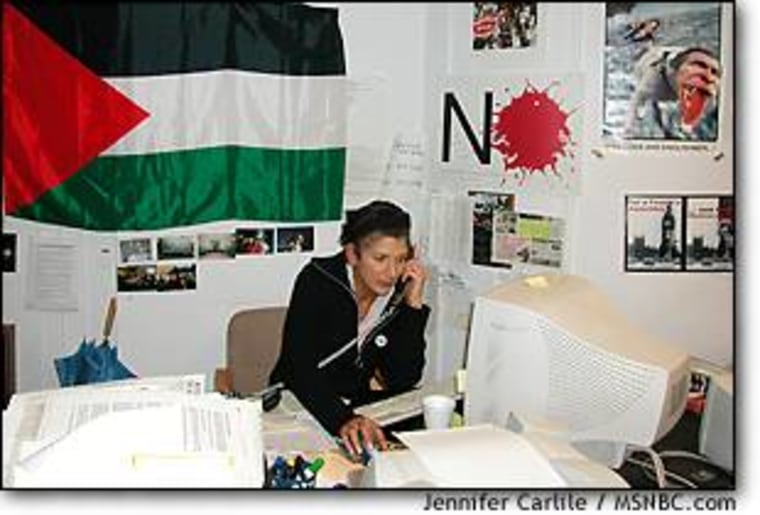 Rhazuki's statement was echoed by the Muslim Association of Britain.
Although Muslims feel particularly "targeted" in the "war on terror," the anti-war alliance in Britain has superceded the boundaries of race and religion, the association's head of media, Ihtisham Hibatullah, said.
"Over the last year we have worked with non-Muslims from Scotland to Bournemouth; we don't feel most of the time that we have a different religion because we have a common cause that we are united by," Hibatullah said.
In addition to about 100 buses that will bring protestors from across Britain to the capital for the national demonstration on Thursday, some groups are calling on continental Europeans to join the march.
"We're inviting anyone we meet," Guy Taylor, spokesman for the London-based Globalize Resistance said from the European Social Forum in Paris, France, adding that he expected about 100 to 200 people to cross the Channel for the demonstration.
TERRORIST INFILTRATION?
The expected influx of protesters as well as the heightened fears about al-Qaida activity following the weekend terror attacks in Turkey has triggered a huge security clampdown around London.
According to reports, more than 5,000 London police officers bolstered by 250 U.S. Secret Service agents will be on duty in the capital, keeping Bush far away from the protesters.
Anti-war protestors fear that the terror threat has been used to isolate them further from the president, thus ensuring election-friendly photographs of the president with Queen Elizabeth II and the prime minister.
However, a London police official told NBC News that "lawful and peaceful" protests would not be curtailed.
"It is not part of our policing plan to spare others of the embarrassment," deputy assistant commissioner of the Metropolitan Police, Andy Trotter said.
While many protestors hope the media coverage will force the coalition to withdraw their troops, commentators are doubtful. "I don't think they're going to have any affect on policy," said Dana Allin, senior fellow for transatlantic affairs at the International Institute for Strategic Studies.
However, "It will underscore what the Democratic candidates [for president] are saying now, which is that Bush's policies have isolated the U.S. from the world."
"And that argument is reinforced by the fact that we're talking about America's closest ally," Allin said.
MSNBC.com's Jennifer Carlile is based in London.