/ Source: msnbc.com staff and news service reports
Goldman Sachs Group Inc. dished out 47 percent more in pay and bonuses in 2009 versus the previous year, but in a last minute move slowed the compensation pace amid growing ire over Wall Street pay.
The investment bank rewarded its employees with $16.2 billion in salaries and bonuses for 2009, when it reported blowout earnings. That compares with a $10.9 billion compensation pool in the crisis-hit year of 2008. The compensation total was well below what the firm was expected to pay this year and the record $20.2 billion paid to employees in 2007.
But it also slashed its bonus pool in the fourth quarter, instead making a $500 million contribution to Goldman Sachs Gives, the firm's charitable arm, as it tried to deflect growing criticism of Wall Street pay.
And it set aside 36 percent of net revenue for compensation for 2009, its lowest percentage as a public company and down from 48 percent in 2008.
David Viniar, Goldman's chief financial officer, said the bank sought to strike a balance on compensation. He said Goldman employees performed "quite well" in 2009 and that the risk of losing top talent to other firms factored into the pay calculations.
"What we attempted to do was be fair to our people ... but show restraint," Viniar said during a conference call with reporters. "It's hard for me to judge how people are going to react."
On average, Goldman employees made $498,000 in 2009, up from $317,000 in 2008.
"It will alleviate some political pressure," said Keith Davis, bank analyst at money manager Farr, Miller & Washington in Washington, D.C. "They've been in everyone's cross-hairs for how much money they make. I think they'll still be there, but the fact that they took down the bonuses will help incrementally."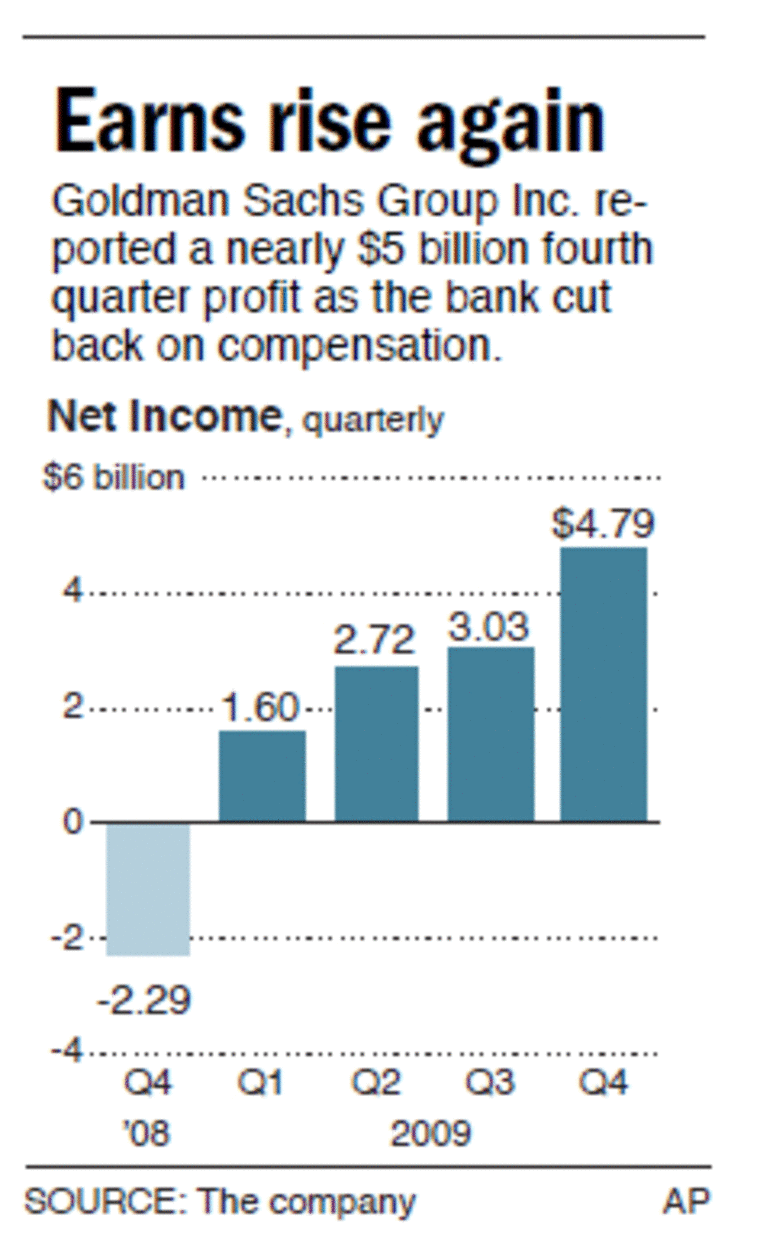 On Thursday, Goldman posted earnings of $4.79 billion in the fourth quarter. Goldman said it earned $8.20 a share in the last three months of the year. Fixed income, commodities and currency trading buoyed its profits for the third straight quarter. Analysts surveyed by Thomson Reuters predicted Goldman would earn $5.20 a share.
Goldman, which has outperformed other financial companies for years, has been the strongest bank throughout the financial crisis. It had less exposure to toxic mortgage-backed securities than other companies and also has been more aggressive in its trading.

For the full year, Goldman earned $13.4 billion, almost as much as $15 billion earned by the five other big national banks combined. 2009 was a difficult year for the banking industry, as companies with big lending operations lost money in those businesses. JPMorgan Chase & Co., earned $11.73 billion for the year on the strength of its investment banking business, and Wells Fargo & Co. turned a $7.99 billion profit. But Citigroup Inc. and Bank of America Corp. lost a combined $3.81 billion. And Morgan Stanley, whose problems have been attributed in part to a lack of aggressiveness in its trading business, lost $907 million.

Bonuses in the overall banking industry have come under attack by lawmakers and the public after the companies lost billions of dollars in bad debts on mortgages, contributed heavily to the credit crisis and recession and then had to be bailed out by the government.

Goldman Sachs received $10 billion in bailout funds, and was one of the first to repay the money last year.

Once again, aggressive trading drove Goldman's earnings. The bank earned $6.41 billion in revenue from its trading and principal investments unit, down from $10.3 billion in the third quarter of 2009. That's in line with earnings reports from Morgan Stanley and JPMorgan Chase & Co., which also saw a slowdown in trading in the fourth quarter.
Investment banking revenue, considered the foundation of the company's business, rose to $1.64 billion, up 58 percent from the fourth quarter of 2008 during the height of the financial crisis and 82 percent higher than the third quarter.

Goldman, like other Wall Street banks, makes much of its money in investment banking by charging fees to underwrite, or raise money for, bond sales or stock offers. It also profits from managing mergers and acquisitions. Analysts like to see strength in investment banking because it is usually the most stable source of money for a Wall Street bank when the economy is strong.

Goldman's underwriting business had $962 million in revenue, more than double the same period a year ago. The bank attributed the increase in equity underwriting to higher revenues from initial public offerings in the quarter.