/ Source: The Associated Press
The three tractor-trailer containers sat in a row, divided with metal partitions into 19 tiny, sweltering cells.
Massive claws and furry black noses poked between the iron bars: 19 rare Asiatic moon bears awaiting their next gall bladder milking. Their bile is a coveted traditional medicine ingredient used to treat everything from hemorrhoids to epilepsy.
Some paced nervously inside the cages, panting and foaming at the mouth with wild bloodshot eyes. Others laid in their urine and feces, resting on the cool concrete floor. They devoured the bananas and chunks of watermelon — including the rinds — offered to them, a welcome treat from their usual diet of rice gruel.
The bears were found at an illegal Taiwanese-owned operation in southern Vietnam. On Friday, four days after being hoisted onto tractor trailers and driven 1,240 miles north, they reached a new home with grass and tire swings at a rescue center about two hours outside of Hanoi, the capital.
The newly rescued bears — two of them missing limbs and one blind — were sedated and removed one-by-one from their tiny cages Friday at Tam Dao National Park. They are joining 29 bears already at the rescue center.
Ultrasound tests found evidence of thickened gall bladders, a telltale sign of milking, said Animals Asia veterinarian Heather Bacon. She said some may need to have the organ removed because of extensive damage.
Many of the black bears, some standing 6 feet tall on their hind legs and weighing 330 pounds, have been caged since being snatched from the wild as cubs up to seven years ago, said Tuan Bendixsen of Animals Asia Foundation in Vietnam, which rescued the bears this week.
Growing demand
Bear bile has been used for thousands of years in Asia to treat fevers, pain, inflammation and many other ailments. In the 1980s, China began promoting bear farms as a way to discourage poaching.
The bears were housed in small cages, and the green bitter fluid was sucked from their gall bladders using crude catheters, sometimes creating pus-filled abscesses or internal bile leakage. Many bears die slowly from infections or liver ailments, including cancer.
The idea caught on in Vietnam and elsewhere as demand grew alongside the region's increasing wealth. Bear bile products are also illegally smuggled into Chinatowns worldwide. An informal survey by the World Society for the Protection of Animals found 75 percent of stores visited in Japan selling bear bile products, followed by 42 percent in South Korea. In the U.S. and Canada, it was about 15 percent.
Bear bile harvesting remains legal in China, where the government says 7,000 bears are milked on about 250 farms, though animal welfare groups say the real number could be double that. Demand for illegal wild bear bile, believed to be more potent, is also increasing, they say.
Amid international pressure, Vietnam outlawed the milking practice in 2005, and some 4,000 bears in captivity were implanted with microchips to help identify any new bears added illegally. Owners were warned not to tap them for bile. But the practice continues, and a black market thrives.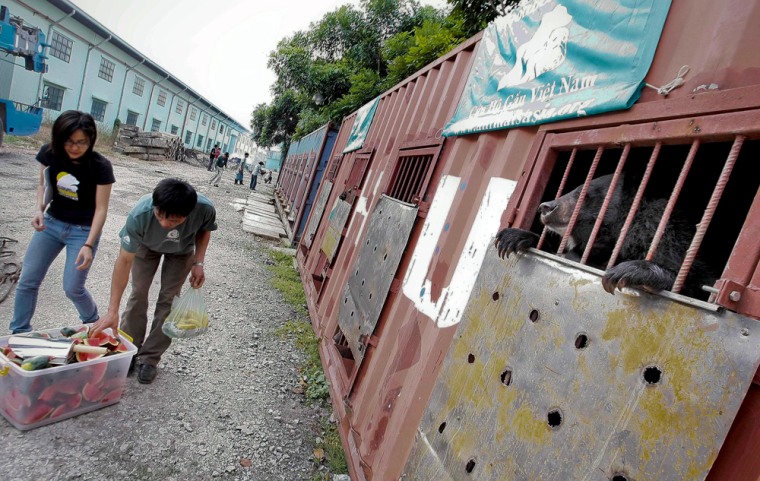 "We want this industry to end. Government has decided to phase this out, and we understand it's going to take time," said Chris Gee from the World Society for the Protection of Animals in England. "Across the whole of Asia there's probably 20,000 bears on bear farms."
Last year, a farm in northern Vietnam was raided for selling bile to busloads of South Koreans, who watched it being extracted as part of their sightseeing tours. Some of the farms in Vietnam are owned by South Koreans and Taiwanese.
"They're more organized and bigger. They're run like a business now," said Bendixsen. "It's part of a package tour."
Alternatives to bear bile
Bear bile contains a high concentration of ursodeoxycholic acid. A synthetic version is sold as a pill and used in Western medicine for treating gall stones and liver ailments.
The pill is sold in China but cannot be used in traditional medicine because it is not derived from a natural source.
In a paper published last year, Yibin Feng from the School of Chinese Medicine at the University of Hong Kong suggested herbal substitutes that produce the same healing elements for various ailments could replace bear bile.
Another option is to use bile taken from slaughtered pigs or rabbits, which contains lower concentrations of ursodeoxycholic acid, or use artificial bear bile, which has a similar chemical makeup and produces the same medicinal effects.
"We found some animal bile and plants have better effects than bear bile in some diseases," Feng said. "Given all these, people in China should accept these alternatives. Of course, some people in mainland insist that no matter how close those substitutes can be, it is still not as good as the real ones."
The moon bears, named for the tan crescent-shape marking across their chests, will remain in quarantine for 45 days. They will then be moved to a building with large living cells where they will learn to mingle with other bears, before moving to a bear house where they can play outside in an enclosure with trees, grass, tunnels and swings.
They'll also be spoiled with dollops of honey and peanut butter.